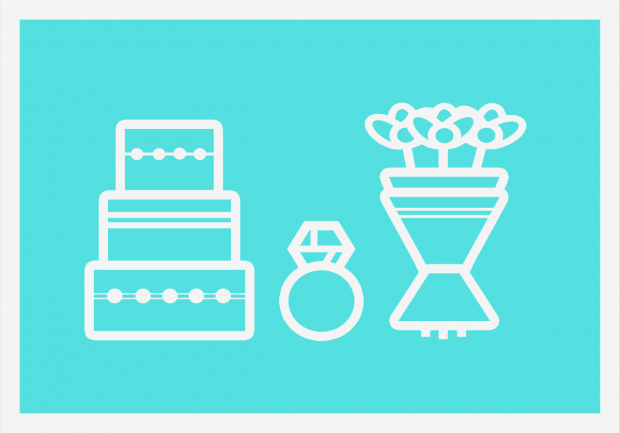 We've all seen it in the movies, maybe even witnessed it in real life. The gigantic wooden church doors swing open to reveal the bride, all donned in white, as she slowly makes her way to the altar where the groom waits. Friends and family let out unanimous gasps while the bridal march echoes. It can be cheesy and cliché, but you're lying if you say you never even once imagined yourself in that scenario.
But all commercialized propaganda aside, booking your dream wedding is no joke. We've racked up the numbers you need to get only best on your big day so you could see how, sometimes, the best things in life aren't exactly free.
Build-A-Bride
If you want your hair to cascade perfectly on your wedding day, booking celebrity stylist Jing Monis starts at P35,000 for hair and makeup just for the bride. For every three people in the entourage, that will be an additional P50,000.
Of course, let's not forget one of the most favorite aspects of the occasion: the gown. Nowadays, the question isn't what you're wearing, but who. A ready-to-wear gown from bridal wear designer Veluz Reyes' line is priced at an average of P150,000. But if you really want to go all out, having a custom-made Michael Cinco number will set you back as much as P1.3M.
The Venue
Are church weddings too traditional for you? Then why not take your cue from newlywed celebrity couple, Gab Valenciano and Tricia Centenera, who tied the knot at Discovery Shores, Boracay last March. An overnight stay for the couple and the rental of the venue will cost you P37,000-P40,000, depending on the season. That doesn't cover yet the fee of who will preside over your wedding nor the accommodations of your guests.
Let Them Eat Cake
If you want to feel like a modern-day Marie Antoinette, you can opt to book chef Miko Aspiras to craft your cake. The renowned pastry chef who has won the Highest Gold Medal in the Hong Kong Food Exposition, and became the head pastry chef at Raffles Hotel and EDSA Shangri-La Hotel, can make an art form out of your wedding cake for around P16,000.
For food, Margarita Fores' premier private catering line, Cibo Di M, you have to shell out P3,000 per guest for  a list of 100 persons.
Full Coverage
In this age of social media, you know what they say: pics or it didn't happen. But in the case of your special day, it's "Jason Magbanua or it didn't happen." The celebrity-favorite videographer has quite the portfolio, having covered weddings of many big-name couples such as Andi Manzano and GP Reyes, Maggie Wilson and Victor Consunji, and Judy Ann Santos and Ryan Agoncillo, to name a few. His rates vary from P150,000-P175,000 for same-day edit videos. If you want to have a pre-wedding concept film or pre-nup film, starting rate is P100,000.
On the other hand, to book "The Rockstars of Wedding Photography," MangoRed, who have photographed the likes of Doug Kramer and Cheska Garcia, and Iya Villania and Drew Arellano, will cost P105,00 for a basic package for photos of the day itself that includes 200 4R post processed prints  and their soft copies plus a Slideshow of engagement photos.  A basic pre-nup coverage by them will cost P50,000 which just entails photo prints and a free coffee table book.
The Sum of All Things
Add that all up, and you get something just P100,00 or P200,000 shy of a million to get you started on your dream day. We leave it up to you to decide if you think it's worth it or if you'll stick to that old Beatles' adage about how money can't buy you love.
Art by  Dorothy Guya