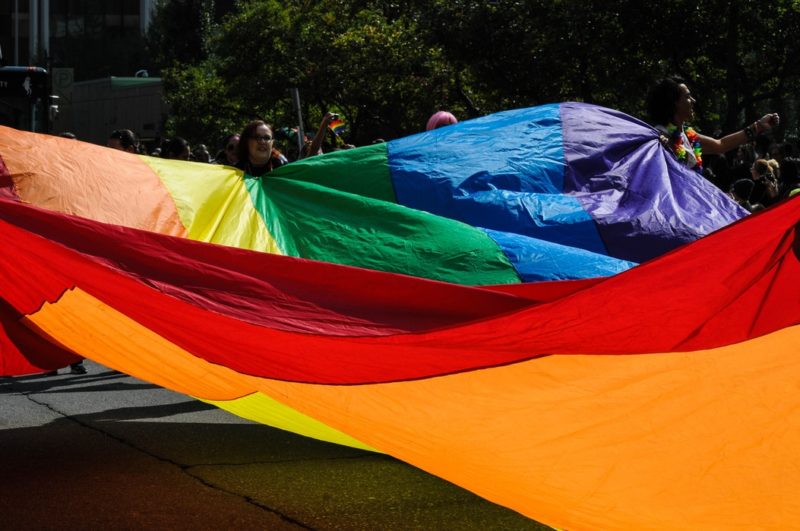 It's Pride Month! We're not the only ones going all out this month in celebrating all types of love. The community—and organizations that champion them—are making sure this year is a memorable one. But while our voice is louder this time of year, the fight for equality has always existed, and will definitely continue to be here even after the month has ended. We're here to make sure it does. So we've decided to recognize local organizations that champion LGBTQ rights all year round. Check them out and make sure to support them too.
Metro Manila Pride
https://www.facebook.com/mmprideorg/posts/2798131186880122
This volunteer-based, non-profit organization that "creates safe, affirming, informative, educational, and empowering spaces for LGBTQIA+ people in Metro Manila" is the main organizer of the much-awaited annual Pride March, happening on June 29 this year.
Best believe they are going all out. According to their site, "MMPRIDE has spent many hours learning, studying, and reworking our processes so that together, we can put the community at the center of our movement."
You can register here to join the momentous event, or donate through their new Pride Fund system by clicking this link.
Love Yourself
https://www.facebook.com/loveyourself.ph/posts/2893567347350323
Love Yourself was founded by youth advocate Ronivin Garcia Pagtakhan, with help from his friends who were "inspired by the increasing demand and queries by the Youth & LGBT-MSM (males who have sex with males) through social media such as Twitter on STI, HIV, sexuality and gender."
Focusing on self-worth as the key to an empowered community, their aim is to become "a model community of MSM and friends who empower and affirm the self-worth of youth and MSM in the Philippines"
The group offers HIV counseling, testing, treatment and life-coaching for MSM and the youth. If you want to volunteer, click this link. To donate or order a shirt, go here.
Proud Campaign Philippines
https://www.facebook.com/proudcampaign.ph/posts/10156068110241231
Proud describes itself as a "contemporary group of LGBT+  humanitarians who aims to make a difference in the world." They do that by sharing relevant national and global issues, stories of people in the queer community, and uplifting videos or articles. Aside from raising awareness on Sexual Orientation and Gender Identity and Expression (SOGIE), they also provide food, clothes, toiletries, school supplies, and other basic necessities to people in need in the Philippines.
To raise funds for resources, charity, and projects, they organize party events and sports league. For updates on their latest initiatives and how to support them, visit their website.
Galang
https://www.facebook.com/media/set/?set=a.2274970875874795&type=3
What started out as a "small group of lesbian friends who were either keenly observing or actively engaged in LGBT activist communities in the Philippines," the organization expanded because they saw the need to. According to their site, "While some Filipino LGBTs are financially stable or gainfully employed, the predominant face of local LGBTs is of those of us who are poor, uneducated, and unemployed or underemployed—the same segment of the sector that is often most prone to becoming victims of employment discrimination or violence."
They seek to address these grim reality by developing "a model for organizing and mobilizing poor LGBTs who comprise the majority of the sector" Stressing, "Not only because they are the most vulnerable among us, but also because of the belief that without a critical mass of organized Filipino LGBTs, they will continue to suffer from discrimination, with limited access to and control of education, health services, and employment opportunities."
For more info on how you could help, click here.
Rainbow Rights Philippines
https://www.facebook.com/rrightsphl/photos/a.10150159015177894/10154779990447894/?type=3&theater
Rainbow Rights Philippines (RRights) is a non-profit, non-partisan, non-governmental organization which focuses on "legal literacy and empowerment with respect to SOGIE and gender-based laws and policies."
Through legislative and policy work, RRights aims to "help engender a broader institutional and societal understanding of the need for proper legal protections for persons of diverse SOGIE in the Philippines."
Their projects include community paralegal program, workplace diversity trainings with local and multinational companies, access to justice trainings with LGUs, and relevant research and publication.
Know more about their initiatives through their page.
Photo courtesy of Unsplash
For the latest in culture, fashion, beauty, and celebrities, subscribe to our weekly newsletter here  
Follow Preen on Facebook, Instagram, Twitter, YouTube, and Viber
Related stories:
Four films to educate you on the PH's decades-long LGBTQ+ movement
This redesigned Pride flag may be the new LGBTQ+ symbol
7 LGBT films to watch out for this 2019
Being accepting of the LGBT community isn't enough—it's time we take action