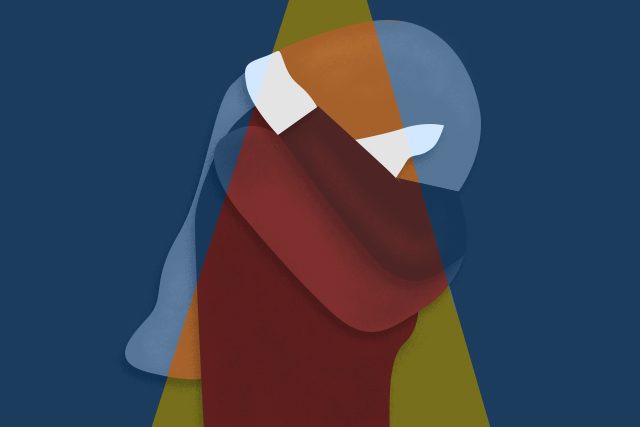 Trigger warning: Rape, abuse, death, depression, suicide
***
Updated 8:58 a.m., June 7, 2019
Per new reports from The New York Times, Noa "did not die of euthanasia, according to her family, the Dutch health minister and the Royal Dutch Medical Association. She had stopped eating and drinking, her relatives said in a statement, and she was at home in the eastern Netherlands when she died, Dutch news outlets reported."
***
The reality of rape is one of the most painful and darkest things in this world. It makes you wonder why it exists and why it happens, especially to young victims. And the sad thing is, the gravity of this crime had historically been disregarded. In fact people still treat it as a joke, even in this age.
Noa Pothoven's case may open their eyes. The 17-year-old Dutch girl had been battling with depression for most of her life, after getting raped several times when she was younger. And last Sunday, her "insufferable pain" was finally put to an end.
"After years of battling and fighting, I am drained. I have quit eating and drinking for a while now, and after many discussions and evaluations, it was decided to let me go because my suffering is unbearable," Noa said in a social media post a day before her death last Sunday. "I breathe, but I no longer live."
According to News.com.au, "She was attacked three times as a youngster. The first two incidents were molestations when she attended children's parties aged 11 and 12 before she was raped by two men when she was 14 in the Elderveld neighbourhood of the city."
For years she kept what happened to herself, out of shame and fear. "My house has been broken into, my body, that can never be undone," she wrote. "I relive the fear, that pain every day. Always scared, always on my guard. And to this day my body still feels dirty." She shared all of these in her 2018 award-winning autobiography, Winning or Learning.
Last year, she was admitted to a hospital for being seriously underweight and causing a near organ failure. She had to be placed in a medically-induced coma and to be fed through tubes.
Aside from hospitalization, New York Post notes that Noa underwent electroshock therapy, and visited specialists to no avail, "before eventually contacting the Life End Clinic in The Hague about a year and a half ago, without her family's knowledge." The New York Times stressed that her request was rejected because she was only 16 then. "They thought she should complete trauma treatment and that her brain should be fully grown before a definitive decision," New York Post reported.
According to the outlet, "In the Netherlands, kids ages 12 to 16 need permission from a parent to be euthanized and must have consulted a doctor, who agrees that their suffering is unbearable and likely to continue. But at 17, children no longer need their parents' consent to apply to kill themselves."
In her case, Noa's parents revealed to a Dutch newspaper that they had no idea how bad she was suffering until her mom found farewell letters to them and her friends in her room, around the time she went to the clinic. "We didn't get it. Noa is sweet, beautiful, smart, social and always cheerful. How is it possible that she wants to die?" her mom, Lisette, told the paper.
"We have never received a real answer. We just heard that her life was no longer meaningful. For only a year and a half have we've known what secret she has carried with her over the years," she added. "We, her parents, want[ed] her to choose the path of life." Her dad, Frans, hoped she'd "see bright spots [in life] again, 'perhaps fall in love' or learn to discover that 'life is worth living."
It seemed clear though that she couldn't have been swayed. "My plan has been there for a long time and is not impulsive," she said on social media. She further asked her friends to "not convince me that this is not good, this is my decision and it is final." Stressing, "Love is letting go, in this case."
I know this is a controversial topic, especially here in our country, where suicide is considered a sin. But I would like to highlight that this story is an homage to Noa's life. She was a brave soul, even in the end. I believe she did everything she could to get getter. Her book, which she said she wrote to help other young people, I think is proof of that. The fact that she tried to make something out of the pain is truly worth something. She was trying to save other people, but in the end, she couldn't save herself. That doesn't mean she's not weak though. We can never really know what a person is going through so we can't judge her for her decision. We can only imagine how hard it was—to choose death in the end as the only option.
According to Healthy Place, PTSD in rape and abuse victims is common. Rape and abuse are crimes that "violate the survivor's sense of self and the world and shatter any sense of safety that once existed."
Based on a study done in the US, it was found that  nearly all victims "experience some PTSD symptoms in the first two weeks after the assault";  "Almost a third of rape victims still have PTSD symptoms nine months later"; "About a third of all rape victims will develop PTSD at some point during their lives"; and "about 11 percent of rape victims develop chronic PTSD."
According to the National Center for Victims of Crime in the US, major symptoms of rape-related PTSD include "re-experiencing the trauma through intrusive thoughts, nightmares, flashbacks and upon being reminded of the event through triggers; withdrawal resulting from numbing (feeling no emotions of any kind and even feeling emotionally dead); loss of interest in life; heightened arousal, which involves jumpiness/startling easily, hypervigilant watchfulness for signs of danger; sleep problems; difficulty concentrating and remembering things; irritability; and anger."
However, it is important to note that it is possible for rape and abuse victims to overcome their PTSD.
***
If you or a loved one has been a victim, here are numbers you can contact:
Department of Social Welfare and Development (DSWD): (02) 931-8101 to 07
DSWD-NCR Ugnayan Pag-asa Crisis Intervention Center: (02) 734-8639, 734-8654, or 734-8626 to 27
Philippine National Police (PNP): 723-0401 to 20
PNP-Women and Children Protection Center (WCPC): 410-3213
NBI-Violence Against Women and Children Desk (VAWCD): 523-8231 to 38 or 525-6028.
If you or a loved one is suicidal, here are numbers you can contact for help:
Hopeline: 804-HOPE or 0917-558-HOPE (4673)
Crisis line by In Touch: +632 893 7603 or + 63 917 800 1123 or +63 922 893 8944
National Center for Mental Health 0917-899-USAP (8272) and 989-USAP
Art by Tricia Guevara
For the latest in culture, fashion, beauty, and celebrities, subscribe to our weekly newsletter here  
Follow Preen on Facebook, Instagram, Twitter, YouTube, and Viber
Related stories:
The 11-year-old rape victim from Argentina who asked for an abortion should have gotten it
If women's clothes cause rape, why are there infant victims?
A young woman was reportedly raped inside Ateneo 
Rape culture pervades because we let it