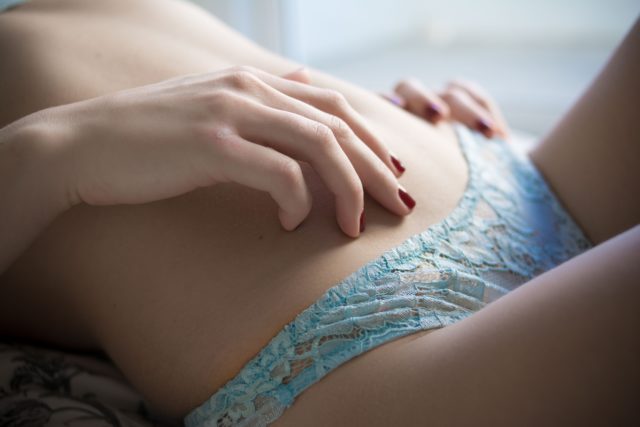 This column may contain strong language, sexual content, adult humor, and other themes that may not be suitable for minors. Parental guidance is strongly advised.
You'd think that with the #MeToo juggernaut bringing consent into the forefront of sexual relations between men and women, judges and juries would, well, exercise better judgment when deciding whether a 27-year-old man was guilty of raping a 17-year-old girl in Ireland.  
Unfortunately, there are people who are stuck in unenlightened times, who still think that a lacy thong, or indeed any piece of clothing deemed "suggestive" and worn by a woman is indicative of her consent, and is therefore an invitation to f*ck her.
This defense—and the thong itself—was put forward to the jury by the lawyer of the accused. "Does the evidence out-rule the possibility that she was attracted to the defendant and was open to meeting someone and being with someone? You have to have a look at the way she was dressed. She was wearing a thong with a lace front."
It's an argument with zero relevance, yet astonishingly—or not, I suppose—the jury bought it and acquitted the man. They chose to blame the victim instead of punishing the rapist.
In protest, women all over Ireland protested this blatant display of rape culture at its most loathsome, posting photos of colorful lacy thongs all over social media with the hashtag #ThisIsNotConsent. One female member of the Irish Parliament, Ruth Coppinger, drew home the point rather effectively when she literally pulled a thong out of her sleeve during a public debate about the trial, underlining the ridiculousness not just of waving a thong in parliament, but of actually equating the wearing of a thong with consent. And, along with several other men and women, she was calling attention to the judicial system that enables victim-blaming and promotes rape culture.
Coppinger and all the women and men protesting against this idiotic verdict are right. A woman's underwear in no way communicates consent. Not a thong, not a Brazilian tanga, not a pair of granny pants, not Spanx, not even going commando. Nothing a woman wears ever says, "rape me, I want it." And the persistent mentality that what a woman wears invites criminal behavior among men is victim-blaming, pure and simple. It is not just stupid but dangerous, and in many cases, even lethal. And it needs to stop.
If it were in fact true that what a woman wears incites men to rape, then why do nuns, dressed in full habits, with their hair covered, get raped? Why do female refugees, fleeing war in rags, get raped? Why do women in burqas get raped? Or schoolgirls in uniform? Or, indeed, even nine-month-old babies in diapers, for god's sake?
When I first went to live in South Africa in the early 2000's, the country was still reeling with shock and horror from the news that a nine-month-old baby girl had been brutally raped.  
Let that sink in: NINE MONTHS. A BABY. There was absolutely nothing this infant could have done to indicate her consent to being sexually violated. There was absolutely nothing she could have worn that could be construed, under ANY circumstances, as an invitation to rape. And yet she was.
South Africa has one of the highest incidences of rape in the world. In 2016 and 2017 alone, the police recorded a total of 39,828 rapes, which comes out to an average of 109.1 rapes recorded each day. And this number only takes into account reported rapes as countless more go unreported.  
This baby girl's rape was particularly horrific. As The Telegraph reported, it occurred while the baby "had been left alone by her grandmother who had been babysitting but had gone to a bar where the infant's 17-year-old mother was drinking. When they returned they found the child covered in blood."
The rapist, a 23-year-old man named David Poste, was the ex-boyfriend of the child's mother. He was arrested after DNA samples taken from him matched those found on the infant.  
He was subsequently sentenced to life, with the judge telling him in court that this was the most gruesome rape he had ever encountered, and that "he would have sentenced Poste to death had capital punishment not been outlawed in South Africa in 1994."
The rape was likely fueled by the belief that sex with a virgin would protect a man from HIV. Again, a persistent mentality without basis in fact that is not only stupid, but extremely dangerous to women. The nine-month-old baby, who would now be around 17, carries the trauma of her rape inside her, even if she was a mere infant at the time. Her body retains the memory of being violated.  
"The baby, nicknamed Tshepang—Have Hope, suffered extensive injuries to her internal organs and had to have emergency surgery. Doctors believe, however, she will still be able to have children when she grows up."
And yet infant rapes continue. Just last week, Channel News Asia reported, an 11-month-old baby girl died after she was allegedly raped, sodomized and abused by a male suspect near the Malaysian capital, Kuala Lumpur.
The alleged rapist was the babysitter's husband in the same housing estate where the baby's parents lived. The baby was rushed to a local clinic one day for shortness of breath, and was later transferred to a hospital.
"Further examination on the victim found a tear on the victim's hymen, and a subsequent examination found that the victim's anus was also torn," the local police chief ACP Ahmad Dzaffir Mohn Yussof said in a statement.
The baby, whose name was Zara, died due to a "blunt impact to the head," indicating that apart from the sexual abuse, she had suffered a fracture to her skull.
And if you think an 11-month-old baby is too young to express fear and trauma, Zara's mother reportedly said that there were early signs of abuse already being expressed by the infant. She would cry and become upset whenever she saw the babysitter's husband.  
The rapist was found to have traces of methamphetamine in his system, but that hardly exonerates him from his horrific crime.  
We need to stop talking about rape as an offense somehow encouraged by the victim and address it as the crime it really is, committed by rapists who sexually attack, assault, and violate their victims regardless of what they might be wearing or how they might be behaving.
B. Wiser is the author of Making Love in Spanish, a novel published by Anvil Publishing and available in National Book Store and Powerbooks, as well as online. When not assuming her Sasha Fierce alter-ego, she takes on the role of serious journalist and media consultant. 
For comments and questions, e-mail [email protected].
Disclaimer: The views expressed here are solely those of the author in her private capacity and do not in any way represent the views of Preen.ph, or any other entity of the Inquirer Group of Companies.
Photo by Lana Abie on Unsplash
For the latest in culture, fashion, beauty, and celebrities, subscribe to our weekly newsletter here
Follow Preen on Facebook, Instagram, Twitter, YouTube, and Viber
Related stories:
Women post photos of their underwear online to show that #ThisIsNotConsent
Virgin Marie is a harmful portrayal of child rape accusations
Teaching men about consent is easier than defending accusations
This exhibit shows that rape can happen regardless of what you wear