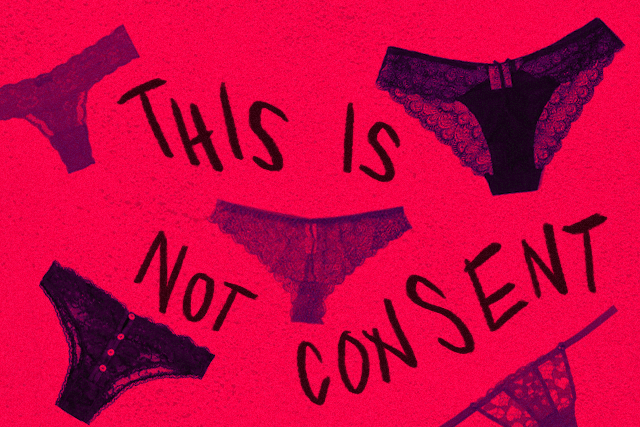 Irish women and women's rights supporters are angry. Earlier this week, a 27-year-old man in Ireland was acquitted of raping a 17-year-old girl—but this verdict wasn't what triggered the outrage. Rather, by the justification of the man's defense lawyer. In the trial, his senior counsel Elizabeth O'Connell's closing argument included literally presenting the teenager's underwear for all the court to see. "Does the evidence out-rule the possibility that she was attracted to the defendant and was open to meeting someone and being with someone?" she asked. "You have to look at the way she was dressed. She was wearing a thong with a lace front."
Following the court report's publication, the head of Dublin's Rape Crisis Centre criticized the barrister's remarks. According to BBC, "Although she did not question the verdict, she called for reform of a legal system in which she said such suggestions were frequently made."
Now, you already know our two-cents on this. An article of clothing is never—we repeat, NEVER—an excuse for rape. We're not the only one who sees through the BS too. The barrister's actions attracted online protests all over the world, and has now given birth to the viral hashtag #ThisIsNotConsent, wherein women share images of their underwear online, to give attention to this gross and demeaning act of victim-blaming which we see is especially prevalent in the court system.
https://twitter.com/CMSpookyAddams/status/1063286417105829888
https://twitter.com/_sunfIowers/status/1063282756044627968
So apparently not wanting panty lines is synonymous with consent now adays. Same on you Ireland when will we teach men not to rape and stop blaming woman for merely existing #ThisIsNotConsent pic.twitter.com/uc2nI2dAoM

— Becky Folkes (@Becky_Folkes) November 16, 2018
If I was in a court room as a victim of sexual abuse, I can't imagine I'd ever be asked if I was wearing boxers or briefs. #ThisIsNotConsent pic.twitter.com/niS9xdR3CU

— Peter Tanham (@PeterTanham) November 14, 2018
I Believe Her Ireland, who initiated the online movement alongside Irish organizers Mná na hÉireann, told Dazed, "We are deeply angered by the suggestion by legal counsel in the recent Cork rape case that any item of clothing constitutes implied consent. We had hoped that as a society we had moved on from these archaic, victim blaming rape myths." Adding that, "What's upsetting is that barristers do this because they feel it works, and that juries will be swayed by it. If a jury is a representative sample of the population, then it's clear we have some work to do to dispel this archaic myth that clothing invites rape."
What type of underwear a woman wears can be used as evidence in a rape trial, really??? #ThisIsNotConsent @ciarakellydoc @NewstalkFM #Thongs pic.twitter.com/D49XBiJs8t

— Niall O'Loughlin (@nialloloughlin) November 13, 2018
Moreover, the group stressed how demoralizing and deeply disappointing it was that the act was made by a fellow female. Elizabeth, they said, "is part of a community where sexual assault occurs in higher rates and used the exact weaponized misogyny we encounter everyday to silence a victim." They also noted how this incident is "symptomatic of Ireland's culture of shame and conservative guilt," which I think resonates with our own culture. I'm sure you've all had experiences of older women, a relative even, trying to indoctrinate you on the "fact" that the way you dress and present yourself can be an invitation for sexual misconduct. Well, it's time to put a stop to that and instead, start indoctrinating men and future generations that consent—not clothing or "promiscuous behavior"—is the only valid green-light for all and every sexual relations. Let's start treating each other as decent human beings, please.
Art by Marian Hukom
For the latest in culture, fashion, beauty, and celebrities, subscribe to our weekly newsletter here  
Follow Preen on Facebook, Instagram, Twitter, YouTube, and Viber
Related stories:
Teaching men about consent is easier than defending accusations
This exhibit shows that rape can happen regardless of what you wear
How #MeToo unites women beyond race and class for an overdue cause
What role does trauma play in the #MeToo campaign?