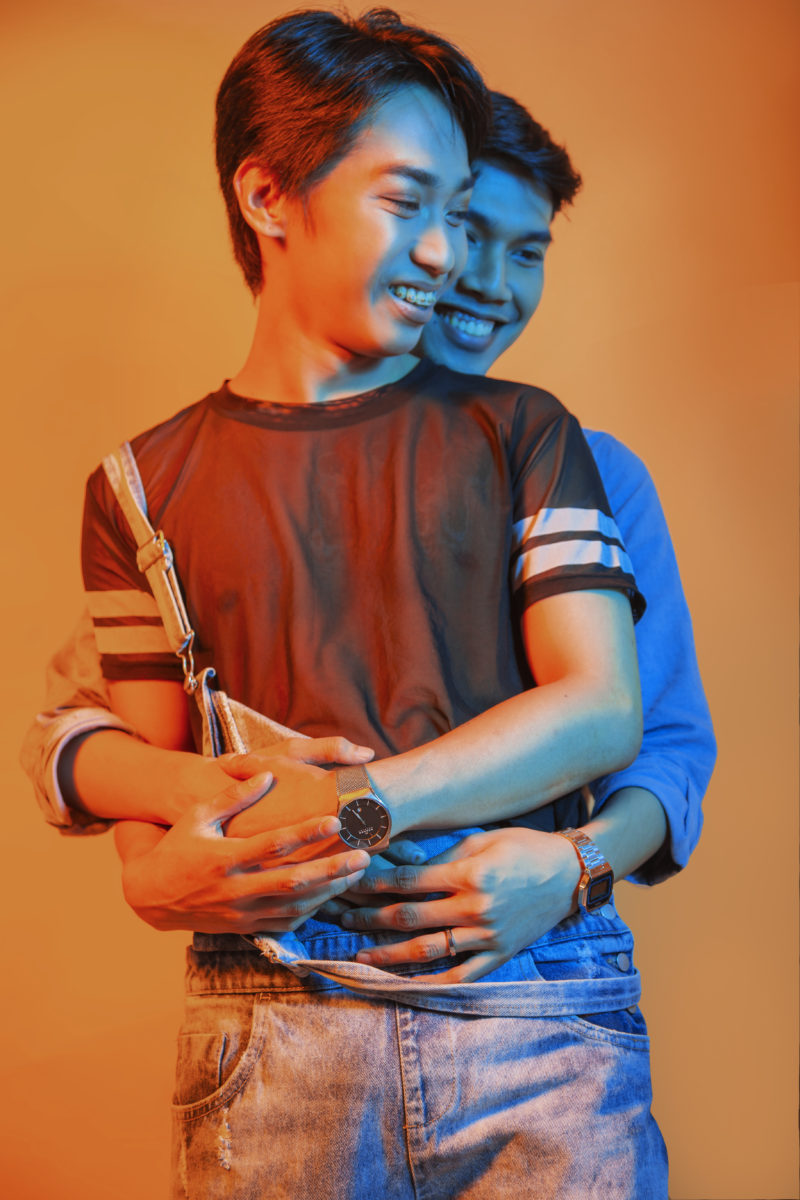 I think we can all agree: Dating is hard. It's an even more challenging ordeal for the LGBTQ+ community. Modern dating, aka dating apps, there are more present in the. In fact, a 2017 survey by the Kinsey Institute and female health app Clue, which compiled answers from more than 140,000 adults in 198 countries, showed that there are nearly twice as many LGBTQ+ people use dating apps as heterosexual ones.
"Even as society has become more accepting of LGBTQ+ people, dating apps can provide a sense of safety and community they might not have otherwise—something their heterosexual counterparts often take for granted," A Plus noted. Speaking with Little Gay Book author and lesbian matchmaker Dr. Frankie Bashan, they stressed that apps provide options previously limited to the community. "Apps can transform anyone's phone into a virtual gay bar where, even if they don't make a lasting love connection, they can still make connections with fellow LGBTQ+ people and uncover potentially hidden communities," Dr. Bashan said. It also offers a sense of security. Sadly, for the LGBTQ+ community, the possibility of rejection leading to violence is a very real threat. "Dating apps offer an additional level of safety for typically marginalized groups," Dr. Bashan claimed.
One way in which dating apps give a sense of safety is that it allows users to input specificity when looking for a potential partner. "Within the queer community, there's so many labels and ways to describe ourselves that I don't even know them all," Dr. Bashan admits. Some platforms, she noted, do a better job in providing these additional options than others. She reveals to A Plus that one of the biggest complaints she hears from her clients is that they have trouble indicating the particular SOGI they're attracted (i.e, "they can't indicate on the butch-femme spectrum or the masculinity-feminity spectrum.") She claimed, "A lot of sites don't offer that, and that's a big difference between a heterosexual matchmaker and a lesbian matchmaker." 
Unfortunately, not everyone can get the services of LGBTQ+-focused matchmakers like Dr. Bashan. That's why we turn to apps. And as she demonstrated, in terms of dating, the queer commuity has specific needs lacking in some dating aps primarily made with heterosexual relationships in mind. Arguably the most famous app for the LGBTQ+ community is Grindr. 
Enter Curv—"the first inclusive social and dating app that offers a platform for queer Filipinos to connect." What makes it different?  According to their site, "Curv values connection, community, and equality. Consider this app a sharp turn away from the culture of discrimination on other queer social apps." Additionally, they claim they urge users to "build a culture of respect, to meet people beyond their part of the rainbow, and hey, maybe even welcome more diversity in the people they date." 
As part of their mission of creating a "fresh environment of respect among the LGBTQ+ community in the Philippines," they have started the #BendConventions campaign. Tapping members of the LGBTQIA community for a photo campaign, they were able to interpret the slogan in a way that depicts the diversity of queer love and representation. Their subjects, include trans activist Janlee Dungca and sex-positive advocate Trisha O' Bannon—people who "remind us that there's nothing to lose when we swerve from stereotypes and kick discrimination to the curb."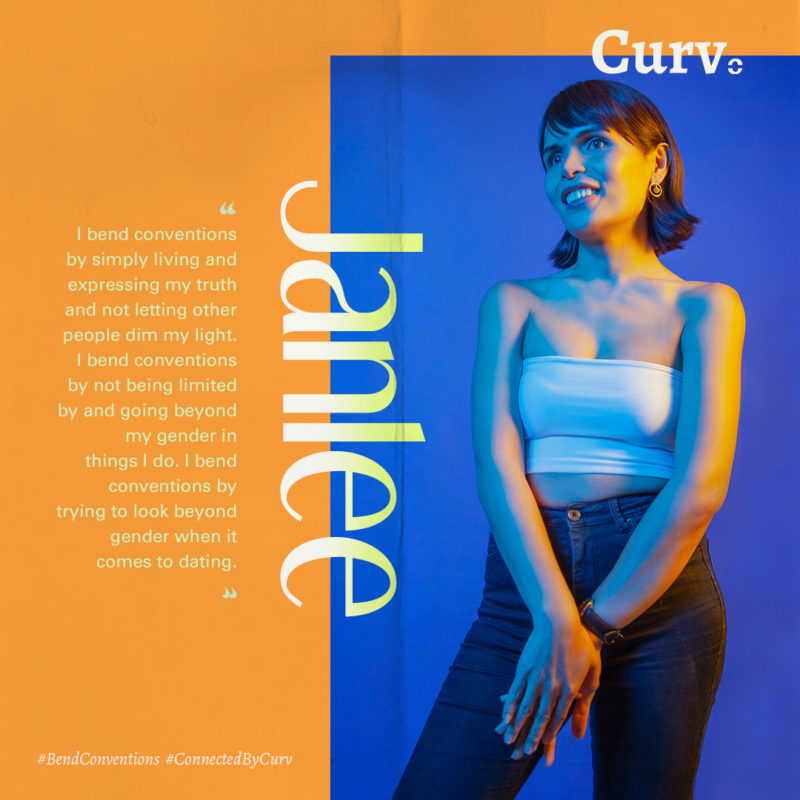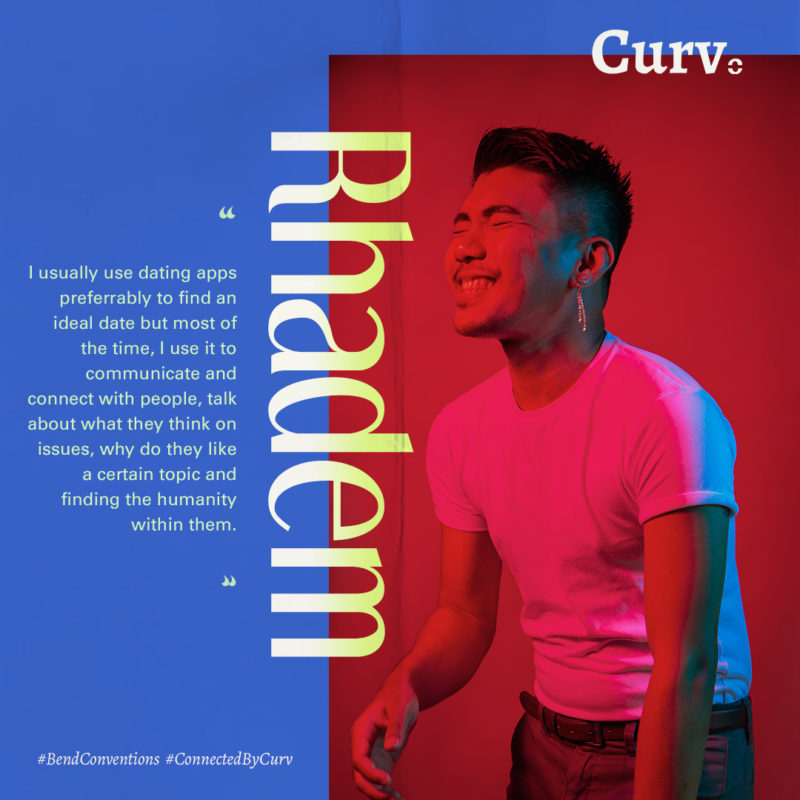 Considered "gay-friendly," it would seem a Filipino-made dating app seemed a safe and obvious project. But Bianca Natola, member of the Curv team, tells us, "This actually started as a male gay dating app but the deeper into its development we got, the more we began to see the bigger picture. We realized the need for true inclusivity, that realized the gaps that needed to be filled holds true for all sexualities and gender."
Reviewing the dating scene of the LGBT community in the Philippines today, she said, "There's certainly a need for a safe space where people's different wants, needs, their stories, identity and nuances are already directly acknowledged and even celebrated."
And while she admits the app cannot entirely assure that discrimination won't happen among users, since they're "not in control of how other people treat one another," she asserted that, "through this platform, we can definitely help change mindsets, redefine norms and establish that discrimination is not something we condone." She adds, "Our values of connection, community, equality guides our initiatives, campaigns, events and how we develop the technology for the app itself to foster that kind of environment. We're constantly developing based on the needs of the community."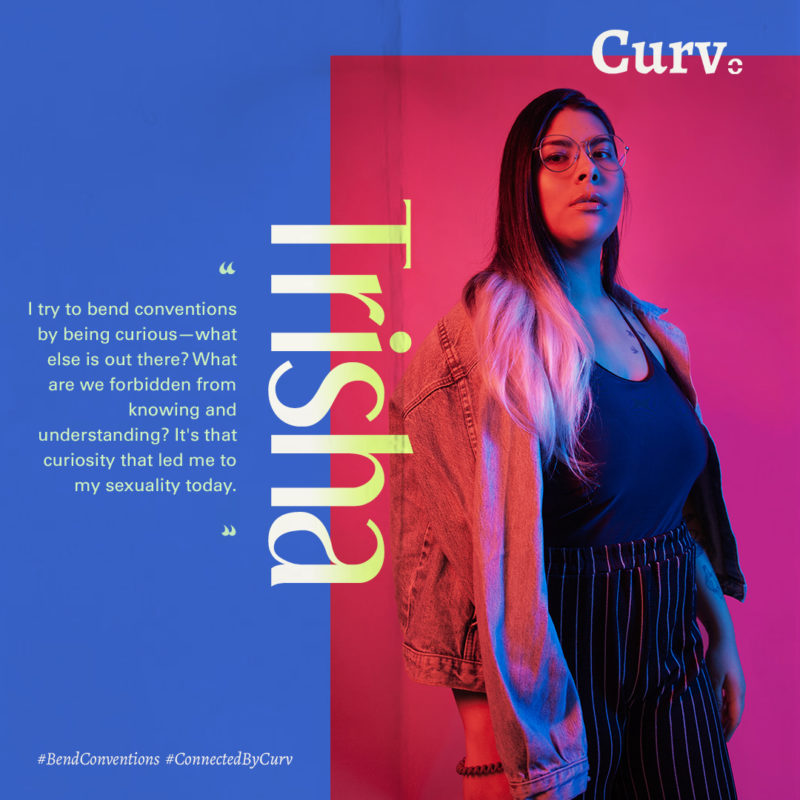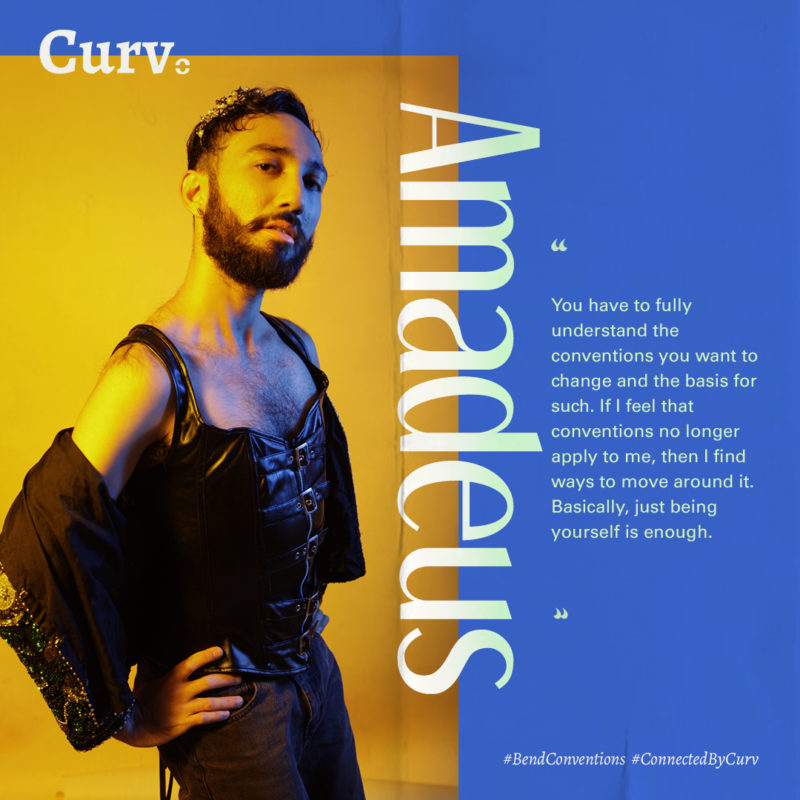 As a start, they're currently in the process of including "as many kinds of gender identity and sexual orientations as options [in] the profile."  This then answers the pressing dilemma for many LGBTQ+ persons looking to date, as Dr. Bashan revealed. Bianca affirms its significance, noting, "Who you are attracted to, how you identify yourself and express yourself is deeply personal and integral to who we are. So even small ways wherein these options actually exist and people can choose for themselves is a big deal for us."
Curv is not yet available but will be soon. It's certainly interesting to see how it could change the dating scene for the LGBTQ+ community. In the meantime, you can check out their site for more info and updates.
Photos courtesy of Curv
For the latest in culture, fashion, beauty, and celebrities, subscribe to our weekly newsletter here  
Follow Preen on Facebook, Instagram, Twitter, YouTube, and Viber
Related stories:
Taylor Swift and the conversation around who should be an LGBTQ+ ally
The status of LGBTQ+ rights in the Philippines so far
Your guide to local organizations that champion LGBT+ rights
This redesigned Pride flag may be the new LGBTQ+ symbol