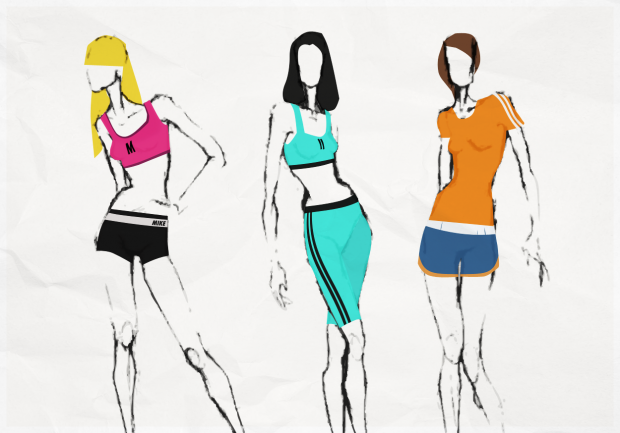 The sporting life has much to do with today's fashion choices and vice versa.
With today's undying devotion to fitness, we've already seen how gym culture has found its way to the streets: Athleisure, the movement that touts sportswear as casual-wear.
You've seen it everywhere—the yoga pants, jogger pants, strappy sports bras, Nike Roshe Runs, and Adidas Stan Smiths—all worn by people who are not actually on their way to their neighborhood gym.
So when taken out of the gym habitat, do clothes like these still work?
These days, fitness brands have taken advantage of the importance of clothes in one's #RoadToFitness. Nike, Adidas, and Lululemon—and even fast fashion stores like Forever 21 and H&M—have got you covered with workout outfits that are good both in form and function. Plus, they even have the technology to make apparel best suited for your body type and the kind of workout you expect to be doing.
Retailers have preyed on the advent of health consciousness, of this new collective desire to be fit and healthy, finding ways to incorporate functionality in your wardrobe.
Now, it's also pretty much telling of your economic status and, ultimately, your social standing when it comes to the kind of brands you wear. The Philippines has never been a stranger to the Swoosh or the Three Stripes—they're household names everywhere you go.
Now, Filipinos are no longer asking for Under Armour (they've set up shop here!) from their relatives in America. The affluent, who used to leave space in their suitcases for all the luxury leather goods they want to bring home, now leave that space to be filled with Lululemon gear. 'Cause hey, leggings can be status symbols, too.
But the look isn't simply lazy. It could speak of a life so active that shopping for casual clothing isn't a top priority because activewear has become so wearable. No one minds sporting it out for brunch or while running everyday errands. Again, here is when both form and function kick in.
It's working in a way, though. It's become a familiar scenario: You see some woman sporting a strong yoga pants game during her morning commute to work (probably from spinning class), and, years ago, you would've clucked your tongue disapprovingly. Now, you'll consider getting in on that action just because everyone is in on it, too.
Though made more wearable, performance-wear is a stretch at some places and occasions. Obviously, high-end clubs still don't allow any type of leisurewear 'cause it's "too casual," says Wen Cipriano, promoter of The Palace Pool Club. Like for instance, a sleek pair of joggers, would still be barred because their silhouette suggests you're about to do chin-ups. It doesn't matter if they were designed by Alexander Wang.
So what is former varsity swimmer of De La Salle University Johan Aguilar's take on it, considering he wears Dri-Fit clothing and running shorts almost all the time? "I wear [athletic clothes] because they are comfortable and they're the lightest thing to pack," he says.
But when asked if he's going to be okay when a date shows up in either yoga pants or sports bra he reasons, "Activewear says a lot about effort. It doesn't require a lot of [effort]. So I'd still appreciate a woman who takes time to dress up for a date." Just don't take one man's word for how she should dress up. It's still, at the end, a personal choice.
Model and athlete Rachel Daquis, who toes the line between fashion and sports, agrees. "I love wearing boxing shorts to the mall but I still dress appropriately. Definitely no gym clothes during dates, meeting important people, and formal occasions," says Rachel.
While pieces under the athleisure category may connote a certain status, it is not to be dismissed that some can use it as an excuse for laziness. After all, Karl Lagerfeld did say once that a pair of sweatpants is a "sign of defeat."
It is not just a trend reserved for those who can afford those pieces and the yoga sessions that come with it. With an overall collective lifestyle of fitness on the rise, everyone is free to join the pack.
Although it doesn't seem like an intuitive match, sportswear is able to influence fashion, whether directly or indirectly, weaving the sports culture into everyday style. But this isn't permission to muddle the unspoken yet inherent dress codes we adhere to.
Call it the secret pact between sports and fashion, the super convenient, super chic meeting point of comfort and style. Yes, there might be a rise in athleisure, this ode to a lifestyle of fitness. But this isn't to be abused. Though we lead a truly fast-paced lifestyle—or it looks like we do—there's no fast tracking our way out of being underdressed when we shouldn't be.
Art by Dorothy Guya