When we were invited to do a bar crawl one Thursday night, we immediately said yes. We didn't mind that it would entail us coming to work the next day with a slight hangover (something we would usually advise against). The bar crawl was not just to have a good night out, but to also introduce us to the four best bartenders in the country, who earned their reputation after a series of challenges and trainings and will move on to compete to represent the Philippines in the Diageo Reserve World Class 2015 Southeast Asian Finals.
After sampling the specialty drinks of these men we didn't dare drink ourselves into oblivion. Rather, we focused on the smooth blend of spirits and liquors and listened to their tested tricks. We learned more than what drinks are best for a Friday night celebration. We also learned that a good and memorable cocktail entails a little bit more than a good buzz.
Hear from these four bartenders, who man perhaps the most notable drinking spots in the metro, as they tell us about what makes their concoctions in demand even after the last call.
Orman Bag-ao, Long Bar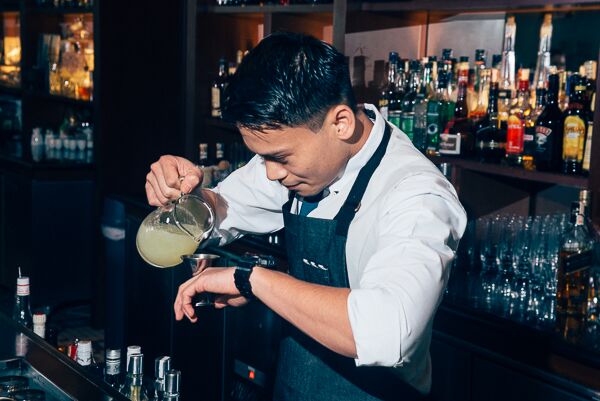 "Always use fresh ingredients. You don't have to have a lot of different flavors at your disposal if you want to make your own cocktail. You just have to pick from the best around you," says Orman. He shares with us his signature recipe called The Man.
The Man
Ingredients
1 oz Oban
2 oz Ketel One Vodka
1 oz Campari
2 oz calamansi juice
Lemon
2 oz pomelo juice
Rosemary
 
Preparation
Mix in a shaker and serve in a champagne glass topped with rosemary.
Long Bar. Fairmont Makati Hotel, 1 Raffles Drive, Makati Avenue, Makati City
Kenneth Bandivas, ABV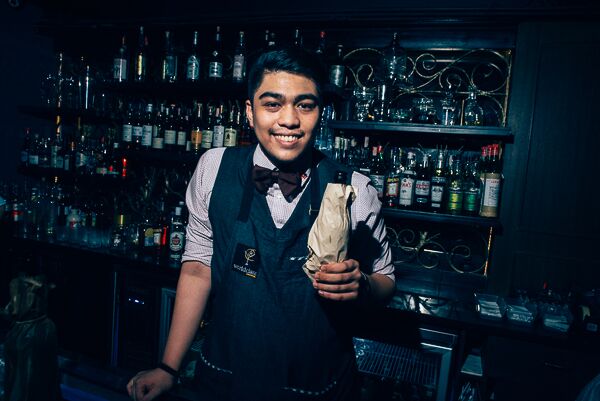 Kenneth wanted to give tribute to his roots with his specialty mix, Jupiter Street. Served in a beer bottle, the drink is a fine balance between the sweetness of the Stanford & Shaw ginger beer and the strength of a Singleton of Glen Ord 12. He tell us, "I made this drink knowing that Filipinos have a sweet tooth. If you are going to make a drink for somebody else, know what they like. But you have to find balance in your ingredients. It can't be all sweet or too overpowering; you'll lose the essence of what a cocktail should be about."
Jupiter Street
Ingredients
2 oz  Singleton of Glen Ord 12
1 tsp Prosecco reduction syrup
1 tsp lime juice
5 oz Standford & Shaw Ginger Beer
Ice
Preparation
Combine all ingredients in a shaker and shake well. Serve without ice.
ABV. Basement Floor, 22 Jupiter Street, Makati. (Behind Lazy Bastard.)
Mark Herrera, Niner Ichi Nana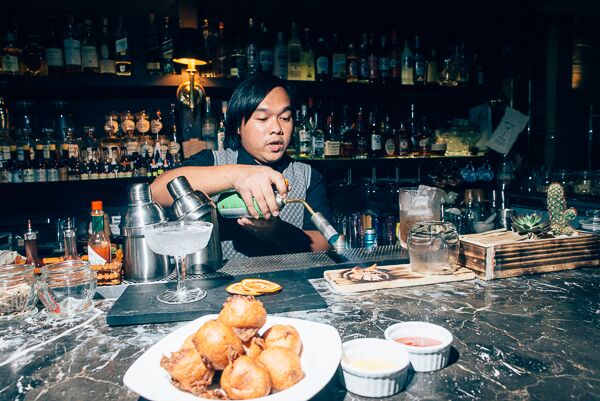 "Master the basics first," says Mark. "You have to know what the classic mixes and techniques are first before you can really create something that is truly your own." We didn't really have much of a choice but to believe him as he lifted a hand torch over the bar.  By putting the glass over slightly burned wood chips before pouring in his mix called Rested 87, he infuses a woody note to complement the Don Julio Reposado, shaken together with Rosso Vermouth and Oleo Saccarum. Talk about taking it to the next level.
Rested 87
Ingredients
1 oz Don Julio Reposado
1 oz Oleo Scarrum
1 oz Rosso Vermouth
Tamarind shrub
Preparation
Mix all ingredients in a shaker. Before serving, burn wood chips slightly and trap the smoke with the glass. When the glass is clouded with the smoke, turn over, add ice, and pour the concoction.
Niner Ichi Nana. G/F Globe Telecom Tower, 32nd Street cor. 7th Ave., Bonifacio Global City, Taguig.
Michael Tuvera, Rambla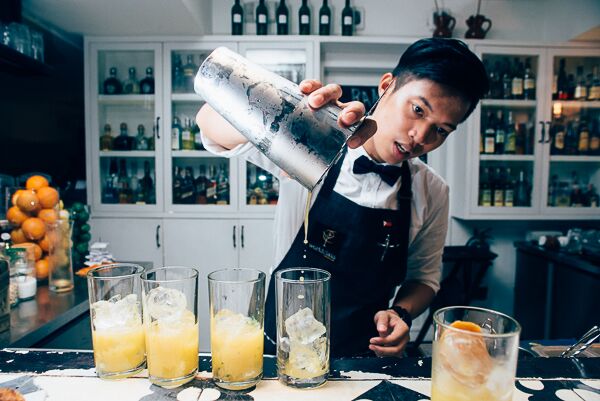 Michael may veer towards fancy creations like the Night Duty Magtataho which is made of soya foam and coffee liqueur caviar, but he also believes in just winging it. "Try to improvise. You don't have to get the bar materials the experts use. You can use a mason jar as a shaker, a chopstick as a stirrer, a standard mortar and pestle to extract flavors from [the] herbs," he shares. He tells more about himself through his personal signature cocktail, Boy Juan-der.
Boy Juan-der
Ingredients
1 oz Johnny Walker Gold Label Reserve
2 oz mango juice
1 oz lemon juice
Vanilla extract
Basil leaves
Dried mango
Preparation
In a shaker, combine all the ingredients, except for the dried mango. Put the basil leaves on top and shake well. Serve in a tall glass filled with ice and top with a slice of dried mango.
Rambla. Ground Floor, Joya Tower, Joya Drive, Rockwell, Makati City.
Photos by  Patrick Segovia