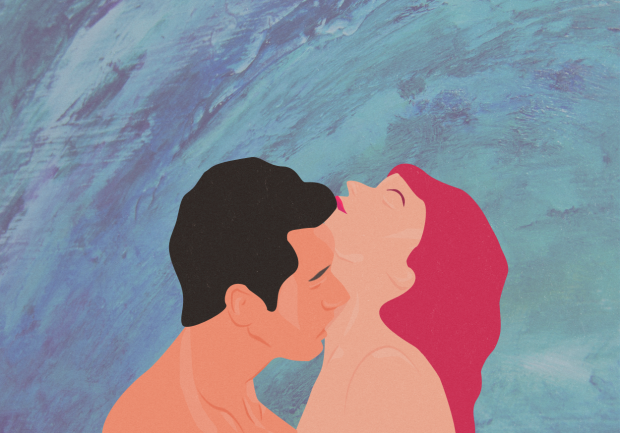 So I wrote this book.  A novel, actually, called Making Love in Spanish, which chronicles the amorous and often hilarious adventures of a fortysomething woman named Maxine, divorced and loving her independence after a catastrophic marriage.  It's witty, it's racy, and it's got sex.  A lot of it, in fact.  Rather explicitly described, too, in parts.  Some readers have called it steamy and scandalous; others have labelled it practically X-rated. Yet more have flatteringly hailed it as a groundbreaking novel by a Filipino author in the Philippine market because of its candor and boldness in tackling a rather controversial subject, at least in these parts.
And everyone wants to know if it's autobiographical.
Of course they do.
And of course it's not. 
But, damn, is it hard to write about sex.  Sex scenes in particular, the sweaty ballet of tangled bodies, the primal orchestra of thrusts and the grunts—how do you capture in words that uneven carnal choreography in all its heat, awkwardness, and glory without sounding like a medical textbook or a breathlessly trite fantasy? Or just plain dirty?
 Dirty is fine, I suppose, if your aim is purely pornographic titillation.  But if you're trying to tell a story, as in the case of my novel, in which sex plays a pivotal part, the challenge is authenticity.  In literature, as in film, there is a difference between gratuitous sex and sex that serves the story.  With Maxine, my protagonist, sex is integral to her liberation—from the shackles of convention, from the prison that was her marriage, from the limits imposed by her own timidity.
We've all experienced, I assume, the swirling excitement in our tummies, the short-of-breath thrill of arousal, the tactile pleasures—or disappointments—of feeling another person's body parts in your hand, or mouth, or inside you.  But sex, it has been said, takes place as much in the mind as it does in the body, and in the midst of sexual congress, there is almost certainly a monologue that streams along the consciousness of your brain, from the shallow to the sublime to the snarky:
"I don't think he noticed my stretchmarks…"
"Oh God, I better remember that Sophie's ballet class ends earlier tomorrow…"
"The maid didn't clean behind that lamp again…"
"Oh my gosh, I think I'm falling in love with him.  I wonder if he feels the same way…"
"This. Is. Bliss. I don't think I've had sex this great in forever!"
"Is he expecting me to blow him again?"
"Oh, for heaven's sake, come already!"
"That was it?  He's done?"
 Which means that every fuck is a mindfuck.
 And it's a mindfuck that not many people like talking about openly.
 So, yeah, let's do it.  Let's talk about sex—the politics of sex, the science of sex, sex and culture, sex and society, even sex and the city. Sex permeates everything,  whether we care to admit it or not.  Wars have been fought, thrones abdicated, governments toppled, even breakaway religions established, all for sex.
Yes, yes, of course the nobler thing is to say it was all for love. 
"Yet many a man is making friends with death / Even as I speak, for lack of love alone," goes a sonnet by Edna St. Vincent Millay.
 But really, sex is all about itself.  Either someone wanted some and couldn't get it, someone wouldn't get it anymore unless he gave up something, or someone was getting too much of it rather illicitly. 
 Yep, blame it on the D. As first-time novelist Naomi Jackson, the author of the book The Star Side of Bird Hill declared, "Life and Death and Sex are all cousins."
Someone once told me many years ago that she no longer believed in the myth of the all-consuming love, and decided to channel her passion into politics.
I told her that I hoped she had the fuck of her life at the very least before she made that decision. Even if it was just in the missionary position.
So how is politics working out for her?  I'm not sure, but you could say that she made her bed with some vary unsavory bedfellows at that, judging by the cast of clowns that make up Congress. 
I don't know about you, but I certainly wouldn't trade sex for that.  Unless you'd rather forego the thrill of intertwined limbs, lips against skin, and the sheer joy of a mind-blowing orgasm for the spectacularly inane mindfuckery that is the stock in trade of both Houses.
So strap on your dildos, it's going to be a wild ride.
B. Wiser is the author of Making Love in Spanish, a novel published earlier this year by Anvil Publishing and is available in National Book Store and Powerbooks, as well as online on NationalBookStore.com. When not assuming her Sasha Fierce alter-ego, she takes on the role of serious journalist and media consultant.
For comments and questions, email [email protected] 
Art by Dorothy Guya