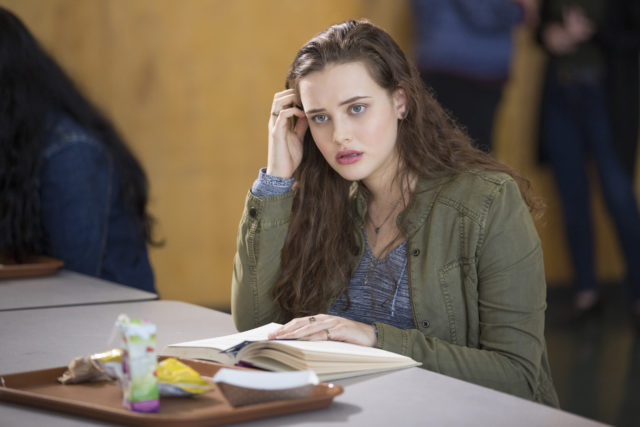 The book-to-TV adaptation of 13 Reasons Why is a show that's riddled with controversies. In the first season alone, many mental health advocates called it out for its alleged glamorization of depression and self-harm. Personally, the gruesome step-by-step portrayal of Hannah Baker's death was too much.
With the third season coming up, Netflix released a statement to The Hollywood Reporter saying they've been in touch with mental health experts while shooting the show. "We've heard from many young people that 13 Reasons Why encouraged them to start conversations about difficult issues like depression and suicide and get help—often for the first time," the statement read.
READ MORE: Does 13 Reasons Why give a fair portrayal of suicide and mental health?
The streaming company continued that they've decided to remove some parts of Hannah's suicide scene. "As we prepare to launch season three later this Summer, we've been mindful about the ongoing debate around the show. So on the advice of medical experts, including Dr. Christine Moutier, chief medical officer at the American Foundation for Suicide Prevention, we've decided with creator Brian Yorkey and the producers to edit the scene in which Hannah takes her own life from season one."
The original scene, which was almost three minutes long, showed Hannah staring in the mirror while letting the audience see how the process on how she took her own life in her bathtub. It ends with her parents finding her lifeless body.
Meanwhile, the edited scene starts with Hannah looking at the mirror and already cuts to her parents finding her body. In the book, it wasn't mentioned at all how Hannah died, so this scene should've been done the first time. Even showrunner Brian Yorkey admitted that after speaking with suicide prevention experts, he felt they should definitely re-edit the season one finale.
READ MORE: Movies about mental health: Did they do it right?
But I think it's also a little too late since the show didn't have a trigger warning in the first season. It was only added in the second season after receiving much backlash—it felt like an afterthought.
Many netizens sounded off on the altering of the scene. There were those who are disappointed, accusing 13 Reasons Why of hiding the realities of mental illnesses and suicide.
I completely disagree with #13ReasonsWhy removing any scenes from their show. They all are things that truly happen in real life, and some people are very blind to how horrific the consequences of their actions can be. The scenes are hard to watch, but they need to be there.

— Arielle (@ariellexvanessa) July 16, 2019
Editing out the suicide scene makes the whole thing seem trivial. It shows viewers who may not fully understand mental health issues a glimpse it to what happens daily and why we need action. #13ReasonsWhy

— katbabe0716 (@Kaitlyn36214718) July 16, 2019
I'm usually against explicit content, but sometimes it's necessary. The suicide scene showed us & Hannah, the brutality of her decision, her horror when she realizes it is irreversible & she is alone. Tyler being sodomized was totally unnecessary. Stop censorship. #13ReasonsWhy

— Krissy 💋 #LibertéÉgalitéSororité (@moyocoyotzinnow) July 16, 2019
While others are calling for Netflix to also edit out a violent rape scene in season two involving Tyler. (Take note that 13 Reasons Why only has one book, and it having multiple seasons beyond the book's plot is already confusing. But that also means this scene in particular was possibly thought of by the show's producers and writers for shock value.)
https://twitter.com/Gabby61817/status/1151180806313992194
https://twitter.com/bckyandrws/status/1151180249306161152
https://twitter.com/Charlieydwi/status/1151075750176595968
What do you think of this whole situation? Are you for the removal of the suicide scene or not?
[
The Hollywood Reporter
and
Pop Sugar
]
Photo courtesy of Netflix
For the latest in culture, fashion, beauty, and celebrities, subscribe to our weekly newsletter here  
Follow Preen on Facebook, Instagram, Twitter, YouTube, and Viber
Related stories:
Does 13 Reasons Why give a fair portrayal of suicide and mental health?
Movies about mental health: Did they do it right?
CupcakKe and toxic fandoms: How a suicide scare revealed the worst people
Preen Picks: This is how local celebrities take care of their mental health