IN PARTNERSHIP WITH GLOBE TELECOM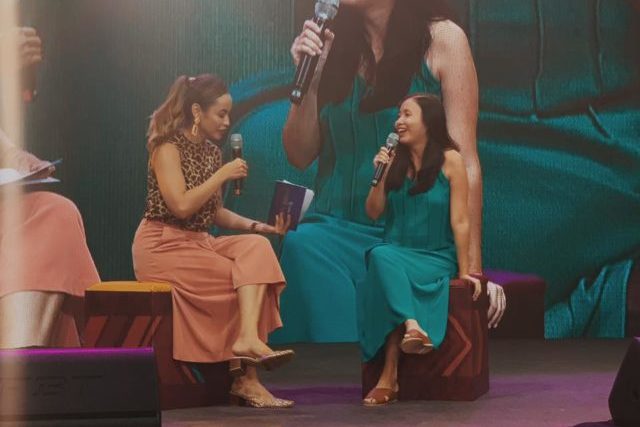 When we were young girls, we'd look up to all the leading Disney ladies. Since the studio has been releasing live-action reboots of their popular movies this year, we've been reliving our childhood and also resonating with other characters as grown women.
One character in particular was Sarabi in The Lion King. The badass queen lioness made us realize just how fierce she is as a female character. In the jungle, lionesses are known as the hunters of the pride, so just imagine Sarabi and the others getting food while taking care of the cubs, defying Scar because it's against her morals, and also defending everyone against the hyenas. She wasn't playing around.
The same could be said about Nala, who has been our OG favorite since we were younger. She's always been a feisty lioness since she was a cub. Who could forget the fact she can pin Simba whenever they would play-fight? And when she faced off against one of the hyenas? Oh, and this version was made fiercer with Beyoncé as the voice actress.
You could say these traits are similar to today's modern, empowered woman. She is strong, independent, hardworking, and fights for what she believes in. Of course, she also likes to have fun when she's not busy working.
That said, we got to exhibit this inner fierceness in our own ways when we visited Globe's Pride Land last July 20 at the BHS Amphitheater. This was a great place where families and friends could hang out and take part in activities inspired by The Lion King. If you want to know how we and other women #OwnTheChallenge, just keep reading.
Getting physical
Of course, the Pride Land is nothing without a test of one's strength and agility. Which is why there was a rock climbing wall where kids and and adults alike could conquer. We saw some young girls lining up for this activity booth—a sign they're not letting all the boys have all the fun and glory.
Eco-friendly offerings
https://www.facebook.com/globeph/videos/10156936818894748/?active_tab=discussion
Today, it's important to have more sustainable items—be it for your coffee runs or lessening your plastic wastes from toiletries. At Pride Land, there were several booths promoting just that. There were brands like Eco Love PH which was selling items like handcrafted soaps and bamboo straws; OIAM Naturals & Essentials with their shampoo bars and natural skincare products; and Jacinto & Lirio with their vegan leather goods.
These items can not only help us women in our everyday lives, but also lets us promote sustainable living among our peers. Saving the Earth one eco-friendly item at a time!
Taking another step in saving the environment
https://www.facebook.com/globeph/videos/10156936810934748/?active_tab=discussion
Aside from sustainable wares, NGOs like the Hineleban Foundation and Save Philippine Seas also set up booths. Here, Pride Land attendees could sign up and become volunteers. They were also given the option to send donations via Globe Rewards and GCash.Because how can you be inspired by strong lionesses like Nala and Sarabi if you're not supporting environmental and animal protection?
Inspiring women on stage
Rags2Riches founder Reese Fernandez-Ruiz and zero waste advocate Phoebe Blas took the stage to share stories of how they owned their fears to help create the life they want. Kinda like how Simba and Nala went from being scared cubs to becoming king and queen of Pride Rock. Here, they also talked about how they started their own advocacies, inspiring everyone who were listening to their stories.
https://www.facebook.com/globeph/videos/10156937030494748/?active_tab=discussion
Speaking of inspirational women, Up Dharma Down also performed in the evening. The band is led by vocalist Armi Millare who is one of the most talented and well-known female artists here in the PH. She recently made waves abroad when she collaborated with Norwegian pop/jazz band D'Sound for the songs "Lykkelig" and "Somewhere in Between."
A day with family
The modern woman can juggle work, play, and motherhood if they have a family. At Pride Land, we saw several women bringing their kids, nieces, and nephews so they can have a day of fun. You could see them coloring in animal pictures and singing along to The Lion King soundtrack. There were also moms supporting their kids at the rock climbing wall.
***
The Pride Land was a great event where everyone could connect and own their strengths in various activities. Now tell us, how do you display your fierceness and strength?
Photo courtesy of Globe Telecom
For the latest in culture, fashion, beauty, and celebrities, subscribe to our weekly newsletter here  
Follow Preen on Facebook, Instagram, Twitter, YouTube, and Viber
Related stories:
Beyoncé channels The Lion King's Nala at the Wearable Art Gala
Real-life superheroes: These Filipinas are saving our seas
Why Solenn Heussaff is a travel and life peg
Here's how you can start to live a zero waste lifestyle