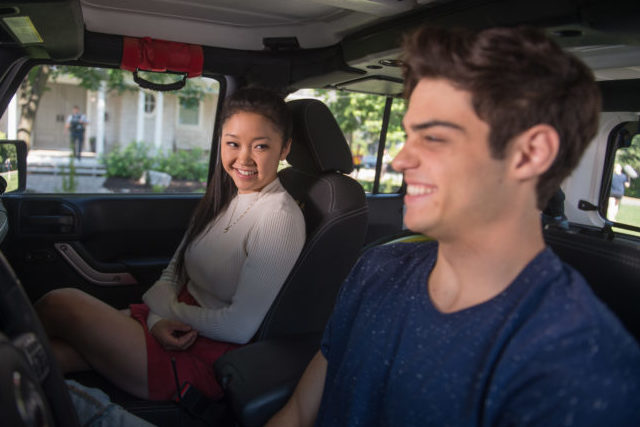 In case you missed it: The sequel to To All the Boys I've Loved Before finally has a premiere date. Mark your calendars: Feb. 12, 2020!
PS I Still Love You is Jenny Han's second book and also the title of the next movie. It still revolves around the teen romance between Lara Jean Covey (Lana Condor) and Peter Kavinsky (Noah Centineo). The cast also includes Jordan Fisher as John Ambrose McClaren, aka one of the guys Lara Jean wrote a love letter to when she was younger.
Uh-oh, love triangle alert!
We still have several months before the movie comes out but we're already curious as to how things will play out. Especially since the third To All the Boys I've Loved Before movie, Always and Forever, Lara Jean, is already in production and "almost finished" according to Noah. So we might expect two movies next year—hopefully.
#ToAllTheBoys: P.S. I Still Love You premieres February 12!

And a third film —To All The Boys: Always And Forever Lara Jean — is already in production!!! pic.twitter.com/EPfUYbOaKl

— Netflix Queue (@netflixqueue) August 15, 2019
If you haven't read PS I Still Love You and want to get a little hint of what's to come, keep reading. (A fair warning that this article might contain light spoilers.)
Follows after the first movie
If you watched until the end credits of To All the Boys, then you might've seen John Ambrose knocking on Lara Jean's door. This already hints at a possible love triangle since he visited after reading the letter Lara Jean wrote.
Past feelings
This is PS I Still Love You's synopsis on Goodreads: "Lara Jean didn't expect to really fall for Peter.
She and Peter were just pretending. Except suddenly they weren't. Now Lara Jean is more confused than ever. When another boy from her past returns to her life, Lara Jean's feelings for him return too. Can a girl be in love with two boys at once?"
Excuse me, I'm going to make a cup of tea.
Side characters' love stories
One plot point in the book shows Kitty, Lara Jean's younger sister, trying to play matchmaker for their single dad and the woman who lives across the street. We're also guessing that the film would capitalize on Ross Butler's role as Peter's best friend, Trevor Pike. Maybe he's going to get a love interest too?
Genevieve is back
According to IMDB, Emilija Baranac is reprising her role as Genevieve, who is Lara Jean's former BFF and Peter's ex-girlfriend. If the movie is indeed staying true to the book, then it means Gen might try to get her ex back. This obviously won't bode well, especially with John Ambrose also in the picture. Yikes.
Lara Jean and Peter breaking up?
This is merely a theory based on the previous point. Since Lara Jean and Peter are still a fairly new couple, having so many complications happening in their love life might affect their relationship. Will they break up? In the book, they did. But there's still a possibility that the movie would change things up as always.
Possible end-credit scene
Always and Forever, Lara Jean is set during the main characters' final year in high school. Since the first film hinted what will happen in the next one, we're going to guess that PS I Still Love You's end-credit scene would relate to a high school graduation. Another possibility is Lara Jean and Peter finding out they're studying in the same university. Who knows?
***
What are you excited to see in PS I Still Love You next year? Share it with us @preenph on Twitter!
Photo courtesy of Netflix
For the latest in culture, fashion, beauty, and celebrities, subscribe to our weekly newsletter here  
Follow Preen on Facebook, Instagram, Twitter, YouTube, and Viber
Related stories:
Hold up: Riverdale's OG Reggie Mantle joins To All The Boys I've Loved Before sequel
Old-school rom-coms to watch if you loved Lara Jean's fave movie
Noah Centineo sprinted to Lana Condor when she was feeling down
People are swooning over Peter Kavinsky in To All the Boys I've Loved Before