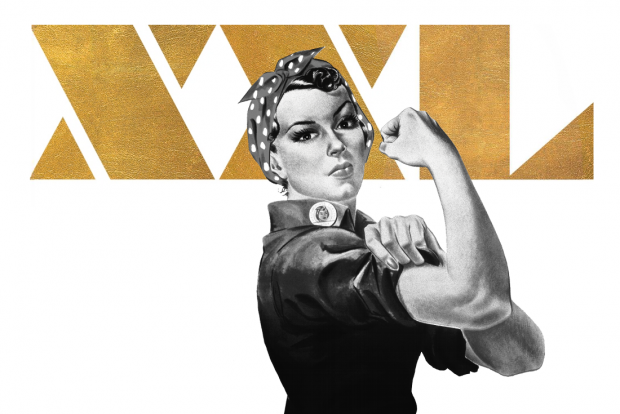 For years, even before turning gay, I never saw the appeal of topless men with bulky arms, six-pack abs, and oiled muscles—until last night.
Magic Mike XXL, the sequel to the 2012 stripper hit Magic Mike, served me serious beefcake à la gyrating, thong-wearing Channing Tatum, with a side of BDSM action and '90s R&B. God knows how much I squealed at the men's antics, and how little I felt for its attempt at subverting boy power.
What seemed to be a campy comeback of an unexpected gender-neutral hit (yes, Magic Mike appealed to men, too) is, admittedly, enjoyable camp. With its success in portraying men, however, the film doesn't get what it truly means to glorify women.
To be honest, I hardly cared for the storyline. Like many others who knew about Magic Mike—regardless of sexuality—the film's best assets are the raunchy dance routines.
(Before I continue, I suggest you click on a different story other than mine if you don't wish to be spoiled.)
The premise is hardly rocket science: Stripper-turned-entrepreneur Mike (Channing Tatum) suddenly misses his old days enough to join the Kings of Tampa—a group of male strippers he once led and founded in Tampa Bay—for one last showcase that will have women in a frenzy.
The film doesn't give its women enough justice. As much as it tried to make Childish Gambino relevant with a reflective monologue on the female perspective, women are still depicted to depend on men for validation, whether that be for their beauty, sense of self, or just their womanhood. What's the "queen" status for if our power involves commanding men to dictate us our joy? I don't even need to be lesbian to feel violated by this tone.
But to be fair, I'd be lying if I said my vagina didn't enjoy it at least one bit.
Sure, my brain was on snooze mode the entire time the boys stripped, but I started paying extra attention when Joe Manganiello danced to Backstreet Boys for an Amy Schumer lookalike.
The dances were a cross between gimmick and art, relying heavily on the successful delivery of the male cast. What still trumps the tricks though—yes, there's something more beautiful than a singing, topless Matt Bomer—is the conscious choice of turning a gender norm around.
The film makes space for male objectification. A female-dominated audience, both in film and real life, is allowed to ogle over sex cuts and traces of the male genitalia. The men's main purpose here is to satisfy with their body—no more, no less.
This visual preying extends to how we're made to view Channing's crew. The characters are still men, not simply strippers. We're invited to peek into their insecurities, fears, and vulnerable moments. We even had to see head bitch in charge Jada Pinkett-Smith lead this beef pack to the final convention.
Even for someone who didn't harbor any serious admiration for its male cast, Magic Mike XXL did a good job at humanizing an oft-ignored minority. Too bad it didn't do well in portraying its female majority.
In the end, it's still all about men—and an extra large serving of them, too.
Art by Dorothy Guya