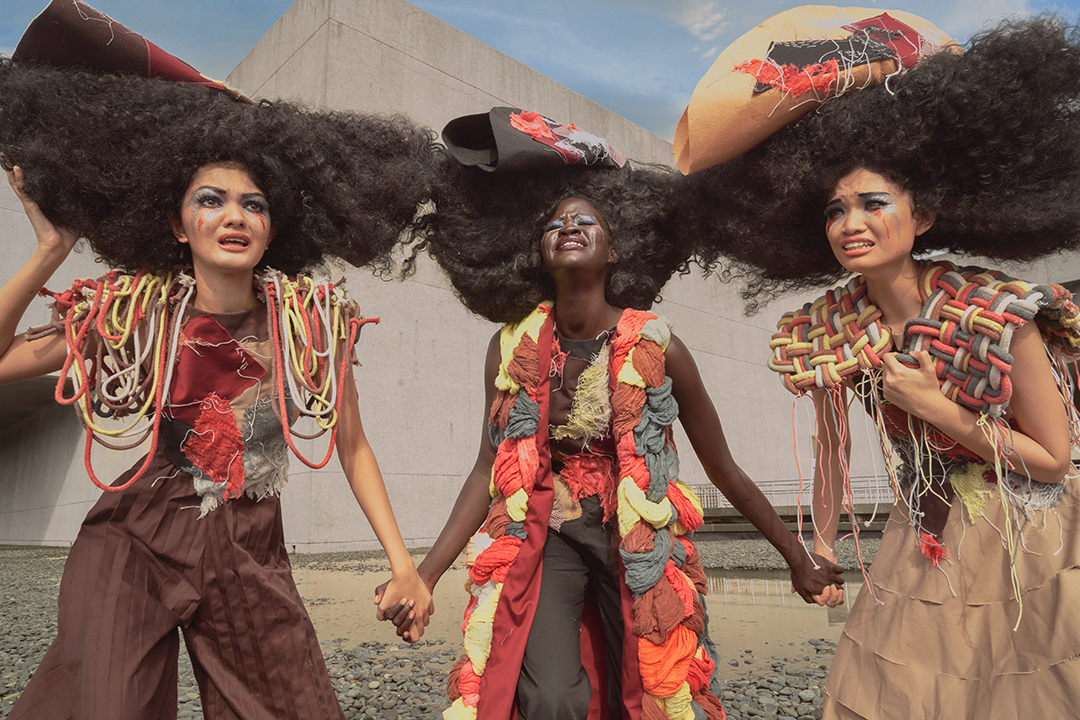 The graduating class of the Fashion Design and Merchandising program of the De La Salle College of Saint Benilde (CSB), who showcased their collection on the runway, focusing on diversity, inclusivity, and sustainability.
Let's face it: Young designers are taking over the Philippine fashion scene. These new bloods are proving that we are more than capable of competing in the ever-evolving world of fashion. We are never short on emerging talents and this year's "Sinulid" fashion show proved that. 
Amongst the number of seniors of CSB, 10 designers proved themselves to be the best and boldest of the lot. Not only visually, but also in the uniqueness of their concepts, and the stories behind their exceptional and one-of-a-kind creations. 
With this year's theme being diversity, inclusivity, and sustainability, Preen.ph was able to chat with  "Sinulid's" top 10 designers who's collections stood out on the runway—but more importantly, whose stories and inspirations caught the panel's attention, as they were deeply embedded in the overall aesthetic of each garment. The variety in manipulations also stood out, as each designer used distinctively different materials and techniques. Get to know the stories behind Kimble Quinto, Alina Macalindong, Bea Guerrero, Iricca Lee, and Bea Araza's collections.
Kimble Quinto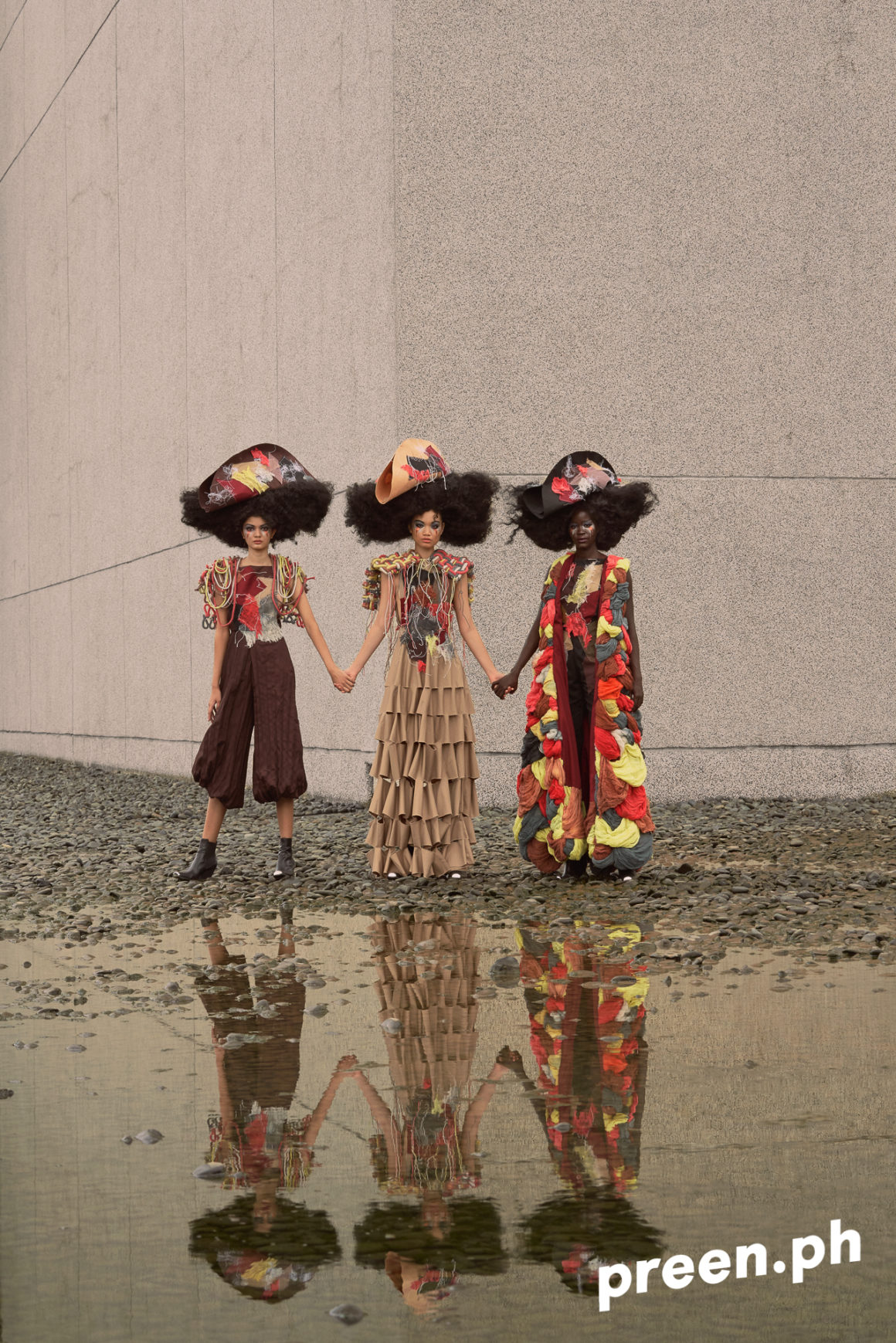 Bringing her Chinese and Filipino roots to the runway, Kimble Quinto really tapped both sides of her ancestry, and focused a lot on history and her advocacy on feminism. She displays an abundance of warm and earthy colors in her pieces, with hand-dyed and woven fabric. 
On incorporating history in her designs
"In my designs, most of the garments are diverse and include a lot of my culture. I incorporated Chinese history in my collection. I deviated from its patriarchal side, which is why I used the inspiration of Chinese empresses, those who said 'no' to the patriarchal ways of the Chinese. 
I drew inspiration from Ching Shih, a Chinese Pirate who ruled over a man's world. She started out as a prostitute of the captain of a ship, then when he died, she took over kasi walang magmamana (because no one else could take over). She taught her crewmates how to respect women. She's my inspiration kaya medyo rugged yung tela ko (which is why my fabric is a bit rugged), more on cotton. I hand-dyed, braided, and hand-stitched everything. It's all very personal."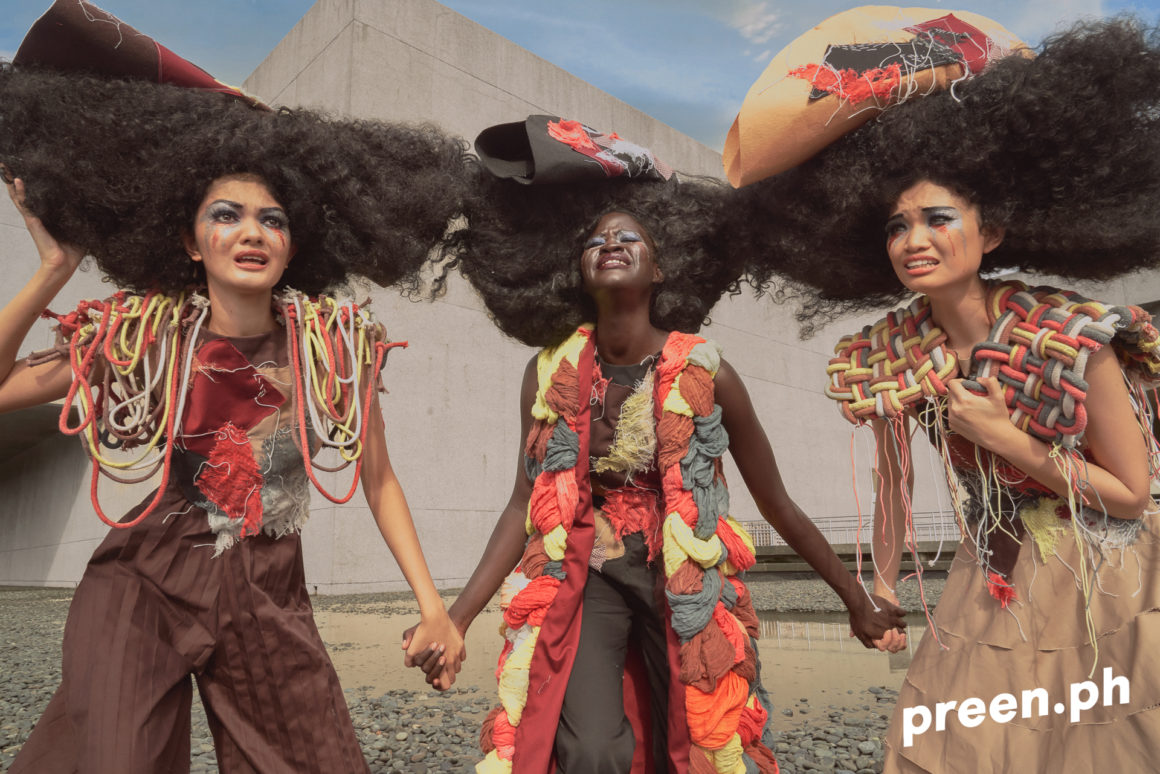 On what she fights for
"More on feminism and human rights. Because around the world, and not just in the Philippines and China, until now unequal pa rin pag dating sa jobs—unequal yung salary, yung treatment porket nasa bahay lang wala na siyang ginagawa (Because around the world, and not just in the Philippines and China, until now things are still unequal when it comes to jobs—unequal salary, unequal treatment just because women stay at home, they are seen as useless). Which is why I really used that portion of Chinese history to emphasize how strong women actually are."
Alina Macalindong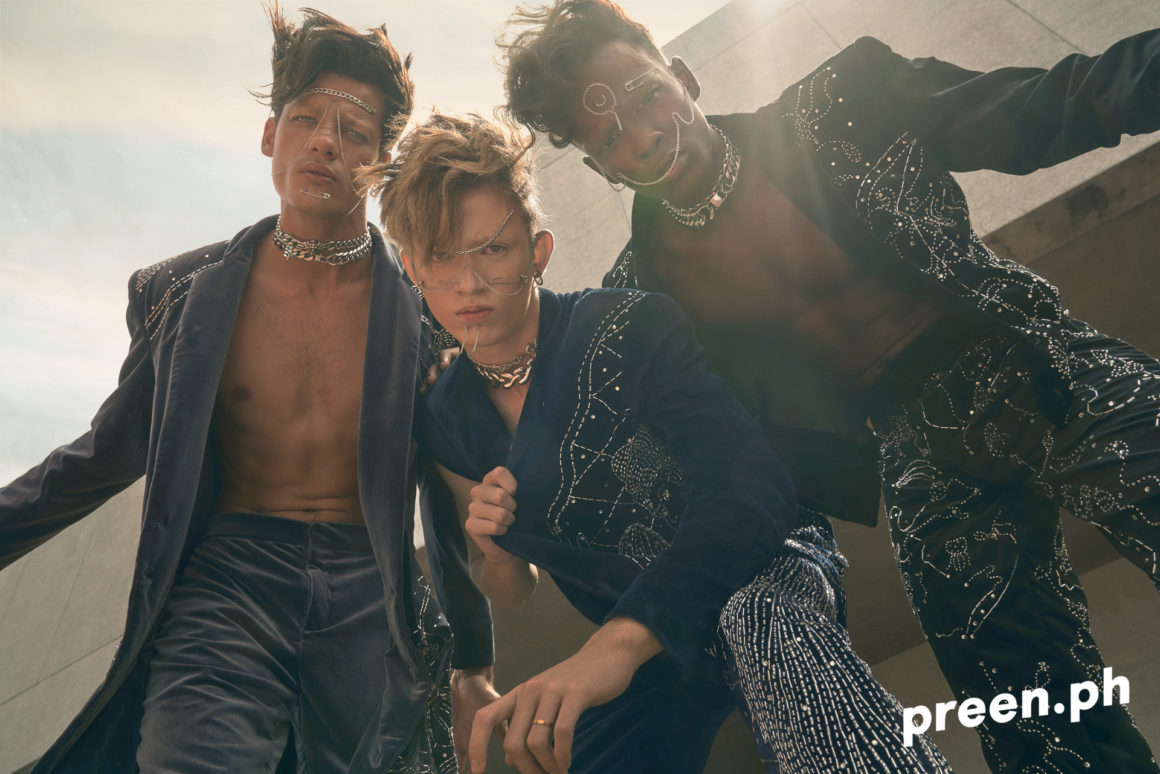 Alina Macalindog made a bold choice of going for formal menswear for the fashion show—something that is rarely done in "Sinulid." Her brave move earned her a spot in the top 10, especially with the unique theme of astrology with the use of velvet fabric and beadworks. 
On how she sees Philippine fashion
"I think Filipino fashion right now is very open, and yung mga tao ngayon (and people right now) they experiment more. They like to layer, look for various inspirations from different eras that they incorporate to the present time. Designers also differ in manipulations, and this is something I noticed in our fashion show."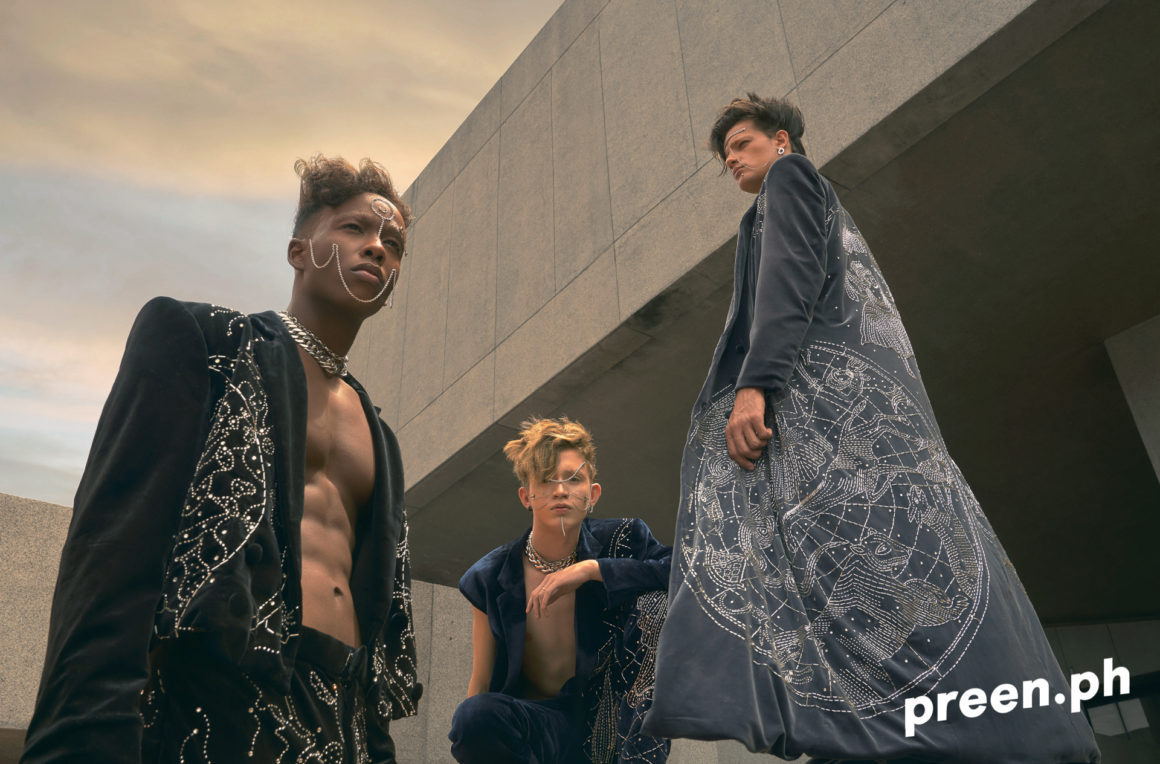 On why she chose to go for menswear
"The consultant and panelists gave me feedback on how my topic is unique and how konti lang yung gumagawa ng formal menswear sa mga competitions like this (and how only a few make formal menswear in competitions like this). I also incorporated astrological beadworks that you don't really see in menswear. I made this choice not only because I wanted to be different, but also because dito ako komportable (this is where I am comfortable)."
Bea Guerrero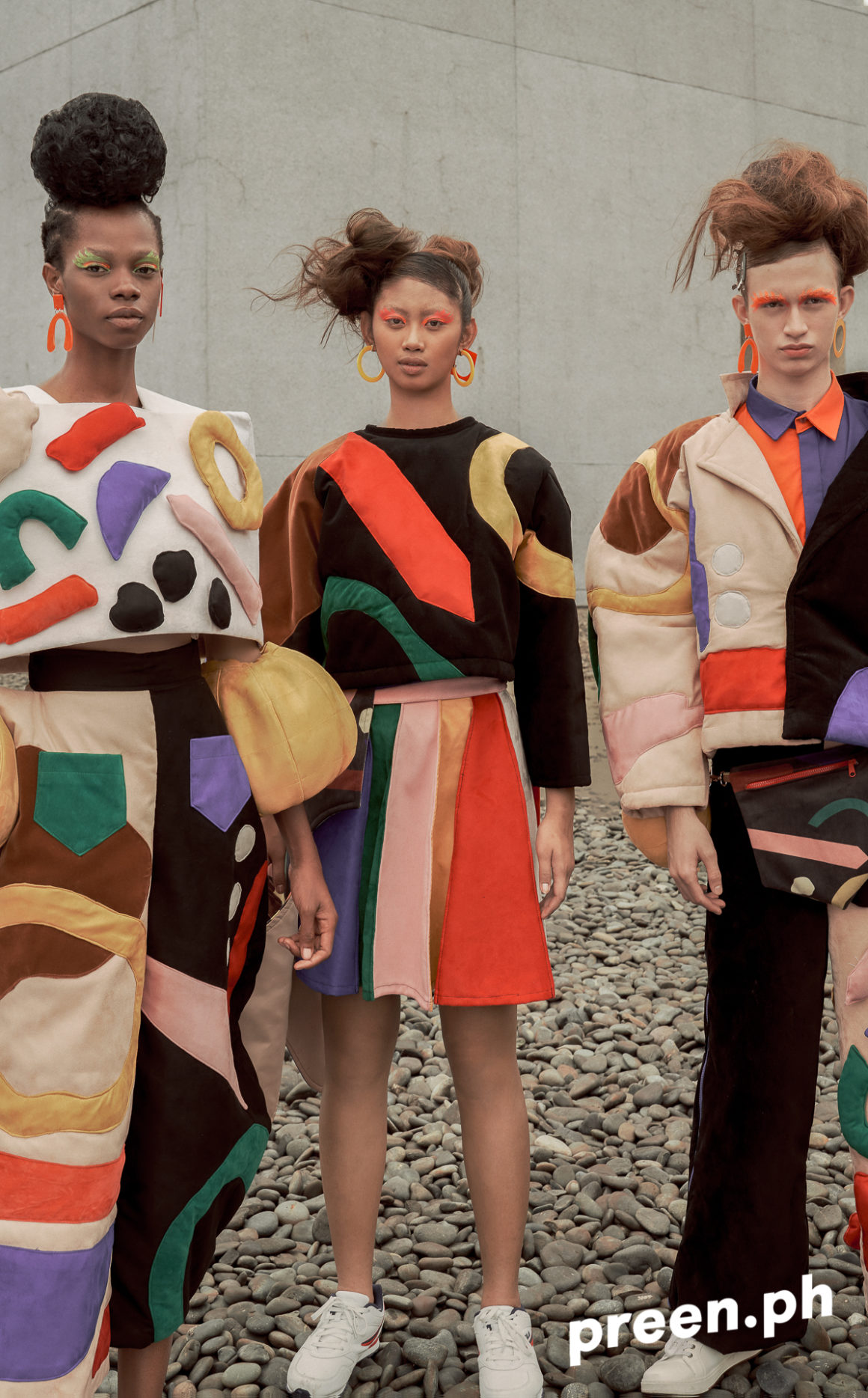 Colorful, playful, and child-like. These are very apt descriptions of Bea Guerrero's "Sinulid" collection, which surprisingly have no meaning. She shares how different she feels compared to other designers who have backstories to their work, while interestingly enough, she has none. 
On the meaning—or lack thereof—of her designs
"We have our own different aesthetics, especially for "Sinulid," but for me medyo weird (but for me it was a bit weird). My aesthetic is different from others because it doesn't really have meaning. For other designers, it's a bit deep and serious, but for me, my aesthetic is wala siyang meaning (for me, my aesthetic is it doesn't have meaning). The others kasi meron ng story behind it (The others have a story behind it). Mine, it's just me. It's from my digital works that I transformed into 3D clothes. Medyo weird siya kasi wala nga talaga siyang meaning (It's really weird because it really doesn't mean anything). Pag tinanong ako… 'Wala. It's just me.' (When people ask me… 'Nothing. It's just me')."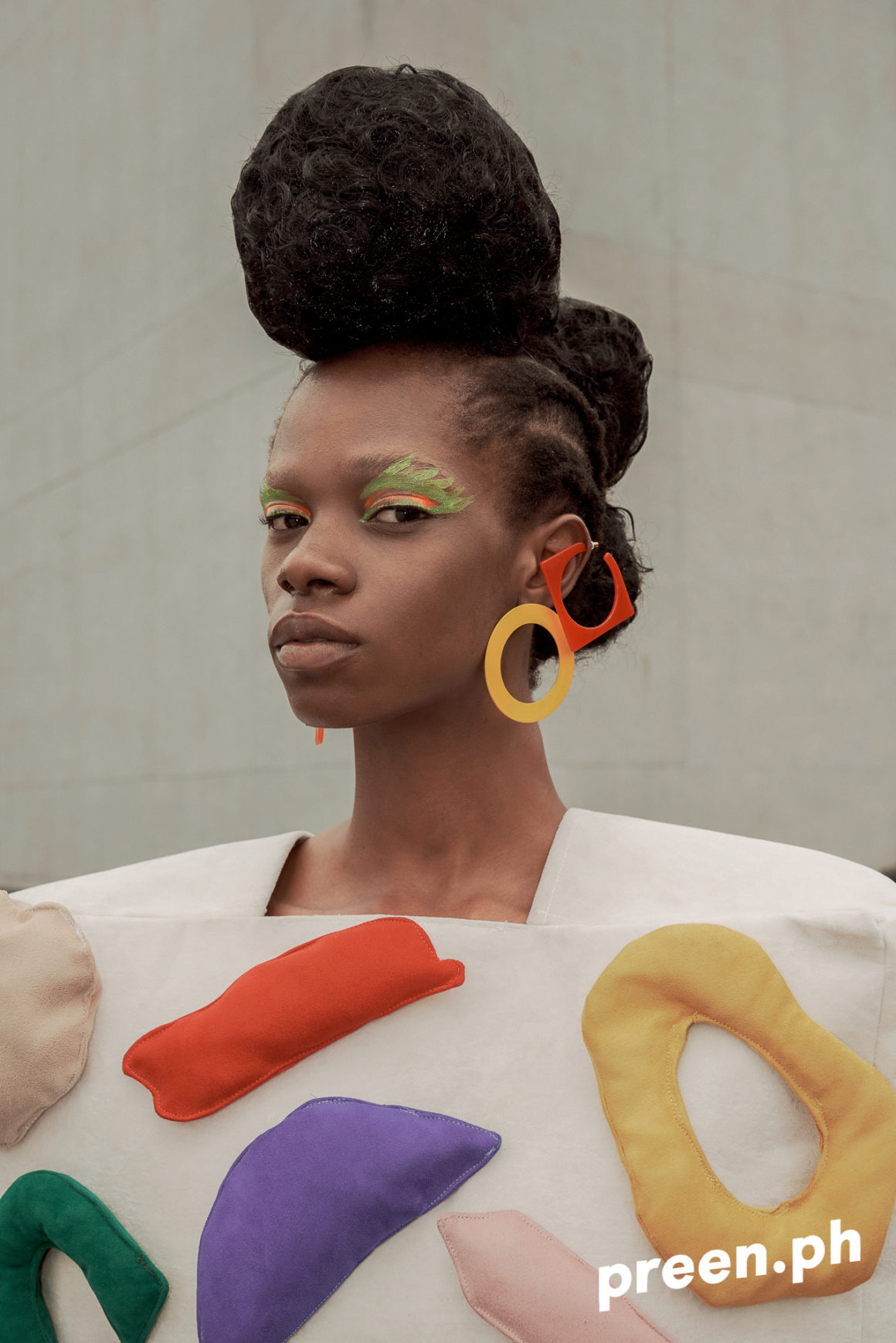 On how she wants anyone to be able to wear her pieces
"I focused on diversity kasi with my pieces, I want anyone to be able to wear it. It's a bit androgynous. It's all exaggerated and the silhouettes are big. It can be worn by anyone. This also incorporates my uniqueness. Because it has no meaning, it can be worn by anyone. It's simple. Art doesn't have to be deep. Pwede siyang 'yun na yun.' Pwede siyang maraming meaning pero ikaw na bahala dun, however you wanna see it. (It can be 'that's it.' It can have a lot of meanings but those are up to you, however you wanna see it)."
Iricca Lee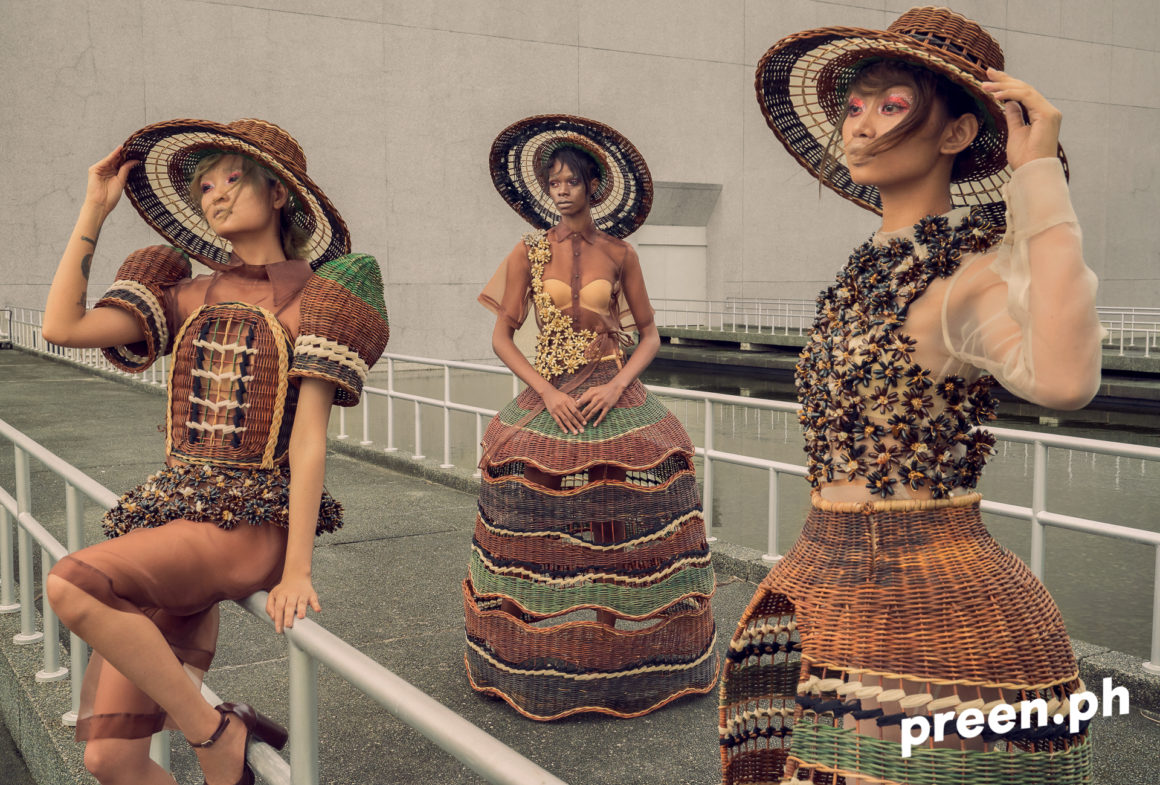 Iricca Lee believes in the creativity of the Filipino mind, and how local fashion always wants to stand out and be unique. Her basket-like couture is inspired by the use of rattan, and the earthy tones pay homage to the different local materials that she believes should be incorporated more in Philippine fashion.
On using rattan to create her garments
"I used rattan, and I asked for the help of someone who knows how to use rattan in making my pieces. I want to showcase, not just what I can do, but also what Filipino craftsmanship can be and how you can apply it to more modern designs. It's an opportunity to show what locals can do."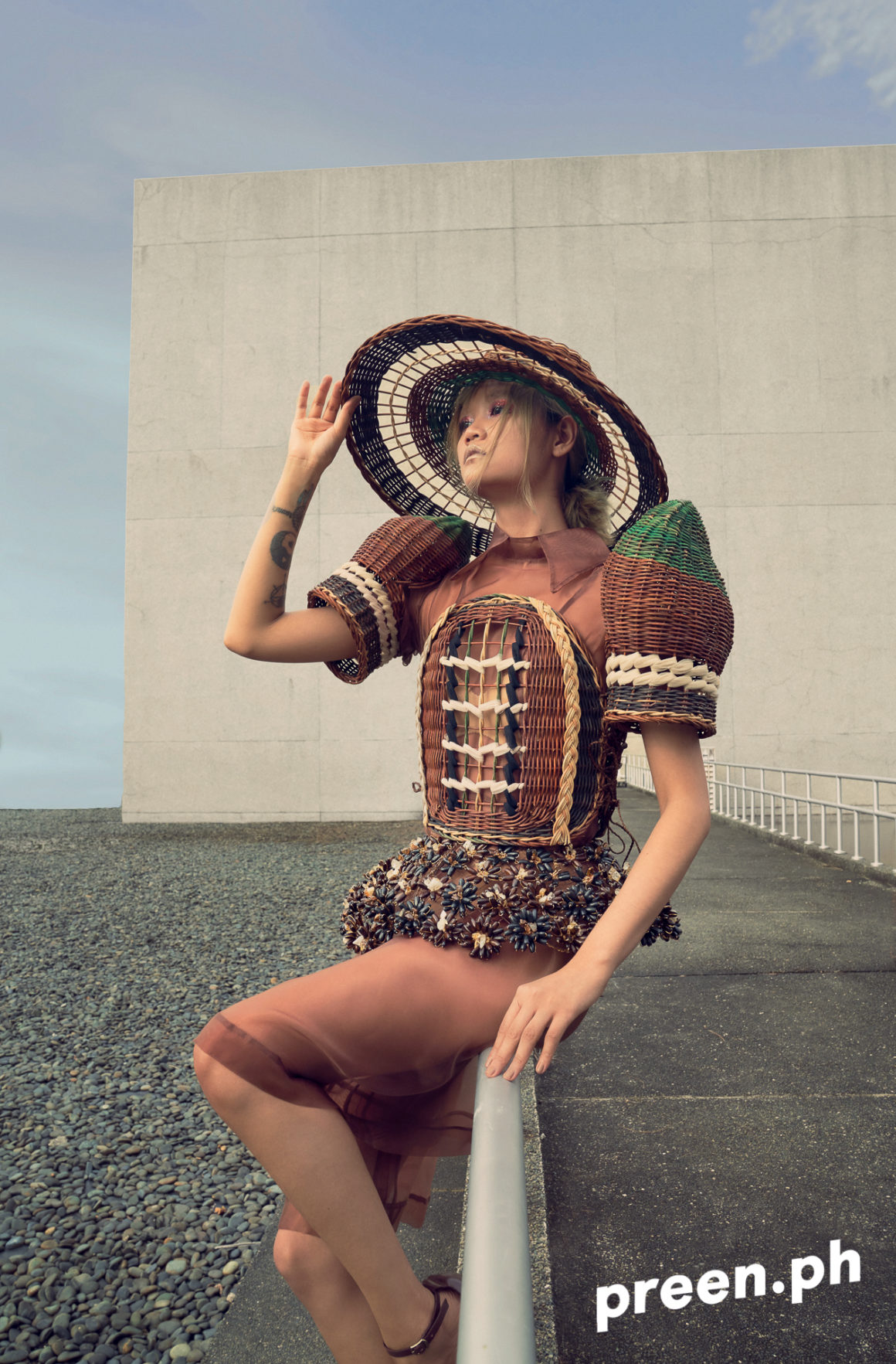 On using more Filipino textiles and materials 
"A lot of Filipino designers are becoming more famous, and I think if we want to stand out we have to use our culture, our own materials like piña, rattan, and others, so that when people from around the world see it, they'll know and say 'Oh it's Filipino.' It's something completely new to them, but it's us, our identity. It's just showcasing what we can have. Filipinos are very creative with what they wear. We want to stand out. Fashion nowadays is people having their own style."
Bea Araza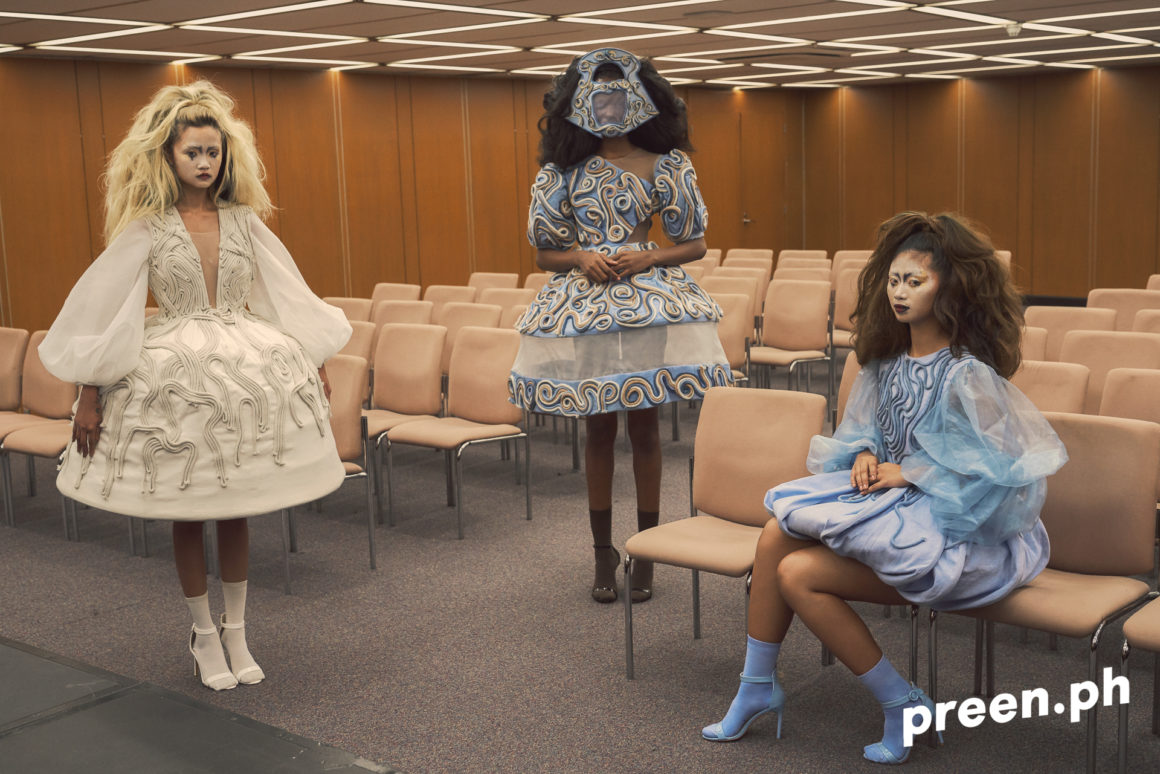 Taking a trip down memory lane was Bea Araza's key to making the top 10. Her ethereal silhouettes are inspired by memories of her younger days, and the unfiltered and unlimited imaginations of her childhood. She believes that in allowing oneself to explore his or her creativity is the key to creating any design.
How she tapped into childhood memories as inspirations for her designs
"When we conceptualized what I wanted to do for the show, I really had a hard time. My collection is mostly about music and my childhood. So when constructing, I found it difficult to decide on what silhouettes to make. My professor suggested looking at some of my pictures when I was younger. So from there, I incorporated my childhood silhouettes—the playfulness, fairytale-like charm. It is also more diverse because I developed my own technique. I dyed, hand-sewed, and painted everything—all the details."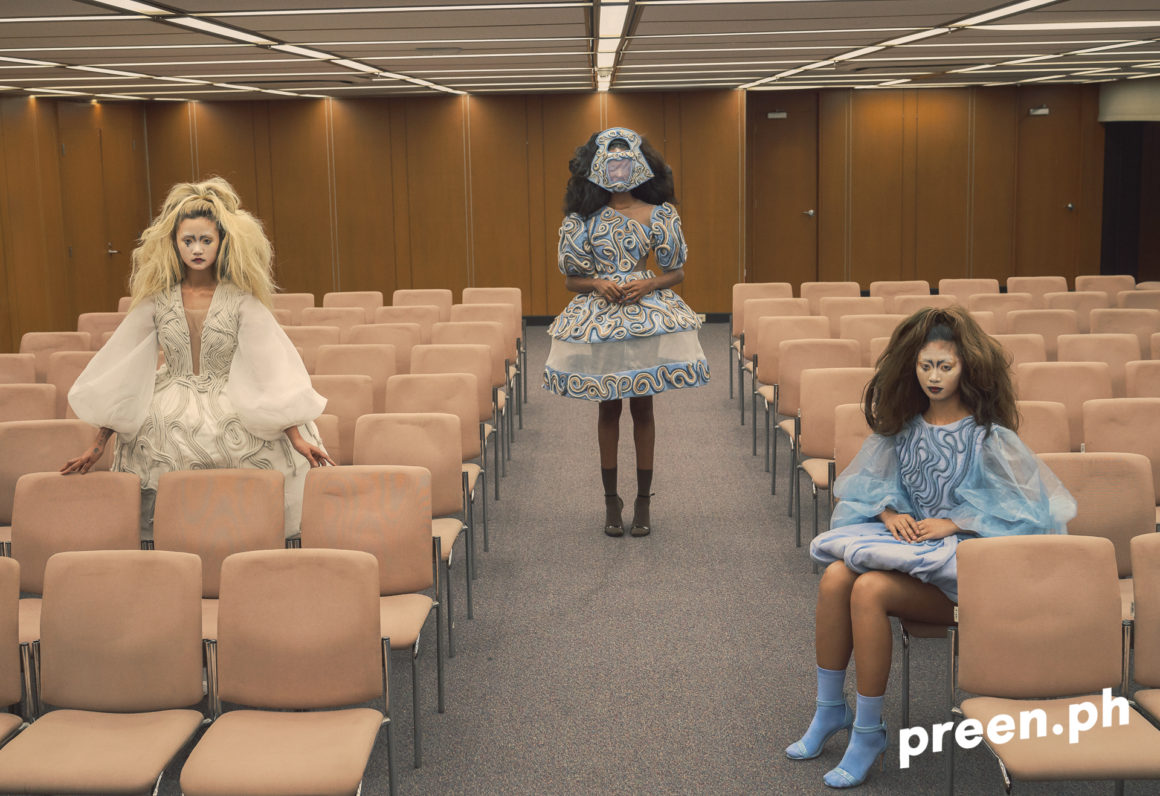 On thinking out of the box, but still being herself
With fashion, I think we're very broad with ideas but at the same time, as compared to before, mas nag evolved na yung mga designers ngayon (as compared to before, designers have now evolved). I think we're more open and think out of the box, especially young designers. For me, just be authentic and be yourself, kasi makikita naman yun sa collection mo (For me, just be authentic and be yourself, because it will really reflect on your collection)."
Watch out for part 2 of Preen.ph's "Sinulid" 2019 covers. 
Photos by BJ Pascual
Styling by Andre Chang
Makeup by Omar Ermita and Myrene Santos of MAC Cosmetics
Hair by Mark Familara and Mong Amado of Artists & Co.
Creative direction by Andre Chang
Special thanks to the Philippine International Convention Center and wigs from Lynelle's
For the latest in culture, fashion, beauty, and celebrities, subscribe to our weekly newsletter here  
Follow Preen on Facebook, Instagram, Twitter, YouTube, and Viber
Related stories:
Sinulid 2019 gives us a glimpse of the future of Philippine fashion
Wake up, fashion industry. Sustainablity is the new name of game
Albert Andrada on his holiday collection and presenting at NYFW
These local designers are bringing Philippine fashion to Tokyo