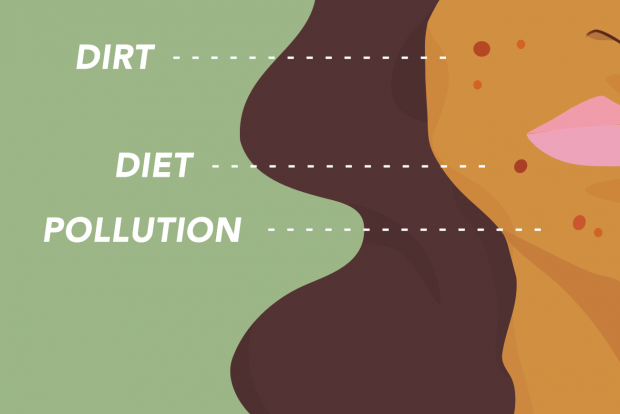 Up until last year, when I was already working hard at my first job, I suffered from severe acne like a hormonal teenager. At least, I thought they were pimples
. 
They were tiny, red bumps that were always itchy and would act up even when I tried anti-pimple creams and toners. Some of them would then evolve to big planets you could see a mile away. I was ready to face the fact that it was something I would never get over
with,
until my mother suggested I stopped eating grains. Being a doctor, she believed that my acne was linked to how I may be possibly allergic to these kinds of food.
True enough, after six months of cutting out rice, bread, cereals and anything that contained even the smallest trace of wheat in my diet, my skin started to get clearer. She also performed some home allergy tests to get some more conclusive proof. At the end of a six-month trial, I celebrated my triumph over acne by eating a cupcake—then I got a big red spot on my cheek the next day.
As I continued with this commitment to stay away from food made from grains (yes,that means I am forced to do a high-protein diet), I wondered more about the link between allergies and acne. Given how pimples are such a common problem encountered by many people, I wondered how many more people out there are unnecessarily suffering from it simply because they are not aware of what truly causes it.
The New Normal
I then asked Dr. Nelizza Jiao, a dermatologist at Dermclinic, to discuss this matter further. She was swift to define things first. "Acne vulgaris is a disease of the sebaceous glands and is thus not normal. It is, however, very common. Being common does not translate into being normal," she shares. There is a wide range of reasons why acne occurs, but regardless, it is a reaction against something you may have ingested or been exposed to topically.
It's Really Not Acne
Moving forward, Dr. Nelizza also clarified that an allergic reaction is different from acne, although they are very similar in appearance. "Allergic contact dermatitis is seen as itchy, small, blister-like, reddish elevations. Because of the inflammation of the skin and subsequent blockade of the oil gland pore where the sebum flows out, acne may worsen when [it comes into] contact with dermatitis." Thus, the inflamed spots I mentioned earlier were not all pimples per se. They were my allergic reactions, which explains the burning sensation they had and their imperviousness to topical treatments. They were also the reason why some of my pimples worsened into harder and larger pustules. 
The Real Deal
However, one should not be quick to change their dinner plans based on my case. "To differentiate allergic or irritant contact dermatitis form acne, one has to elicit from the history," says Dr. Nelizza.  "Patch testing is done to check if one is allergic to certain chemicals found in topical medicaments, food, or drugs."
It then follows that the role of food of acne is still quite controversial.  Dr Nelizza shares, "It may be too presumptuous to consider food as a culprit as acne is a multi-factorial disease. There may be underlying endocrine problems or [an] intake of drugs which caused it." Hence, the belief that milk, peanuts, and chocolate can cause acne is quite false.
Allergies and their manifestations vary from person to person. What triggers one person's allergens that inflame and worsen acne may not have the same effect on you. However, Dr. Nelizza does stress that there are some elements proven to worsen acne such as skimmed milk. Excessive intake of sugar, steroids, and Vitamin B12 may also increase acne frequency and severity.
Some beauty and skincare products can also trigger allergens. "Some chemicals which are notorious for causing allergies as reported by the North American Contact Dermatitis Group are neomycin, balsam of Peru, quaternium,  thimerosal, formaldehyde, para-phenylamine diamine, parabens, thiuram, propylene glycol, benzalkonium chloride, cocamidopropyl betaine, lanolin, ylang-ylang oil, diazodinylurea, mercapto mix, and benzophenone," enumerates Dr. Nelizza. Thus, it's important to always read the labels of your beauty purchases and observe which products cause inflammation so you can gauge what's best for you.
It's Your Turn
As for me, I just have to keep on with my fate of being allergic to grains. Sure, I do give in to eating some cake every now and then, but I have to be prepared to see a face full of red spots the following morning. If you think the spots that you keep treating with salicylic acid and other anti-acne solutions just won't budge, it may be time to seek expert advice. It's best to consult a skin expert if you wish to find out if it's a food allergy or even a hormonal problem. If it's something in your makeup and skincare, be ready to say goodbye to something you've been using for a long time. Either way, the road to clearer and better skin was never an easy journey anyway, but for the sake of no longer having to reach for more and more concealer every day, it's worth it.
Art by Dorothy Guya