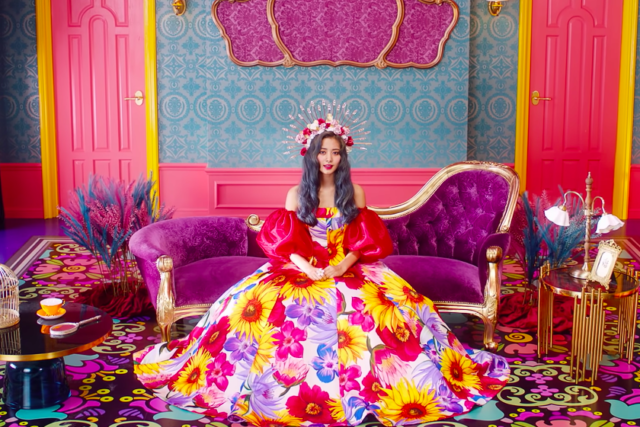 The Korean wave (hallyu) has influenced several aspects of our lives. We all know how popular music, dramas, and beauty routines have become—so much that fans have subscribed to them daily.
In 2019, the love for K-pop is still strong with the international recognition of old and new groups like Twice and Blackpink. What we've also noticed is how intricate and stylish this year's music videos have been so far, so we thought it'd be a good idea to take inspiration for upcoming Halloween parties.
K-pop music video looks are usually based on a theme or they're just wearing something high-fashion. It'd be interesting how fans would recreate them. If you're currently building your Halloween costume mood board for yourself or your group, take notes from these videos.
"Feel Special" by Twice
Twice made their "Feel Special" comeback this week, and also announced the release of their eighth mini album. The video featured various looks, but the most popular were the shimmery blue and purple ensembles toward the end. These are the same outfits they wear during live performances. Another standout and a fan-favorite is Tzuyu's floral gown with a matching headpiece—it's like something you'd see on the Met Gala red carpet.
"Dumb Litty" by Kard
Kard's latest video shows the four members playing different personas based on Greek and Norse mythologies. You can find which gods and goddesses they portrayed on their official Instagram account. So you can choose among the looks of J.Seph, BM, Jiwoo, and Somin—you can even include props for the full effect.
"Deja Vu" by Dreamcatcher
The music video for the pop-rock song gives a fantasy video game vibe. According to "The Korea Herald," Dreamcatcher's upcoming EP was made in collaboration with South Korean mobile RPG "King's Raid." The members wield weapons throughout the video while looking fierce in gowns. If you're looking to wear coordinating outfits with friends, you can rock the trench coat and necktie outfits they're wearing in one of the dance numbers.
"Icy" by Itzy
The "Icy" MV has a city vibe with the members wearing streetwear such as sports bras, jogging pants, oversized shirts, and multicolored jackets. This is easy to pull off, but the best way to Itzy-fy your Halloween costume is to copy the ladies' hairstyles by wearing a wig or braiding your pigtails.
"Kill This Love" by Blackpink
Everyone in the world knows this song by now, especially after Blackpink made their Coachella debut earlier this year. "Kill This Love" was said to be the group's most intense single before it was released. The music video doesn't disappoint as it shows Blackpink dancing in a ruins-like set and wearing all-black outfits as if they're ready to fight. Jennie is even dressed like Lara Croft.
***
Tell us: Who are you dressing as this Halloween?
Screengrabbed from "Feel Special" via YouTube
For the latest in culture, fashion, beauty, and celebrities, subscribe to our weekly newsletter here  
Follow Preen on Facebook, Instagram, Twitter, YouTube, and Viber
Related stories:
Feminism in K-Pop: Women are using their music as a social platform
The news of Mina of Twice's mental health break is so important in K-pop
Fans are convinced Blackpink and Ariana Grande are collaborating
Halloween 2019 makeup trends: Clowns, cats, and 'Euphoria'