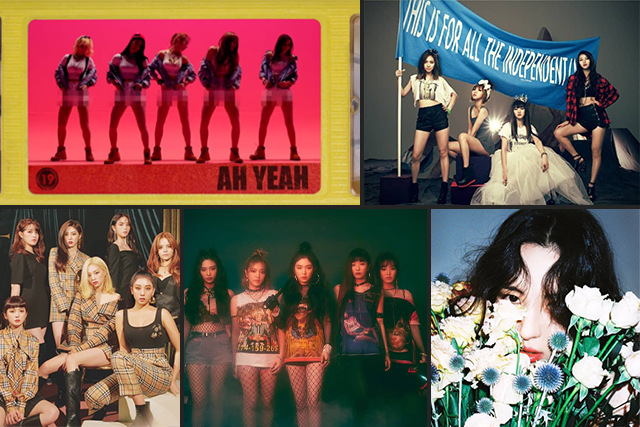 Gone are the days when K-pop girl groups sang about boys as their love interest. This time, they're focusing on a more important matter—themselves.
K-pop is now considered a worldwide phenomenon and no one can deny the influence and power it holds on their audience. With feminism still being considered as something taboo in a conservative country like South Korea, these girl groups are taking the first step in creating an era of change through their music and making use of their platform in sending an important social message not only for Korean women, but to all the women around the world. Here are some female anthems that will give you a boost of girl power during a hard day of facing the deep-seated misogyny in work, school, or even just by walking down the streets.
"Bad Boy" by Red Velvet
"Oh he don't, he don't, he don't know
I can take 'em head to head, go toe to toe
Oh, if you play I fight back, I fight back
I'll show you who's in control"
Calling out all the bad boys out there who break girls' hearts for a hobby, your time is up! The girls of Red Velvet are here to teach y'all a lesson and they're not playing around as seen by the lyrics. There's a theory explaining that the symbols and imagery seen in the music video plays out the story of their innocence being taken away by the bad boy, which led to the pain each of them experienced as the source of strength to take the bad boy out collectively as a group. The slow-paced R&B elements in the song and the way each line is sang in a bewitchingly alluring tone unify the femme fatale concept that Red Velvet is known for.
READ MORE: Red Velvet's Irene read a feminist book and male K-pop fans are triggered 
"NO" by CLC
"If you don't like it, forget it
Go look somewhere else to fit your tastes
Innocent, sexy and cute
Single words like that can't possibly express who I am"
CLC is saying "NO" to the societal beauty standards that are imposed on women in their song that is recognized as a feminist anthem by K-Pop fans. The song starts with Seungyeon saying "Red lip? No. / Earrings? No. / High heels? No. / Handbag? No." Less than 10 seconds into the song and CLC is already sending a message to the rejection of the common material things that society considers as a factor to the beauty realm. If that wasn't enough, the chorus goes "I love me, I like it" which shows that the girls are confident enough to not succumb to how society tells them to act, dress, look or speak. They are unbothered queens and CLC wants us to be one too.
"Gashina" by Sunmi
"You already bent and twisted me
So don't act like you're sorry
But the one who's really twisted
Is not me, it's you"
"Gashina" isn't your typical breakup song. The usual narrative of a girl stopping her partner from leaving isn't what the song is, it's more of an "Okay, leave. I'll even show you the way out." The Korean word "gashina" actually translates to "Are you going?" in English and this shows how bored Sunmi is of blaming herself when a relationship caused by her partner acting cold doesn't work out. Like, just pack your things and go. We'll continue to thrive while you regret on what you missed out on. As mentioned in the lyrics, "I bloomed, and you withered." "Gashina" is a summer hit song in Korea and it's groundbreaking that it's widely loved despite the conservative outlook of the country in progressive agendas.
"Ah Yeah" by EXID
"Why can't you get it?
I don't know why I'm telling you this
You softly smile and keep pestering me
Man don't do that
I don't wanna answer those kind of questions, no way"
Getting unwanted sleazy attention from men is something we ladies are all too familiar with. "Ah Yeah" by EXID confronts the issue head on, describing how men don't know how to take a hint and purposefully ignore the uncomfortable body language of women. To all the guys out there, always remember: Being aggressive and displaying an 'alpha male' (vomit emoji) attitude won't take you anywhere. You're just making yourself look like a fool at the end of the day. In addition, the music video also tackles the double standards media has in terms of censorship to women. Men can freely prance around shirtless on national television but the slightest skin showed by women is deemed inappropriate. Geez… talk about sexism.
"Yes I Am" by Mamamoo
"If I were to describe myself
I'm a confident woman
To put it in words, a woman of feeling
If you think you can do it, you can follow me (You can)
Follow me, follow me"
In the song "Yes I Am," each member of Mamamoo played the reverse card and flaunted the qualities that are usually used against them by their haters. Moonbyul—who is criticized for having a tomboy-ish attitude and style—wore a flashy pink suit in the music video. Next are Solar and Wheein who were victims of body-shaming, specifically people commenting that their face shape is too round for a girl group idol. In the music video, the former ate cheesy puffs and completely ignored the array of vegetables in the refrigerator, whereas the latter stood in a room full of makeup and shoes yet decides to entertain herself by dancing alone. The last member Hwasa is one of the K-pop idols with a tanner and more voluptuous body which is the complete opposite of the Korean beauty standards of petite figures and porcelain white skin. Of course, Queen Hwasa didn't care and wore a red hot bodycon dress that hugged all the curves of her body.
 

"I Don't Need A Man" by Miss A
"Boy don't say
'I am your future, trust and lean on me' no no
Boy don't play
If you're not gonna respect me"
Say it with me: I don't need a man! Miss A's song is pretty self-explanatory. Like the member Min said in the intro, and I quote, "This is for all the independent ladies out there." The song mentions that women can pay the bills, rent, and basically get everything they need without any help from a man. If there is one stereotype that needs to stop altogether, it's men being the only breadwinner in a family or relationship. We are strong, independent women who don't need no man to define us, period.
Art by Tricia Guevara
For the latest in culture, fashion, beauty, and celebrities, subscribe to our weekly newsletter here  
Follow Preen on Facebook, Instagram, Twitter, YouTube, and Viber
Related stories:
Anne Curtis is officially a K-pop godmother
Red Velvet's Irene read a feminist book and male K-pop fans are triggered
WATCH: Yassi Pressman dances to K-Pop hit 'Bboom Bboom'
The stages of fangirling over K-pop according to Kris Aquino