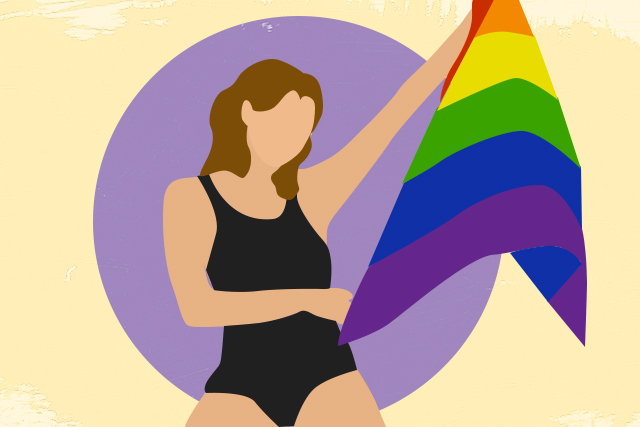 Pride month has just ended, and it was definitely one for the books. This year's Pride event attracted over 70,000 attendees, a major leap from last year's estimated 25,000 joiners. The final count was comprised not just of people who identify as LGBTQIA+, but also the community's allies. Although, it looks as if not everyone who was there understood what Pride was for.
It certainly seemed the case for social media personality Ashley Rivera, aka Petra Mahalimuyak, who was among the 70,000 people at Marikina Sports Center last June 29. In a now-deleted post on Instagram which showed her in full Pride garb, donning a rainbow flag even, she wrote in the caption that she feels she has this "connection with the LGBTQ+ community." She said most of her friends are gay because she chooses to be with people who are "full of life, that I effortlessly vibe with."
But then, she states, "I have my own beliefs and don't necessarily agree with everything they fight for, but I do respect them as long as they respect me too." While encouraging other people not to judge others based on their sexuality and to stop the hate, she also said "It's not always about being 'right' but you can always choose to be kind." Through a comment, she cleared that she doesn't agree with same sex marriage.
https://www.facebook.com/brittripudio/posts/10213357606244625
For those who don't see anything wrong with her statement and completely agree with her line of reasoning, let's dissect. First off, we have already said this, but it warrants an emphasis: Pride is not just a celebration, but a protest. This means that the people were there not just to celebrate their SOGIE, (or their "vibe," as Petra might call it)—but more importantly, as a sign of collective resistance to show the powers that be that they—the tens and thousands of them in that space—exist; they matter the same as every other human being in the country and thus deserve the same rights. They are there to protest the injustices and discrimination they experience. Like one of our Faces of Pride cover, Effy Elmubarak, told us, "This is a fight that is continuously being fought. People are still dying, people are still being denied rights, people are still being thrown out of their homes." Ultimately, Effy said what allies can do if they really want to help, is to stand and fight with their queer brothers and sisters. Literally, #ResistTogether was this year's theme. The least allies can do is to educate themselves and understand why Pride exists in the first place. If you join Pride, the community assumes you fully support them—meaning you are one with them in the fight towards real equality and acceptance.
Moving on, I also want to talk about what she said in the last part of her caption—"It's not always about being 'right' but you can always choose to be kind." To me, that statement reeks of condescension; almost like, "yes, they might be wrong, but there's no need to be hostile towards them." It just doesn't sit well with me. Again this reminds me of a conversation with another one of our Faces of Pride covers. Touching on what acceptance really means, Hannah Aldeza told me it shouldn't be like, "I have many friends who are gay. But I really still don't believe that they should enjoy the same rights"—which is what usually happens with so-called "allies" or "supporters." She was not wrong.
https://www.facebook.com/photo.php?fbid=3096283190396732&set=p.3096283190396732&type=3&theater
Another proof that Ashley didn't really understand the big picture was the fact that before deleting the post, she first edited the caption. Nope, she didn't include an apology in the revised statement. She merely deleted the problematic part and wrote, "edited caption para wala nang issue." (Caption edited so we won't have any more issue.) It shows that she failed to recognize what made the community furious in the first place. Some users resorted to privately messaging her to clear the issue. One of them shared the screenshots. Petra said she's "embarrassed" and was voicing out her opinion "but it all backfired." Here, it still sounded like she was merely sorry for offending the community, instead of what truly matters—which is that she understands why her statement was offensive to begin with.
https://www.facebook.com/photo.php?fbid=10156405157718404&set=p.10156405157718404&type=3&theater
However, we do acknowledge her latest apology showed there was progress in her way of thinking. "I completely understand where you're coming from. Mali talaga ako dun. I know better now. I apologize for not giving the proper respect for Pride [and] not knowing its entirety," she wrote on Instagram. "I'm using this experience as a learning lesson kasi ngayon mas nagkaroon ako ng deeper understanding about Pride… Just know that I truly am sorry. I didn't put myself in your shoes that's why it was easy for me to voice out my opinion. I really should've known better. Ayoko na i-justify yung ginawa/sinabi ko kasi alam kong ako naman talaga ang mali."
We appreciate that she's trying to be better, and can only hope that others who agree with Ashley's belief would also be enlightened about the issue.
Let this be a lesson: If you're going to partake in a cause or event, at least know why it's there. And to those who claim themselves as "allies" but don't think the LGBTQ+ community deserves equal rights as them, please re-evaluate your values. And choose a side. Support doesn't just mean not "throwing shit" at them. Right now, they need people who will actually fight with them.
Art by Tricia Guevara
For the latest in culture, fashion, beauty, and celebrities, subscribe to our weekly newsletter here  
Follow Preen on Facebook, Instagram, Twitter, YouTube, and Viber
Related stories:
Faces of Pride: Effy Elmubarak reminds us of the place of intersectionality in Pride
Pride is a protest: The advocacies we saw at the march
Faces of Pride: How Hannah Aldeza advocates for real change for marginalized women and LGBTs
A first-timers' guide to Pride