The iconic Pride rainbow represents the attributes and the beauty of the LGBTQ+ community; more than anything, it's a symbol of equality. On the last week of Pride Month, we wanted to tell the stories of six LGBTQ+ figures who, in their own ways, are living their truth and advocating for the rights of every Filipino—queer or not.
For our sixth cover, we have Effy Elmubarak, representing the color purple (spirit and gratitude).
Pride month ends today. Aptly, for our last "Faces of Pride" piece, our featured cover takes us back to what Pride really is all about.
With her Islamic roots, the hijab she dons, and her appearance—"plus-sized, dark-skinned and with big, kinky voluminous hair"—Effy has had firsthand experience of being discriminated. But Effy was able to move past all that. She has fully embraced her identity, and now the Filipino-Sudanese med student and artist is using social media as a platform to champion marginalized people. 
At only 21, Effy has established herself among the loudest voices of this generation. And like every other advocate leader, she has dissenters. She tells us people from the older generation, especially, has belittled her, citing her age and supposed lack of experience. While Effy acknowledges this, she explains, "The thing is, I'm willing to learn. Yeah, I'm young and inexperienced but that's why I'm more open to questioning the way things are." She points out that growing up, we're all exposed to different backgrounds and cultures that in one way or another exposed us to some kind of oppression, such as misogyny and homophobia. 
Certainly, Effy understands this. Her own household is a microcosm of our society and how it views the LGBTQIA+ community. In fact, she tells me she's firm on her decision to never come out to her parents, as they are extremely traditional and conservative. "My dad, he was born in Sudan, [where] homosexuality is punishable by death." She tells me, "I'm a hundred percent certain that it's valid for me to fear for my life. Sudanese culture, [and] Islamic culture in general is not very [LGBTQIA+]-friendly."
Of course, we all know it's not just Islam that has a problem with homosexuality. And that's one of the greatest hurdles advocates still have to overcome. "That's the thing, it's so hard to rationalize with the scriptures. May it be the Quran, the Bible, or the Torah," Effy says. "It's so ingrained and it's been that way through centuries, [so] it's so hard to challenge it. And the thing is, it's normalized. It's unfair, it's oppressive, but a lot of people don't think so."
She cites a conversation she had with her mom about gender roles. Her mother's answer is familiar to every kid with conservative parents, no matter their religion: "Ganyan talaga" (That's the way it is) and 'Do you think you're better than God to question how it was written, how it was made?'" 
Effy asserts, "I know that they love me and that they're not bad people." But sadly, it all comes down to culture. "We were brought into such a macho feudal heteronormative capitalist society, that it's been ingrained into everyone and there's a lot of learning to do." Effy stresses, "I'm not saying na religion is inherently bad, but why is it a catalyst for oppression?"
Religion is just one of the several issues we have to deal with when talking about the community. Socio-economic class is also a big part of it—and this is something Effy is particularly vocal about. And before you criticize her for her privilege, hold up. Effy is well aware that as a member of the middle-class, "It's true [that] we're never gonna know what it's actually like to be marginalized." But according to her, "That's why with the masses, we don't aim to be the voice kasi may boses ang masa. (They already have a voice) We're just here to fight with them. Ayun nga 'di ba? 'Awaken, the masses are the Messiah.'"
Yes, Effy identifies as a social media activist. But she knows it doesn't just stop with online presence. While she says "The internet plays such a huge role in organizing, mobilizations," as "more and more members of the youth are being educated and [made] aware of the realities," she also stresses that integration with the masses, with the actual members of the marginalized, is needed. "Like okay, you spread awareness but what's the next step? After mo maging organized, what's the next step?" For her, the answer is, "You go to mobilizations, you make some noise, you be heard through collective action."
To really understand the plight of the community, Effy reminds us that intersectionality must necessarily be discussed. "Right now in this day and age, and in this very anti-poor administration—although considering na all of the other administrations have been anti-poor in a capitalist society—talagang marginalized ang mahihirap. (It's really the poor who are marginalized.) So right now it's so important to fight against the stratification by social class." She reminds us that those who belong in the class D and E, can't even afford to think about something as basic as mental wellness, as they would first worry about providing for the primary needs of their family. This is crucial, as Effy says that many members of the LGBT community are urban poor. Integrating also the macho-feudal society that we are ingrained into, she points out that many were kicked out of their homes.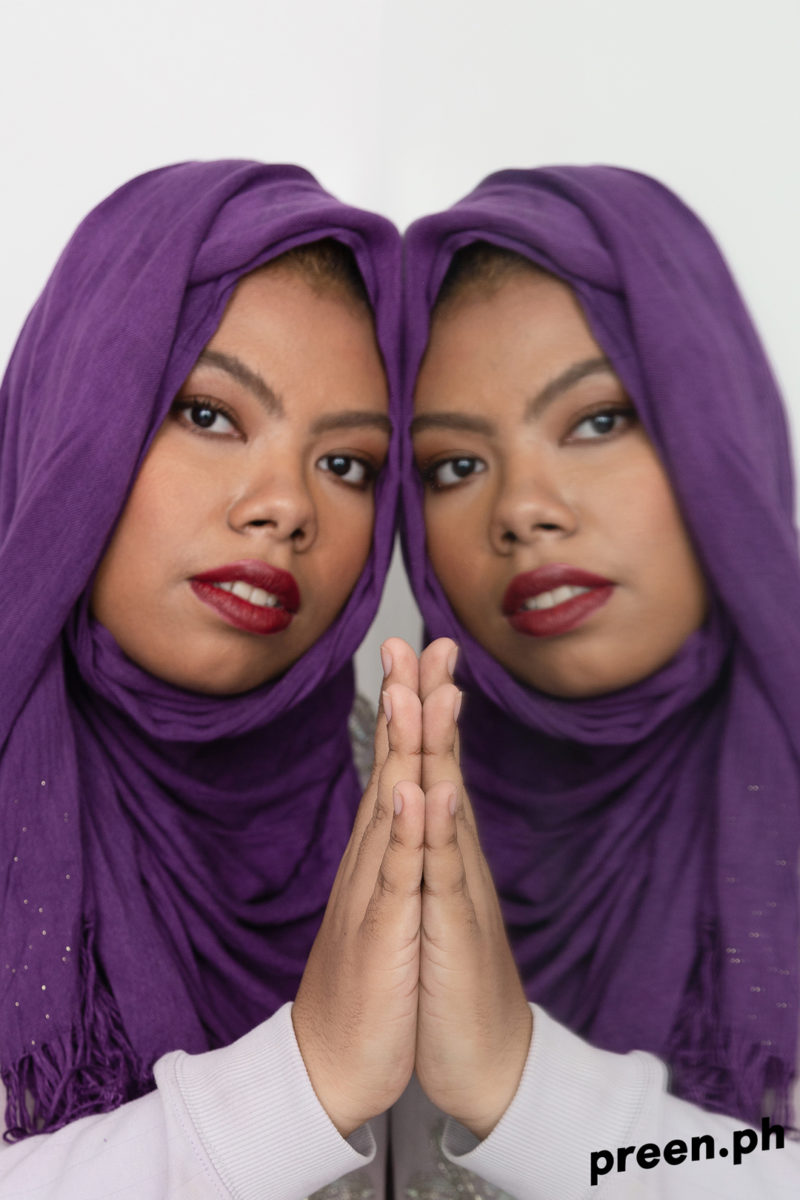 It's clear, in terms of attaining equality in our country, "We [still] have a long, long way to go." She said, "Right now, there's a lot of contradictions going on and the lens, generally, is very middle class." One of the things Effy highlighted is how corporations try to profit off the community but don't seem to genuinely care and don't even push for inclusive policies. "The LGBT sector is very much marginalized. They are dying and not just by suicide but by deliberate murder, or by the conditions that they are brought into by being kicked out and whatnot. So, it's so heavy that they still have the gall to take that oppression, to co-opt it and worst of all, to make a profit out of it. It's so cold when you think about it, na every June this happens and they're not even being discreet about it 'cause everybody thinks it's normal—this capitalist society that deems corporation sucking everything out of us is normal." 
Instead of being an instigator to this "standard practice," Effy advises, "If you want to participate in Pride, support the members of the LGBT community and not just the middle class, but the members of the LGBT community who are most marginalized."
This narrative also applies to allies. "First and foremost, you have to be aware of your privilege. You have to be aware na 'As a cishet, I have more privilege than my LGBT brothers, sisters and everyone in the community.'" She adds, "The worst thing you can do as an ally is to make the oppression about you, a cisgender heterosexual person. This is a fight that is continuously being fought. People are still dying, people are still being denied rights, people are still being thrown out of their homes. So there is never the time for you to co-opt the narrative and make it about you as an ally." Ultimately what they can do really is to stand and fight with their queer brothers and sisters.
Of course, the government has a responsibility here too. Right now, they still refuse to uphold the rights of LGBTs. Injustices against the community remain prevalent. Effy mentions Ryan Hubilla from KARAPATAN Sorsogon, a senior high school student and gay human rights advocate who was shot down in broad daylight just this month. "Basically, the government being anti-poor. Let's start with that. People being shot down—farmers being shot down every now and then. It never stops." But while the never-ending oppression and the ridiculousness of it all (see: Pres. Duterte and Imee Marcos' claim of being an ally) is enough to make you feel hopeless, Effy has a message to the government. They should simply start by listening to the masses and their needs. "Being in the government means you're a public servant. Then be a public servant. Serve the people towards where it'll be the most beneficial to them and their fundamental human rights."
If you think about it, that's really what it all comes down to. For Effy, equality means "Not just being equal with our straight brothers and sisters but also equality within the classes. Equity—that those who are more marginalized, get more help and those of us here in the position of privilege getting to acknowledge where we are and where we stand. That's basically the core of equality: Everyone having the same rights and not overlooking anyone. The indigenous, the farmers, the fishermen, the workers, everyone."
True, we still have a long way to go but there is progress. This year's Pride is proof of that. "Metro Manila Pride is going on the right direction by going back to the roots of when Marsha Johnson, the first brick of Stonewall," she said. "'Cause Pride is a protest. As long as all the members—all that is marginalized, may it be members of the LGBT community in the indigenous tribes, in the urban poor, as long as they're still marginalized—then the fight is not over… We're still continuing on through Marsha's legacy and that's the core of what Pride should be."
Best believe, beyond Pride, we will continue this fight.
Photos by Jack Alindahao
Styling by Tisha Ramirez
Makeup by Jef Ong of MAC Cosmetics
Creative direction by Tricia Guevara and Nimu Muallam
Produced by Tricia Guevara
Assisted by Jacqueline Arias, Bea Del Rio, Lorraine Belamide, and Javier Lobregat
Special thanks to MAC Viva Glam, which is celebrating its 25th anniversary. This year, all proceeds of the VIVA GLAM II Lipstick, VIVA GLAM III Lipstick and the new, limited-edition 25th anniversary VIVA GLAM 25 Lipstick in the original VIVA GLAM I shade, will be donated to organizations supporting HIV/AIDS treatment.
For the latest in culture, fashion, beauty, and celebrities, subscribe to our weekly newsletter here  
Follow Preen on Facebook, Instagram, Twitter, YouTube, and Viber
Related stories:
Faces of Pride: Jodee Aguillon on creating safe spaces for queer artists
Faces of Pride: How Hannah Aldeza advocates for real change for marginalized women and LGBTs
Faces of Pride: The Golden Gays on how drag culture saved them
Faces of Pride: Niccolo Cosme on the stigma surrounding HIV/AIDS
Faces of Pride: Artist Isola Rosa wants to fight for the marginalized