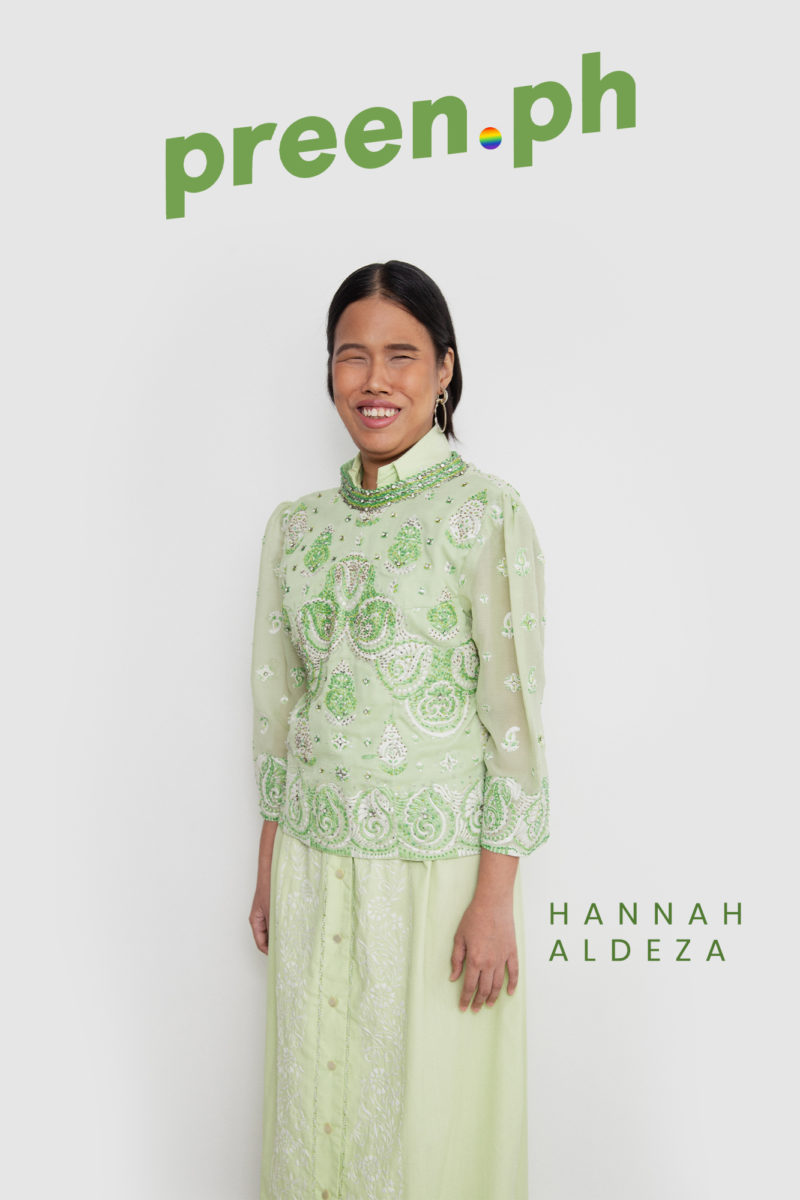 The iconic Pride rainbow represents the attributes and the beauty of the LGBTQ+ community; more than anything, it's a symbol of equality. On the last week of Pride Month, we wanted to tell the stories of six LGBTQ+ figures who, in their own ways, are living their truth and advocating for the rights of every Filipino—queer or not.
For our fourth installment, we have Hannah Aldeza, representing the color green (serenity and nature).
Hannah Aldeza is many things. She's a Computer Science degree-holder. She loves going on the internet and meeting new friends. She's on Twitter, and loves BBC Radio Shows. She's currently working at a company as part of their HR team, while also taking her Master's in Women and Development Studies in UP. And yes, she is blind and identifies as a lesbian. 
Contrary to what most might assume, the latter two does not define her—though Hannah acknowledges they are a big part of her. Certainly, they helped shape her life. In fact, her decision to take a Master's in Women and Development Studies was motivated by her want to understand her own gender identity. "It started out as something personal." Hannah told me. In 2011, she became very close to a girl she met online. Eventually, they realized their relationship was more than just a friendship, though Hannah revealed they both used to like guys. They soon became a couple, but sadly, their relationship didn't last. Both of them were Christians, and her ex was especially affected by how their relationship supposedly goes against their religion. "She started questioning me and I didn't know anything," Hannah said. "I just fell in love with a girl. Di ko siya inisip before agad." (I didn't really think of it before)
Years passed, and her ex's questions, like  "Bakit ba kailangan ko maging lesbian?" (Why do we have to be lesbians?) and "Bakit kailangan mag-Pride?" (What's the point of Pride?) persisted. "Imagine that: Yung taong minahal mo, siya yung parang nagpe-persecute sayo later on. (The person you love is the one persecuting you.) It's the worst feeling." It was too much for Hannah, so she told herself she would take up Gender Studies so that she could someday answer her ex's questions. 
It's for herself too, Hannah asserted. That time, she said it felt like "I can't advocate for myself." She wanted answers too. 
Since there is no degree focused solely on gender studies here in the Philippines, she applied to UP and enrolled in 2017. Her studies led her to many realizations. Getting exposed to different communities made her see the situation of different women in our society. "Iba't ibang klaseng oppression, marginalization. Yung intersectionality ng struggles, na-start ako maexpose although before that, naexpose na din naman ako dahil sa pagiging person with disability – pagiging blind. Tsaka pagiging LGBT and woman," she said. (Different types of oppression and marginalization. I became exposed to the intersectionality of struggles, although before that, I've already been exposed as a blind person, as well as an LGBT and woman.)
"Later on sa studies ko, mas narealize ko marami pa palang iba. Bakit ko ba fino-focus yung motivation ko sa sarili ko lang eh madami pa palang ibang  mas namomroblema? Maraming ibang mas kailangan ng tulong." (Later on through my studies, I realized there are so many others who are marginalized. Why was I focusing on myself, when so many others have problems too and need help.) This awareness made her want to advocate for other people, such as women farmers, and those with reproductive health concerns.
Of course, she's invested in the plight of blind LGBTs too. Since the Philippine society at large isn't PWD-friendly, most remain too dependent on their parents or guardians. "You have to understand na madalas talaga kailangan yan ng companion kapag aalis ng bahay, diba? Kasi hindi naman makakapag-byahe mag isa para mag-commute or hindi sila pinapayagan mag-Grab." (They need companion when going out. Because they cannot go out and commute by themselves. They are not allowed by their guardians.)
To LGBTs especially, this is a significant problem, as Hannah says most parents or guardians use their authority on their child to control them. For instance, they won't even be able to join events such as Pride March because their parents would refuse to accompany them. "I feel sad for most blind people na ganon," Hannah said. "Kahit gustuhin man nila, hindi sila makapag-out sa family nila kasi wala silang courage. Bakit? Kasi kailangan pa nila eh. Hindi pa sila ganon ka-independent enough to stand up for themselves." (Even if they want to, they can't come out to their family because they don't have the courage. They're not independent enough to stand up for themselves.)
Hannah is obviously an exception, as she was at least allowed to be independent. But her insight on parents' rejection comes from experience. At one point, she revealed she was actually kicked out by her parents because of a previous relationship. She was able to at least take care of herself and rely on friends. For other blind LGBTQs, however, being on their own seems impossible. They're simply too dependent on their guardians. This is a huge obstacle the queer community tends to overlook. 
Hannah tells me, "although [Pride] claims to be intersectional," she wonders if the organizers take into account blind LGBTs who want to be a part of the event. "Hindi nila ma-consider na uy, may blind person for example dito sa Marikina Sports Center, 'paano kaya natin 'to magagawang accessible for them?' Diba? Kailangan ba lagi nalang kami may kasama? Paano pala kung wala? Wala kaming org, individual lang kami, tumakas lang kami or something like that." (They don't consider that blind people, in Marikina Sports Center for instance, 'how do we make it accesssible for them?' Right? Do we realy have to depend on someone all the time? What about those who don't have anyone? We don't have orgs, we come as individuals. What if we just sneaked out or something like that?)
Hannah acknowledges that there are actually existing LGBTQ+ PWD organizations in the country, such as Deaf Rainbow. During Pride, "Magkakasama sila tas meron silang interpreter. Ang saya saya! Try mo tingnan sa Pride March. Nandyan sila, [at] madami talaga sila, iba't ibang deaf people. May mga gay, mga trans, mga lesbians, may mga bi. Lahat yan andyan." (They're all together and they have an interpreter. Try and look for them at the Pride March. They're all there. Gay, trans, lesbians, bis.) Hannah reveals she's always wanted to organize blind LGBTs too so they can collectively March during Pride, but is aware only a few to none could join. 
She said it's sad considering in other countries such as Canada and US, Pride is inclusive for blind people. Though they don't join the March, they set up a tent where blind LGBTs can stay, and when the parade passes through, they have audio descriptors available. "Dinedescribe sa kanila kung ano yung mga dumadaan na floats – anong itsura, ano yung mga design, ano yung mga suot ng mga tao." (They describe the floats, what they look like, the designs, what people are wearing.) She admits she dreams of experiencing it too. 
While it currently seems far-fetched, in the meantime, Hannah does all she can to help make our society better for marginalized people. She knows we still have a long way to go before we can claim equality for the LGBTQ community. 

She cites an instance, where she attended a conference supposedly about inclusive education. She soon realized, the people there, the "educators" themselves, lack awareness and have extremely backward views. "Ang sad kasi hindi pa nila alam kung pagkakaiba ng sexual orientation, gender identity, and or expression." For example, she recounts that they automatically brand a student as "tomboy" when they're masculine. "Eh bata yun eh! Grade 1, Grade 2. Paano nila malalaman? Sa maagang edad na yun, alam lang nila paano iexpress yung identity nila. Hindi pa nila alam yang sex sex na yan—kung kanino sila nagkakagusto," Hannah pointed out. (They're only kids! At Grade 1, Grade 2, all they know is how to express themselves. They don't know anything about sexuality that early on.) This eye-opening encounter challenged her to think of ways she can help the community. 
Hannah wants to see policies developed and implemented. She's hopeful that the SOGIE Equality Bill will provide education, workshop, or seminar to schools. When the SOGIE Bill is refiled, she's pushing for greater efforts in spreading awareness. "I think it starts with the people na kakilala mo on a personal level, bago mo i-educate yung buong bansa." She advises the community and allies to refrain from being hostile when trying to convince other people, as it only pushes them further away. Challenge their notions by educating them first, and then they themselves will spread awareness,
While Hannah concedes our country is "more tolerating" now, she wouldn't say acceptance is felt. "Marami padin talagang tao na nagsasabi sayo na 'Okay naman yung LGBT eh. Wag lang yung anak ko or wag lang yung kapatid ko.' Parang.. akala ko ba okay?" (There are still lots of people who will tell you, 'I'm okay with LGBTs. As long as they're not my child or family.' I thought you were supposed to be okay?) She stresses that real acceptance doesn't work like that. She stress that it shouldn't be, 'I have many friends who are gay. But I really still don't believe that they should enjoy the same rights.' "Anong klaseng logic yun?" (What kind of logic is that?)
Ultimately, for Hannah, "Equality is when LGBTQ+ people are not discriminated based on their sexual orientation, gender identity or expression and sex characteristics." She said that means the community enjoying every right as any other human being. "Bakit kailangan mo i-consider yung pagiging gay, lesbian, straight nila para maconsider kung pwede ba sila ikasal? Pwede ba sila mag-adopt? Pwede ba silang makapasok sa job na to?"
Hannah obviously has a clearer view of the world and what it needs than most of us. I'm confident she can lead the fight to equality.
Photos by Jack Alindahao
Styling by Tisha Ramirez
Makeup by Jef Ong of MAC Cosmetics
Hair by Marlon Joplo of Bench Fix Salon
Creative direction by Tricia Guevara and Nimu Muallam
Produced by Tricia Guevara
Assisted by Jacqueline Arias, Bea Del Rio, Lorraine Belamide, and Javier Lobregat
Special thanks to MAC Viva Glam, which is celebrating its 25th anniversary. This year, all proceeds of the VIVA GLAM II Lipstick, VIVA GLAM III Lipstick and the new, limited-edition 25th anniversary VIVA GLAM 25 Lipstick in the original VIVA GLAM I shade, will be donated to organizations supporting HIV/AIDS treatment.
For the latest in culture, fashion, beauty, and celebrities, subscribe to our weekly newsletter here  
Follow Preen on Facebook, Instagram, Twitter, YouTube, and Viber
Related stories:
Faces of Pride: The Golden Gays on how drag culture saved them
Faces of Pride: Niccolo Cosme on the stigma surrounding HIV/AIDS
Faces of Pride: Artist Isola Rosa wants to fight for the marginalized
The status of LGBTQ+ rights in the Philippines so far