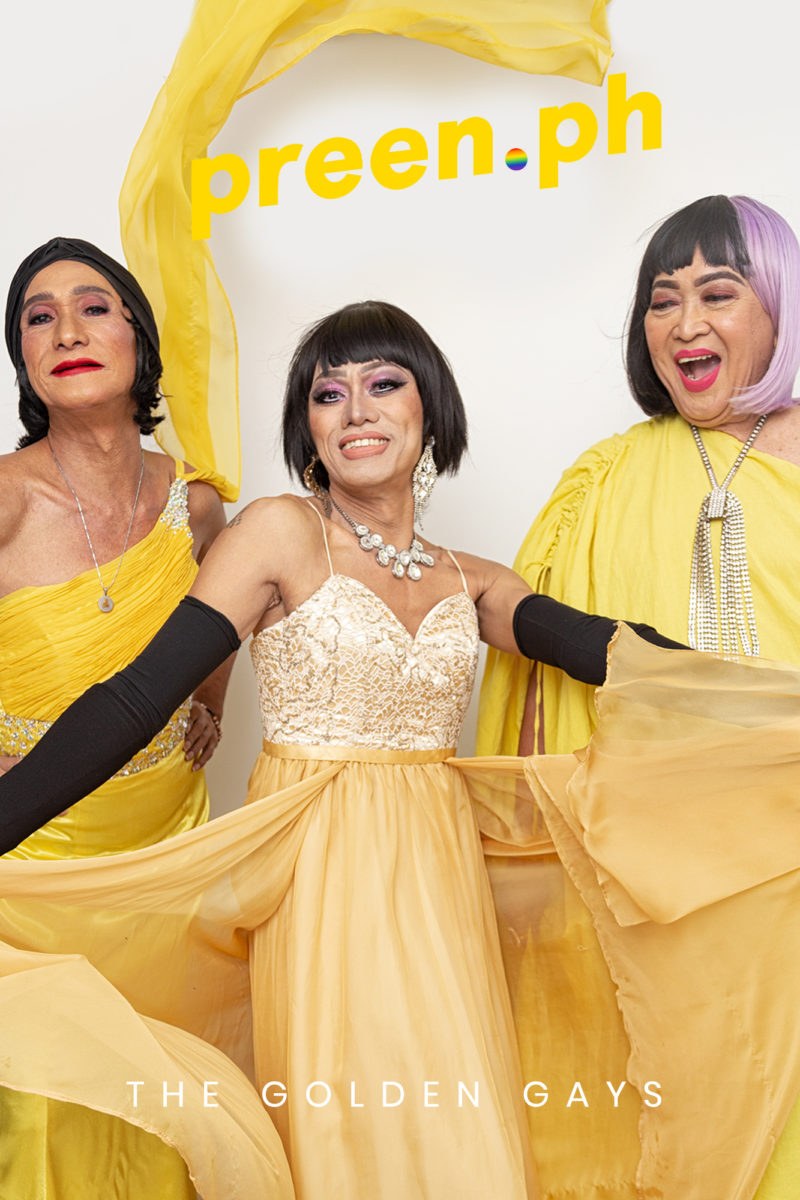 The iconic Pride rainbow represents the attributes and the beauty of the LGBTQ+ community; more than anything, it's a symbol of equality. On the last week of Pride Month, we wanted to tell the stories of six LGBTQ+ figures who, in their own ways, are living their truth and advocating for the rights of every Filipino—queer or not.
For our third installment, we have the Golden Gays, representing the color yellow (vitality and energy).
To have lived a full life—in the end, that's what anyone really strives for. Not everyone can claim it. But the Golden Gays–a marginalized, and indigent group of elderly gay people—are one of the few who can.
Established in the mid-1970's by LGBT rights activist and columnist Justo Justo, the Home for the Golden Gays in Pasay served as a care facility for elderly and homeless gays. However, when their founder died in 2012, members were forced to leave and the majority of them are now living on the streets without families or proper income. When they don't have bookings for a performance, they turn to other jobs to survive. Some of them work as a beautician, vendor, street sweeper, or trader.
To many people, the Golden Gays might seem like an unfortunate bunch. In a difficult world, it would appear they only have each other—but it seems clear from my interview with Ramon Busa, current head of the Home for the Golden Gays, and members Rey Ravago and Federico de los Santos Ramasamy aka Lola Rikka— that's all they need. Truly, I can say they are one of the happiest people I have ever met in my life. As a self-admitted pessimist, this ability to remain positive despite their hardships baffles me. Ramon did his best to explain: "Siguro isa yun sa mga character ng pagiging gay. Kasi nga being gay, halos in general, survivalist eh. Talagang maski saan  mapunta, parang kabute; kahit saan dumadapo, tumutubo." (Maybe that's one of the characteristics of being gay. Gays in general are survivalists. Wherever you put them, they grow.) What he means to say is, in a society where gays become targets of abuse, violence, and bullying, they have to have a hard shell to survive. The Golden Gays have obviously done so, and with exceptionally good spirits. The latter could be attributed to their immersion in drag culture.
Clearly, to them, drag is more than just a way to survive financially. Like Rey said, "nakakaangat siya ng aura ng isang lola at the same time pag rumarampa na kami, naeenergize kami. Parang buhay na buhay ang aming dugo." (It uplifts us. Whenever we're performing, we feel energized. We feel alive.)
Rey claims that their transformations allow them to express themselves. When they're in drag, "Eto ako, babae ako. Ang ganda ganda ko," he beamed. (This is me, a woman. I'm beautiful.) "Masaya kami nakapagsuot kami ng mga dress, ng mga gown, costume. [Tuwing] performance, nailalabas talaga namin kung ano kami." (We feel happy we get to wear gowns and costumes. During our performances, we get to be who we really are.)
Lola Rikka shares that when he was younger, he used to join pageants but stopped since he had to work. "So dumating sa panahon na matanda na ako kaya napunta ako sa Golden Gays. Dito ko na naranasan yung gustong-gusto ko talagang gawin—ang mag makeup-makeup, mag wig, [magsuot] ng beautiful gown tapos heels, o! Ang feeling ko talaga napakasaya ko. Parang fulfilled na fulfilled ako na ako'y isang babae nga." (When I got older, I got to join Golden Gays. That was where I experienced what I've always wanted in life—to wear makeup, wig, beautiful gowns, and heels. I truly feel happy and fulfilled I finally get to be a woman.)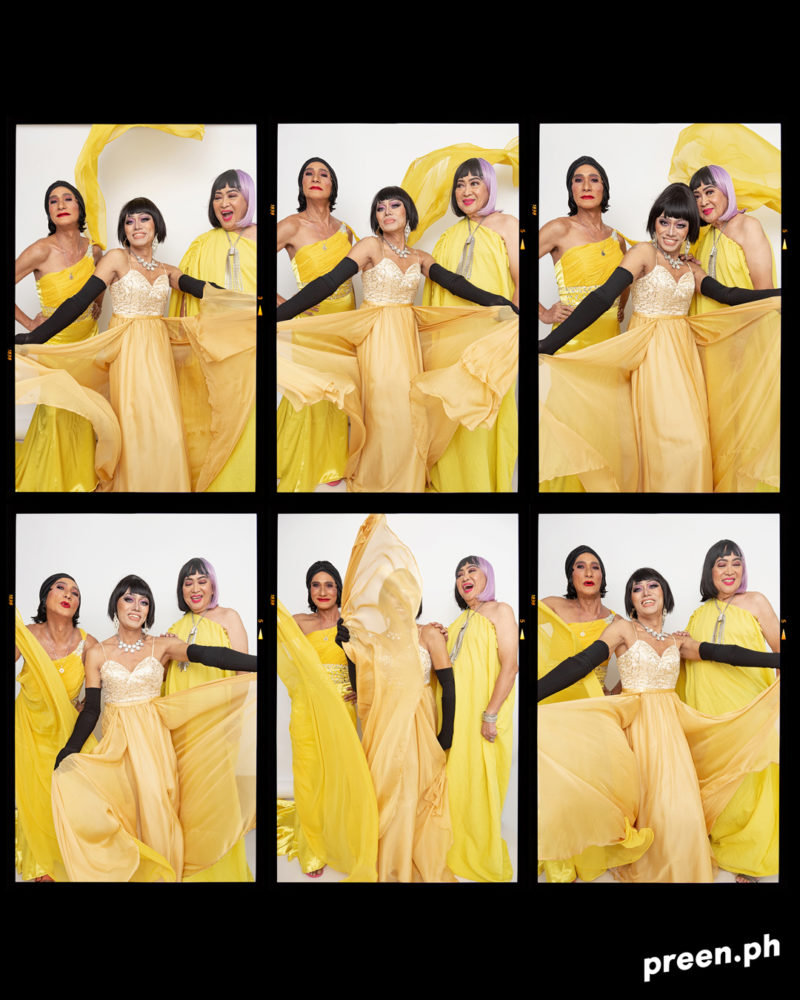 Rey shared an anecdote which stuck with me: "Yung iba nga saamin pasaway 'no? Bago sila nawala, join join padin. After a week, wala na. Mababalitaan na lang namin…" (Some of our members are really stubborn. They still join even if they shouldn't. After a week, we'll get the news that they have passed.) Ramon agreed, stating, "Although may dinadamdam siya, gusto pa rin niya jumoin." (Though they have difficulties due to old age, they still join.) There's something about the image of a man rejected by society yet died happy, surrounded by fellow "misfits" whom he call his family, and 'til his last breath, pursued his passion—performing in drag— that deeply touched me. "Wala kaming nakita na nalungkot siya bilang isang matanda. Pumikit siyang masaya siya," Rey said.  (We didn't feel that they were sad during their later years in life. They died happy.)
This may be why, according to Ramon, gays who belong to the younger generation regularly approach them. They probably think, "Buti pa 'tong mga lolas, miski matatanda na, nag eenjoy maigi," he surmises. (These people still enjoy life despite their old age.) Lola Rikka shares, "Alam mo ba, maraming beses pagdating sa event, yung mga host nila mga gay din, umiiyak kaya sila kapag nakikita nga nila kami rumarampa. Siguro iniisip nila 'Ano kaya pagdating sa edad kong ganyan?' Umiiyak talaga sila, grabe!" (Whenever we're at events, the gay hosts cry when they see us perform. They probably think, 'maybe I'll be like that too.' They really cry!" This is exactly why they need a permanent home—so they can accommodate more members, Lola Rikka asserted.
The only organization for elderly gays in the Philippines, many turn to them and would ask to join them in their performance in order to familiarize themselves with the group. "Alam naman nila na syempre wala naman sila ibang mapupuntahan pagdating nila ng 60's," Ramon pointed out. (They already know they have nowhere else to go when they turn 60.) "What more kung halimbawa tulad namin halos lahat kami indigent, wala nang nag-aasikaso." (Especially those like us who are indigent and can rely on no one.)
Apart from being able to accommodate more golden gays, Ramon says that with a permanent residence, they can finally push through with the livelihood projects previously offered to them by a private benefactor. "Wala kaming paglalagyan ng mga raw materials noon. Sayang," he said. (We didn't have a place to store raw materials then. Pity.)
They also ask for members to be registered to a health center, a great help for senior citizens like them. "Hindi naman na namin hihingiin yung LGBT desk sa bawat government office kasi mukhang matagal pa yun. Eh yung SOGIE Bill nga, lumusot nga sa kamara, hindi naman nakaakyat sa senate." (We won't ask for an LGBT desk since it seems that's a long shot. Look at the SOGIE Bill. Though it passed the congress, it wasn't able to pass in the senate.)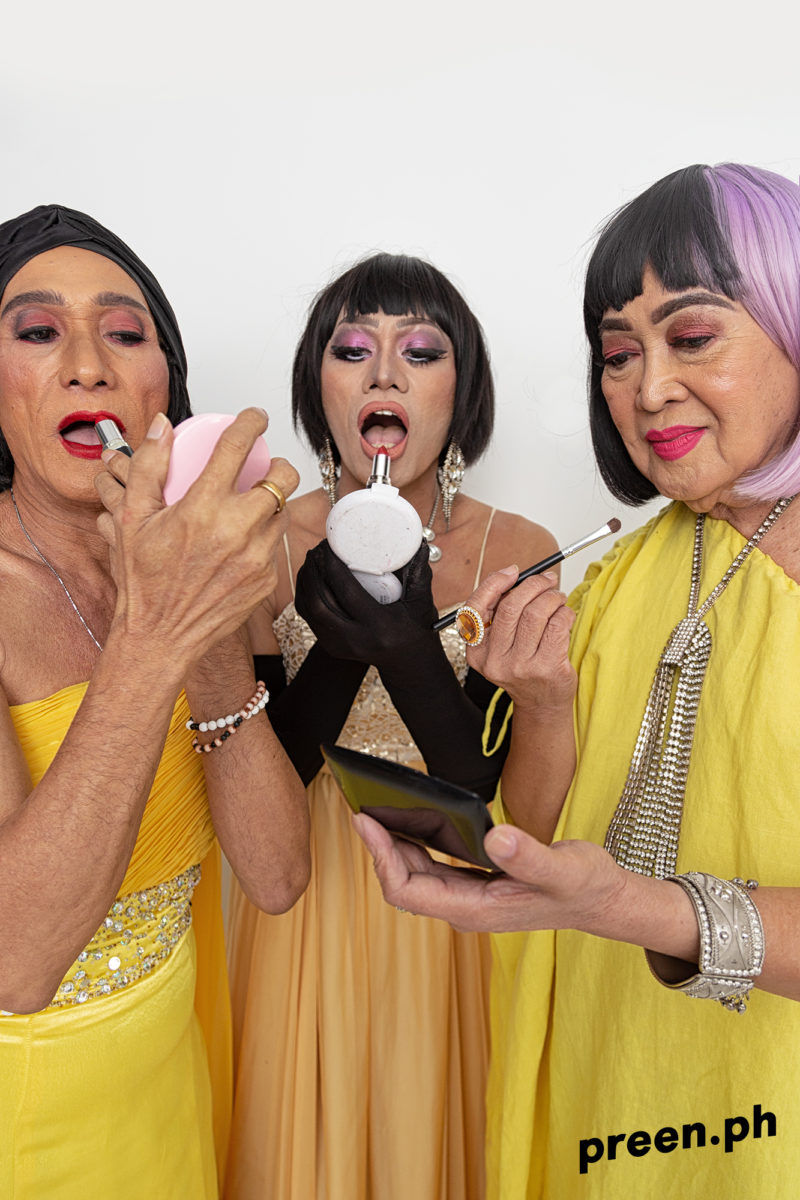 So yes, you can say they turn to drag as a way of escapism, but that doesn't mean they turn a blind eye to issues. Make no mistake, their optimism does not stem from that. They are actually well aware of the realities of their life but simply choose to not let it get to them. Ramon said that to them, when they're dressed up and on stage, "Di mo makikita na maraming problema ang mga lolas." (We have lots of problems but we don't show it.) However, he stressed, "Sariling sikap kami kaya yun ang gusto namin makita nila na di basta nakikita niyo kami in all glitters, maganda ang makeup, ganon kaganda na yung buhay ng Golden Gays. Hindi. Minimaintain lang namin yung pagiging glamoroso namin." (We really work hard, and we want them to understand that just because you see us in glitters, and wearing makeup, we live beautiful lives. No. We simply maintain a glamorous front.)
The three have been around long enough to see a shift in how LBTQ+ are treated in the country. They do acknowledge some progress. Particularly, Ramon cites how we see more transgender women in public places now. According to him, generally in the Philippines, "[malawak] ang pag unawa." (there is more empathy.) However, he said that based from his own experiences, he observed that discrimination often starts in the church. "Every Sunday mass meron silang mga testimonies or homily na ginagawa na laging may pintas sa mga bading. So yun ang di pa rin mawala hanggang sa ngayon."(Every Sunday mass, they have testimonies or homily that merely serves to throw insult at gays. That's something that still happens today.) He adds, "Although Katoliko tayo, ang nakakalungkot nga lang, lahat ng mga masasama na salita nanggagaling pa doon sa mga tinatawag nilang totoong Katoliko. Hindi naman ako galit sa simbahan kaya lang observation-wise, parang nanggagaling sa kanila lahat ng provocation na yun eh… na sinasang-ayunan naman ng mga anti-LGBT."  (Although we are Catholics, it's sad that the hurtful words come from those who call themselves real Catholics. I'm not angry at the Church, but speaking from observation, I can say provocation really comes from them, and the anti-LGBTs follow them."
Another type of bullying they say prevalent now is through the form of "jokes." Ramon cites an incident at a health center where staff would loudly make suggestive comments or inappropriate innuendos. Lola Rikka said, "Dapat sana, di na sila magsasalita ng mga ganon." (They shouldn't say things like that.) Ramon agrees. "Although sa kanila parang walang malisya, sa side namin eh may laman yun." (For them, it's innocent, but to us, it holds significance.)
Still, he says this type of treatment is inarguably better than from years ago. "Hindi naman masyado below the belt. Hindi katulad ng dati na pag talagang nalaman na bading ka, kung hindi bugbog aabutin mo, mura mula ulo ulo hanggang paa. Talagang paliliguan ka ng mura." (Not too below the belt. Unlike before, when if you're gay, people will either get violent or shower you with curses.)
Despite the progress, the three agree: Equality is not yet achieved in the Philippines. 
Lola Rikka says he will only believe we have equality when they are given the same rights enjoyed by any woman or man.  For Rey, the operative word is respect. He claims even today, he still experiences harassment in the streets. "May mga lalake pag nakasalubong mo, dumudura! Kapag nakakita sila ng gay, parang ano kami… mga baboy." (There are men on the street who spits at you. They treat gays like pigs.) Ramon meanwhile points out that non-verbal bullying, like hostile disposition towards them, also counts as discrimination. "Di siya nagsasalita pero nakasimangot siya, galit siya," he said. (They don't say anything but they're frowning and visibly angry.) "Syempre ikaw, mararamdaman mo yan eh." (Of course you can feel that.)
"Hindi naman maaalis na kaming mga LGBT, tao rin. Anak din kami ng Diyos," Lola Rikka argued. (You can't deny we LGBTs are still human. We're also children of God.) "Nakalagay naman sa bibliya: lahat nang nakikita mo na gumagalaw sa lupa, gawa ng Panginoong Diyos yan." (It's written in the Bible that everything on earth is made by God.) Ramon firmly conceded, "Yes naman. Kasi kung hindi, hindi [tayo] nag-exist. Hindi [tayo] binigyan ng pagkakataon na mabuhay sa mundo." (Yes. Because if not, we won't exist. We won't be given the chance to live here on earth.)
Both of them claimed they really didn't choose to be gay and live a life of difficulty. In the end, they choose to believe that maybe there is a purpose behind all of this. Lola Rikka's was frankly upsetting and shows just how much we failed them as a society: "Ako pagdating sa ganyan ang iniisip ko kasi.. yung mga kasalanan ba? Para bang kasalanan ng babae, kami na ang kukuha. Pero I think malalaman natin yan pag dating ng paghuhukom." (For me, I just think maybe we carry the burden of the sins of women. But we can only know once judgement day comes.)
Ramon, on the other hand, highlights their advocacy of spreading HIV awareness among the youth. "Sabi nga namin, gawin niyo kaming inspiration dahil we've reached this part of our life. Namaximize na namin ang buhay namin, nag–enjoy kami. Naabot na namin yung ganong haba ng buhay namin na wala kaming major ailment na naramdaman," he said. (We tell them to use us as inspiration. We are able to live a long life without a major ailment.) "Mas gusto namin makita na life span ng young generation eh umabot pa sa ineenjoy namin. May 92 [years old] nga [samin] eh. And we're still aspiring to reach 100!" (We want to see the younger generation have a longer life span like us. We even have a member who's 92 years old.)
"Yan ang buhay ng Golden Gays. We have to live long," Ramon tells me with a wide smile.
And once again, I am in complete awe of their determined outlook in life. With all the hardships they have gone through—and are still subjected to—they are obviously not done conquering this lifetime. Oh, If only we can all live by their motto—that by whatever means, and no matter what sh*t life throws you, one thing's sure:  "The show must go on!" 
***
For inquiries and outreach programs, please contact the president of The Golden Gays, Ramon Busa:
+ 63 947 69 305 16
[email protected]
[email protected]
Photos by Jack Alindahao
Makeup by Jef Ong and Miss Vela of MAC Cosmetics
Creative direction by Tricia Guevara and Nimu Muallam
Produced by Tricia Guevara
Assisted by Jacqueline Arias, Tisha Ramirez, Bea Del Rio, Lorraine Belamide, and Javier Lobregat
Special thanks to MAC Viva Glam, which is celebrating its 25th anniversary. This year, all proceeds of the VIVA GLAM II Lipstick, VIVA GLAM III Lipstick and the new, limited-edition 25th anniversary VIVA GLAM 25 Lipstick in the original VIVA GLAM I shade, will be donated to organizations supporting HIV/AIDS treatment.
For the latest in culture, fashion, beauty, and celebrities, subscribe to our weekly newsletter here  
Follow Preen on Facebook, Instagram, Twitter, YouTube, and Viber
Related stories:
Faces of Pride: Niccolo Cosme on the stigma surrounding HIV/AIDS
Faces of Pride: Artist Isola Rosa wants to fight for the marginalized
Understanding the history of the LGBTQ+ community through documentaries
We need to talk about what "equality" really means for the LGBTQ+ community