Metro Manila Pride is here again. For many, the annual event is a much-awaited spectacle that finally puts the spotlight on the marginalized LGBTQ+ community. If you haven't had the chance to join in the past, but want to finally be a part of it this year, we commend you! Here, we've answered some of your most pressing questions about the event:
I'm not queer/out. Can I join?
Everyone—save for the bigots, and the trolls, of course—is welcome at Pride. LGBTQ+ allies are actually encouraged to join. However, we want to stress that they must respect the event by understanding that this is primarily about the LGBTQ+ community. If you're an ally, one way you can support the community is by celebrating them, and assuring you're one with them in resisting oppression.
As for those who have not yet come out, they are more than welcome too. Pride is actually the perfect place for them to be as it is a safe space. One of the reasons for Pride is to make our LGBTQ+ friends feel valid and supported, regardless if they're out or not. But while some people come out during Pride, they shouldn't feel any pressure to do so. 
Also, to those who think they can't go because they're alone, we urge you to rethink that decision. You don't need to be a part of an organization, or to be with your gang in order to attend. Pride is actually a great way to make friends and meet people.  
What should I wear?
Absolutely anything you want. A dress fit for the MET Gala's Camp theme? Yas. Trust us, if you want to be extra, now is the time for it. But if your main concern is comfort, shirt and jeans are perfectly okay too. We actually advise you to wear comfortable pair of shoes at least, especially to those who will join the march (But if you want to do it in 5-inch heels, yes girl, more power to you!) However, we want to remind you that Marikina has an ordinance that prohibits partial nudity. So yep, wear anything—but don't go topless.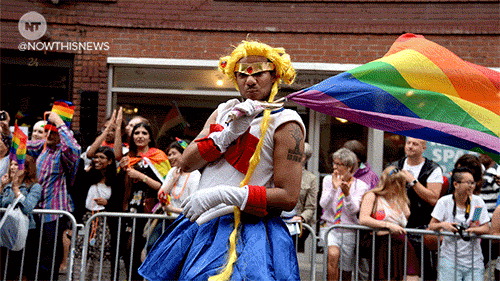 The organizers are also encouraging joiners to paint their fists, similar to the event's logo this year. That is definitely one way to send the message, if you're up for it.
What to bring
The essentials include water (They will gave hydration stations, so make sure to bring a tumbler!), umbrella, extra clothes you can change into after sweating it out in the march, and enough money for when you get hungry or want to buy merch from LGBTQ+-friendly shops. We also recommend you apply, and bring sunblock, handheld fan, powerbank, and shades. A raincoat is also a good idea since the weather is unpredictable. Oh, and don't forget your pride flag and witty sign. We'll be on the lookout for them! 
That said, here are the things you should NOT bring, as they are prohibited: Dangerous and sharp objects, plastics, drones, drugs and cigarettes, and glass bottles. They also discourage pointed umbrellas.
What to expect
Aside from the above-mentioned, we urge you to bring an open mind. The event will be attended by a very diverse group of people. They come from all walks of life and have their own stories. So listen, and allow yourself to be educated. Keep in mind also that this year, Pride is going back to its roots in highlighting our need to #ResistTogether. 
Of course, we understand that first-timers especially might feel overwhelmed. While we encourage you to celebrate and have a fun, wild time at the event, respect should still be the operative word here.
Scout notes that last year's record drew around 20,000 to 25,000 people, so expect around the same number of people (hopefully more) this year. 
The program
Basically, here's the flow: At 12 p.m, the gates will open, and security measures will be taken. Although there will be several lanes, we suggest you come early to avoid the possibly long queue. Then, the welcoming, keynote, and solidarity speeches will follow. You can also look forward to performances. The march is set to start at 4 p.m., and estimated to finish at around 6 p.m. Onwards, the celebration will continue with solidarity speeches and fun performances you wouldn't want to miss. 
Ready na ba kayo, mga mahal? Wag mawala on the way to Marikina Sports Center on June 29. Simply click on this link and enter where you're coming from: https://t.co/QcW2PwIoYk

Five days to go! #ResistTogether✊🏼🏳️‍🌈 pic.twitter.com/jQJR6Haejf

— Metro Manila Pride | #SulongWagPatinag (@mmprideorg) June 24, 2019
The Pride March route
For this year's Pride March, here is the route. It will start at Marikina Sports Center's Gate 6, then right at Shoe Ave, left at Sumulong, left at JP Rizal, right at Shoe Ave, left at McDonald Ave, and finally, left at Sumulong Highway.
What if I can't make it to the Pride March?
Don't worry, while we'll be sad to miss you, we won't shame you. We understand there are many reasons why people can't join. If you can't make it, we hope you will be able to at least support the event through social media. 
To those who can't go because you're not in Metro Manila, there's still a way to march! Love is All We Need provided us with simple instructions: "Using your Google Maps, enter your walking route, screencap it and trace your route with any of the rainbow colors, and post it with the hashtag #MarchTogetherPH!" Like they said, every rainbow walk counts!
Photo courtesy of Metro Manila Pride's Instagram account
For the latest in culture, fashion, beauty, and celebrities, subscribe to our weekly newsletter here  
Follow Preen on Facebook, Instagram, Twitter, YouTube, and Viber
Related stories:
Faces of Pride: Artist Isola Rosa wants to fight for the marginalized
Sen. Risa Hontiveros is giving out "mom-hugs" at the Pride March
Bring lesbian, bi, or trans pride flags at your local march
We think Kelsey Merritt and Dua Lipa's colorful OOTDs can be worn at Pride March