Adding to the list of celebrities who love K-pop is no other than Kris Aquino. The queen of all media has been sharing her own musings about the boy group BTS and how she's come to love them. She also noted that she feels like the "oldest fan" out of everyone.
But you know what? No one's too old to like things, including K-pop. Even Will Smith admitted that he would bond with wife Jada Pinkett-Smith and daughter Willow Smith over girl group Wonder Girls.
Just like everyone who loves BTS, Kris is going through the stages of becoming a full-fledge fan. Can you relate to some of the points we've listed below? Let us know!
Stage 1: Discovery
The journey to fangirling starts with the introduction to the artist or a song of theirs. For Kris, she first discovered BTS when they performed at the American Music Awards (AMA) 2017. Aside from their pop music and choreography, what caught Kris' eye was a certain Gucci jacket worn by one of the members. "I am in love with their styling—super cohesive and classy!" she said in a comment on Instagram.
Stage 2: Buying music
If you love it, you gotta buy it. Kris shared that she bought BTS' albums on iTunes. Some of her favorite songs include "Best of Me," "Serendipity," "I Need U," and "MAMA."
Stage 3: Repeating videos

"I've seen BTS perform 20 [times] na on YouTube in the AMAs," Kris commented. She also watched the group's performances on Ellen and Jimmy Kimmel Live. We feel you, Kris.
Stage 4: Choosing the favorite member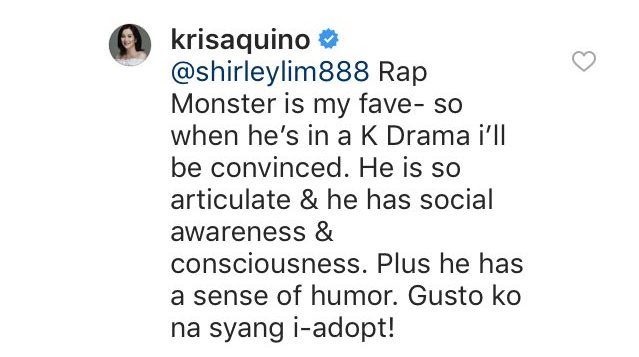 Out of the seven members of BTS, Kris said her favorite is Rap Monster, also known as RM. She said she loves him because he's "so articulate and he has social awareness and consciousness." Kris would also want to see him in a K-drama. (Raise your hand if you do, too.)
Stage 5: Researching
Of course, Kris did some digging about the group and she found out that BTS are anti-violence ambassadors for UNICEF. "They joined forces to sponsor #ENDViolence, a UNICEF campaign based around making the world a safer place so that children and teenagers will be able to live happy and healthy lives, without living in the fear of violence," Billboard reported. This is why Kris felt that "instant connection" with them.
Stage 6: Doing anything to see them
The last time BTS was in Manila was just last May when they did a two-day show. No one knows when they'll be back so Kris is willing to fly to another country to watch them. So if you know any shows happening in Tokyo, Bangkok, or Singapore, let Kris know!
Stage 7: Doing anything to buy merch
The statement Gucci jacket isn't exactly official merch. But if it's worn by your K-pop idol, it might as well be. Kris mentioned that there's a "tug" in her to sell an Hermès bag to buy the jacket. She must be talking about her Birkin where she carries her two Prada wallets.
Art by Lara Intong
Follow Preen on Facebook, Instagram, Twitter, Snapchat, and Viber
Related stories:
Anne Curtis, Emma Stone, and James Reid Can't Get Enough of K-Pop
6 Reasons to Start Following K-Pop Group BTS
K-Pop Group BTS Releases a Collection of Compact Cushions
Six Korean Artists You Need To Know That Aren't K-Pop
The Death of 2nd Gen Girl Groups and the Double Standards of K-Pop