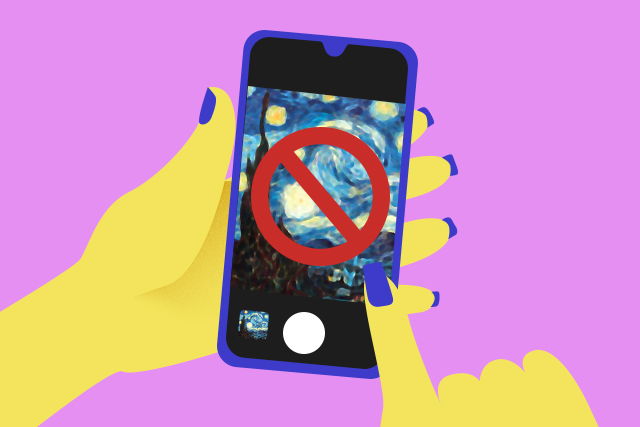 Some people really don't want others to enjoy things, huh?
In case you didn't know, "Van Gogh Alive," a traveling multi-sensory exhibit, is coming to Manila (Bonifacio High Street to be exact) on Oct. 26 and will run until Dec. 8. The selling point of the exhibit is it will project Vincent Van Gogh's paintings like "Sunflowers" and "Starry Starry Night" onto the walls, floor, and ceiling. This creates an immersive atmosphere where viewers can appreciate his work.
According to The Guardian's rundown of "Van Gogh Alive" in Paris, there's a short program in between the projections which explains how the artist was influenced by Japanese art. Director Bruno Monnier told the outlet that presenting his art in this format "can be an excellent way of understanding his world."
So, not only are people welcome to view Van Gogh's art in a different light and learn more about the artist, the unique projections also make for great photos.
But like we said at the start of this article, "art-loving" netizens are starting to dictate people's actions and what they shouldn't post on social media. What are their credentials in doing so? Their love for Van Gogh, apparently.
Since last night, there have been tweets directed at "normies" (Urban Dictionary describes them as someone who "adopt a 'popularity is the only measure of good or bad' mindset") who would allegedly go to museums just to take photos. There are also those who aren't happy with the fact the "Van Gogh Alive" projections will be used as Instagram backdrops, claiming visitors won't respect the artist in doing so, and are criticizing those who've made Van Gogh mainstream.
https://twitter.com/jyllflrs/status/1179057147356692480
blocking ab b ey sy is self care ☺️☺️☺️ pic.twitter.com/3SOa4sbb7O

— ᵃⁿᵍᵉˡᵘ #OUSTDUTERTENOW (@an9elu) October 6, 2019
Sana mahal entrance fee sa 'Van Gogh Alive' sa BGC para walang mga batang hindot na pang awra lang sa instagram

— pichie⁷ 🐱 (@pichiechan) October 1, 2019
Quartzy's 2018 article, "Instagram is killing the way we experience art," tackled the same conundrum when the Obamas' official Smithsonian portraits were unveiled. It detailed how people snapped photos of the painting or took a selfie with it. Plus, how Instagram has made it easier for people to see art online instead of traveling to museums to see the real thing.
This POV is similar to the qualms about "Van Gogh Alive" in Manila. But what people seem to forget is that not everyone has the means to fly to the Van Gogh Museum in Amsterdam or the Museum of Modern Art (MoMA) in NYC. Also the fact that people appreciate art in different ways.
In fact, Quartzy cited a 2015 study published in "The Museum Journal" found that 90 percent of IG posts talk about details of an exhibit. "This suggested that most visitors had taken the time to see the real artifact and compose a thoughtful caption," the site noted. "Try this: Put your smartphone in your pocket and stand before the work. Look at it, and allow yourself to get lost in it. Then, by all means whip out your phone, take a picture, and tell the world what you think."
If you're someone who prefers to leave their phone or camera in your pockets, that's perfectly fine. If you want to immortalize the painting via a cellphone photo, it's okay too!
Going back to "Van Gogh Alive," the exhibit is not a regular museum exhibit. Sure, museums have strict rules when it comes to photography and flash, and we are all expected to follow this rule because it might damage the art work. (This isn't proven though, but better safe than sorry, we guess.)
But let us remind you that "Van Gogh Alive" is meant to be an interactive exhibit where adults and children can experience the artist's world through lights, sounds, and colors. There are no restrictions about taking photos—even the teaser video shows visitors with their phones up.
It's no different from the ArtScience Museum in Singapore, TeamLab in Japan, and even the interactive "Meet Vincent Van Gogh Experiences" exhibit at the Van Gogh Museum. "Van Gogh Alive" is meant to be explored and people are supposed to document their experience because where else are you going to see an exhibit like this without flying overseas? And with P750 (adults) and P450 (children and students) entrance fees? That's a good deal.
Ultimately, we simply can't gatekeep how people choose to appreciate art. We also shouldn't act like we're better than others because we know more or have been fans of someone for a longer time. It's a selfish mindset meant to exclude others because some feel certain art pieces shouldn't be shared to the masses.
Should art and museums be more accessible to more people so they can learn about an artist and why they made certain paintings? Absolutely, which is why people should be encouraged to visit more exhibits. As long as they're not breaking any rules or damaging an art work, then it's no one's business how they go around or what they post on social media.
You can educate people about art, artists, and museum etiquette without being a snob. We're all learning in this world.
If you're going to "Van Gogh Alive," go enjoy and take as much beautiful photos as you like. Just don't push others, don't break or vandalize anything, and don't be on other people's business. It's not a crime to have fun, you know!
Art by Tricia Guevara
For the latest in culture, fashion, beauty, and celebrities, subscribe to our weekly newsletter here  
Follow Preen on Facebook, Instagram, Twitter, YouTube, and Viber
Related stories:
VIDEO: Christine Bersola-Babao was told to "never, never touch the art" 
The female artists to look out for at Art Fair 2019
Sex ed museums: The cultural trip you need to try at least once
Here are places you can visit to clear the noise in your head