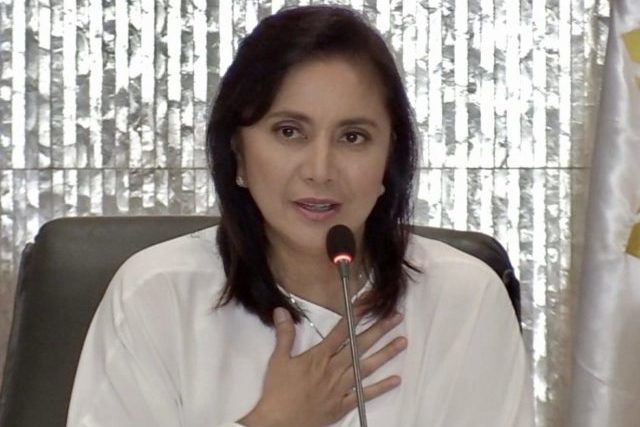 It's been more than a week since vice president Leni Robredo accepted Pres. Rodrigo Duterte's offer to become the co-chairperson of the Inter-Agency Committee on Anti-Illegal Drugs (ICAD) for six months. One of the promises she made is to scrap Oplan Tokhang and find a more effective way to catch drug users and distributors without resorting to senseless killing.
Oplan Tokhang is an anti-drug operation where the police tries to apprehend drug users and distributors in the country. Since the Duterte administration started in 2016, at least 5,000 people were killed for suspected drug crimes. Many have also called Oplan Tokhang as "anti-poor" since many victims are from urban poor areas. As Robredo also notes, innocent people have been killed as well.
READ MORE: Watch: A chilling look at Duterte's war on drugs
However, because Robredo is an outspoken critic of Duterte, her first week as ICAD co-chairperson has been met with positive and misogynist reactions, especially from the president's allies. Here's what has been said toward Robredo and her new role.
Sen. Bato Dela Rosa
"How can you wage a war without fighting? [Robredo] has to fight," Dela Rosa said in a press conference. "Hindi naman pwedeng pa-cute cute lang." (You can't play cute here.)
The senator and former Philippine National Police (PNP) chief claimed that the government is going up against armed men in the drug war. He also defended Oplan Tokhang, saying that people getting killed in the during the anti-drug operation is normal. It's obvious he doesn't want Robredo to scrap Oplan Tokhang because this was implemented under his watch and he's one of the architects.
Sen. Risa Hontiveros criticized Dela Rosa for his remark, saying, "Well, sino bang nagpapa-cute? Sino bang sumasali sa beauty contest. I don't see anyone doing that in this situation. VP Leni has never prettified the very ugly face of this war on drugs. In fact, ang dami nang namatay sa war na ito." (Well, who's playing cute here? Who's joining beauty contests? I don't see any doing that in this situation. VP Leni has never prettified the very ugly face of this war on drugs. In fact, many people were killed in this war.) She's not wrong, Robredo has repeatedly called for an investigation on the extra judicial killings in the Philippines.
READ MORE: The youth will not be swayed by red tags and seething senators
When Dela Rosa was asked about his statement again, he denied saying Robredo was playing cute. "She's basically cute," he said. Not only did he do a bad job at lying (there's video evidence), he's also reducing the vice president to her looks.
House Speaker Alan Peter Cayetano
"I've been monitoring the last three days and parang from Oplan Tokhang, naging Operation All Talk. I guess it just so happens that the Vice President is a favorite of the media or she likes media exposure," Cayetano said of Robredo's plan to scrap the operation.
He also talked about removing politics when it comes to the drug war. It's already obvious that the drug war won't be a success, yet he's still defending it. Well, what do you expect from Duterte's former running mate?
Malacañang Palace
Despite Dela Rosa and Cayetano's comments, the Palace gave Robredo the green light to scrap Oplan Tokhang if needed. "If that will be effective insofar as the drug war is concerned, she has been given the authority," presidential spokesman Salvador Panelo said. "As long as VP Leni is in charge, whatever she feels should be enforced, we will do it. It's a yes if she wants it."
Panelo also assured that Duterte will support Robredo's causes and will be open to having discussions with the US and United Nations (UN) on improving the campaign against drugs. However, Panelo said Duterte doesn't like that foreign investigators "have already made conclusions about the drug war." He quoted the president that the US and UN should be "open-minded [and] objective."
READ MORE: WATCH: Rodrigo Duterte to reward people who kill drug dealers
"That should be the approach. They should not have conclusions that we're a murderous state," Panelo continued.
Last July, the UN Rights Council agreed to investigate the extra judicial killings in the Philippines. You know things are bad when the international organization gets involved.
US Senior Police adviser Linda Mayberry
"Her moving into this role as drug czar should be a great role model for all women in the country and especially in women in policing, and in government, and in the criminal justice system," Mayberry said on "ANC Headstart" last Thursday. "Women can be very strong leaders. They can be strong advocates for victims and many times, because they are relegated to certain types of jobs and roles within not only the police agencies, but within the criminal justice system as a whole, they don't often have the opportunity to show off those skills and to move into those leadership positions."
PNP officer-in-charge Lt. Gen. Archie Gamboa
Gamboa told reporters that they want to dissociate "tokhang" from senseless killing. Robredo suggested to PNP to repackage the operation to focus on high-value targets. However, Gamboa said they'll still call the anti-drug campaign Oplan Tokhang.
"We have to present another one para magbago 'yung paningin nila sa dito sa 'tokhang,' but we can never do away with this because the intention is different as perceived by the public. We will let them understand ano 'yung 'tokhang' and then come up with ano itong high-value targets na campaign ng PNP." (We have to present another one to change the public's mindset on it, but we can never do away with this because the intention is different as perceived by the public. We will let them understand what 'tokhang' is and then come up with a PNP campaign focusing on high-value targets.)
PDEA Chief Aaron Aquino
Philippine Drug Enforcement Agency (PDEA) chief Aaron Aquino told Inquirer.net in a phone interview that they won't give Robredo a list of high-value targets. "Nag-iisip naman ako bakit kailangan niya in the first place. Wala naman sa mandates namin 'yun, na kailangan kumuha ng listahan ng high-value targets." (Why would she need it in the first place? It is not in our mandate that we should get a list of high-value targets.) Aquino is also against the scrapping of Oplan Tokhang.
The Duterte administration has been criticized for allegedly protecting high-profile drug lords in the Philippines, making Oplan Tokhang more anti-poor. Last March, the president was photographed with two Chinese men suspected to be involved in illegal drugs.
If the authorities are really set on protecting the country from drugs, then why isn't PDEA giving a list of high-value targets to Robredo?
Photo courtesy of Inquirer.net
For the latest in culture, fashion, beauty, and celebrities, subscribe to our weekly newsletter here  
Follow Preen on Facebook, Instagram, Twitter, YouTube, and Viber
Related stories:
The many ways the Duterte administration tries to silence women
Sen. Kiko Pangilinan wants to indict Teddy Locsin Jr. for insulting VP Leni Robredo
VP Leni Robredo slams Pres. Duterte's rape joke, and we are here for it
Why Leni Robredo needs to stay courageous