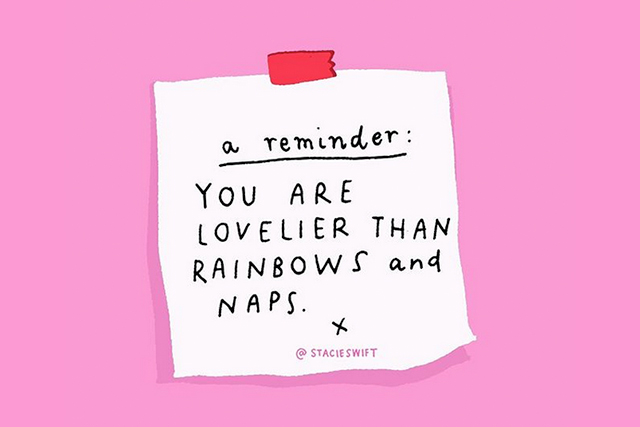 Social media has its disadvantages, but from time to time, it's good to remember that it has a bright side. For starters, there are accounts that have a good cause, like building a platform for people dealing with mental health issues. Take Instagram for instance: With over a billion active users, it has evolved into a space where people could talk about important topics including mental health. There's a good number of accounts producing insightful and positive content that can resonate with people battling with anxiety, depression, and other disorders. Here are some of our favorites:
https://www.instagram.com/p/BwtUKqolGks/?utm_source=ig_web_copy_link
If you're in need of a little pep talk, this Instagram account is for you. It consists of positive affirmations to help you remember your worth every now and then. Stacie Swift, the owner of this account, is an author and illustrator. Her debut book, "You Are Positively Awesome," will be published in May 2020.
https://www.instagram.com/p/BzrF9JfAYKx/?utm_source=ig_web_copy_link
This account aims to destigmatize mental health illnesses by sharing stories by survivors. The account is owned by Jessica Walsh, who says: "Writing down my own story has been incredibly empowering and freeing. Since I've started talking openly about my issues with people around me, I've been surprised to find just how common mental health issues are. Friends and colleagues who often lead seemingly perfect or successful lives, even those in prominent positions within the creative industry have come forward and shared their stories."
https://www.instagram.com/p/B5GOwS5BAmR/?utm_source=ig_web_copy_link
Anyone can experience mental health problems—including the LGBTQ+ community and persons with disabilities. This account makes sure to incorporate inclusivity in its posts. The account owner also identifies as queer.
https://www.instagram.com/p/B1wYZYal-mZ/?utm_source=ig_web_copy_link
The founder of this account, Jayne Hardy, was diagnosed with depressive disorder during her 20s. She created Blurt to prevent others from feeling such isolation and to provide support for those struggling with depression. The Blurt Foundation is more than just an Instagram account. They are a social enterprise that gives back to one specific community: those affected by depression. They aim to improve depression awareness by developing peer support groups and collaborate with partners for innovation.
https://www.instagram.com/p/B3byxvQFdWP/?utm_source=ig_web_copy_link
Need to know more about mental health? This account aims to educate everyone by posting evidence-based mental health and psychology information including statistics. The founder is a registered clinical psychologist so it's safe to say that it's a credible source.
https://www.instagram.com/p/B4fch0Th4d4/?utm_source=ig_web_copy_link
The founders, Liz and Mollie, authors of the book "No Hard Feelings: The Secret Power of Embracing Emotions at Work," founded this account to talk about how to have a positive work environment. It's relatable for working people as it shares posts about burnouts, work anxiety, and adulthood.
https://www.instagram.com/p/B5X-3gKpYDs/?utm_source=ig_web_copy_link
This account posts illustrations of situations you can't control, like hating oneself because of overwhelming thoughts or not being able to get out of bed because of depression. Despite the gravity of their subject, this account takes a lighthearted approach in trying to shed light on mental health issues, providing simple, uplifting advice such as "choose happiness!"
Photo courtesy of Stacie Swift's Instagram Account