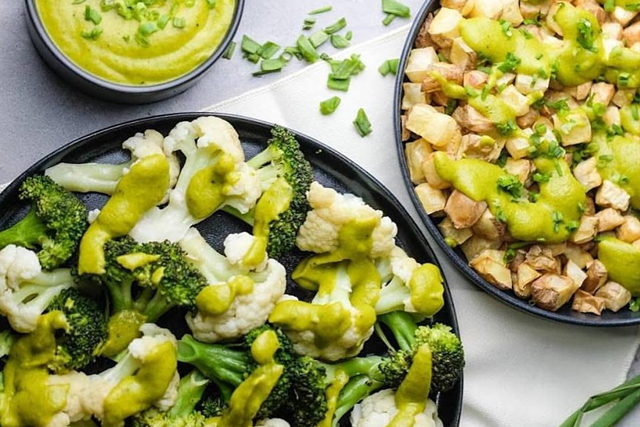 Hey there, vegan. Looking for stores that will cater to your dairy and meat-free needs? Look no further.
The Filipino vegan movement is growing, and more locals are demanding for more diverse vegan options. Choosing a restaurant or a grocery store can be difficult in the metro, and not all food establishments have vegan options.
However, the rise of Instagram stores is changing the vegan scene, as small business owners delve into homemade and organic vegan products for the local vegan movement. You know what they say, if you don't know where to purchase certain things, always check Instagram.
Here are 5 IG stores with a variety of vegan options:
The Good Choices PH
The Good Choices PH makes Filipino plant-based specialties that are very accessible, appealing, and convenient for health, sustainability, and consciousness. They sell vegan tapa, longganisa, sisig, tocino, and other "meat" products that are mostly made of soy protein, vegetable oil, and other plant-based spices.
Rose's Kitchen
All-natural yummy nut butters can be found in Rose's Kitchen. These homemade goodies can be used in various ways, in your sandwich, salad, smoothie bowls, paired with your fruits, and more. These healthy alternatives are made with locally sourced, wholesome, minimal ingredients and are formulated without refined sugars or preservatives.
The Vegan Grocer PH
The Vegan Grocer PH 's goal is to spread vegan, dairy-free, egg-free, and cruelty-free products for Mother Earth and the animals, and for the liberation of all sentient beings. They house multiple vegan brands, and is your typical grocery store—but vegan.
Indulge PH
Are you craving for pizza but you're vegan and can't have all that cheese and meat toppings? Fret no more for Indulge PH is the Philippines' first-ever all-vegan pizzeria. They have vegan Hawaiian, cheese, meat lovers, and all sorts of pizza flavors. They deliver EVERYWHERE too. From 12 noon to 12 midnight, everyday.
7 Grains Pantry
7 Grains Pantry is all about healthy and all-natural food swaps. They source and create the best possible healthy alternatives to the food we normally consume. They also make sure that they deliver the highest quality, all-natural and least processed options without burning a hole in your pocket. They have products like organic rice, konjac flour, protein pasta, dried fruit crisps, and more.
Here are some of our vegan IG picks, but there sure are more out there!
Have you tried these stores? What are your favorites? Comment down below to let us know!
Art by Tricia Guevara
For the latest in culture, fashion, beauty, and celebrities, subscribe to our weekly newsletter here  
Follow Preen on Facebook, Instagram, Twitter, YouTube, and Viber
Related stories:
Everyone's Favorite Ice Cream Brand Just Revealed Their First Vegan Flavors
The Dark Side to Cruelty-Free and Vegan Cosmetics
The types of diets that are actually good for you
Start Healthy Habits With Green Juice Recipes
You'll want to try these meatless recipes even after Holy Week