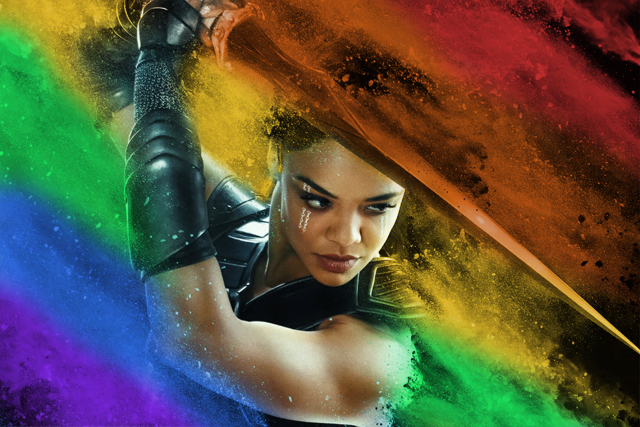 The MCU finally did it: Valkyrie is officially the first LGBTQ+ hero in all of Marvel's movies.
Tessa Thompson first made the announcement during San Diego Comicon, where Marvel and Disney also revealed all their upcoming films and shows for Phase 4. She's starring in Thor: Love and Thunder where her storyline as King of Asgard (a title Thor gave her in Avengers: Endgame) will be fleshed out. She said during the panel, "First of all, as king, she needs to find her queen."
Tessa Thompson on Valkyrie: "First of all, as king, she needs to find her queen." #MarvelSDCC pic.twitter.com/XR1I2wsUNR

— Ryan Gajewski (@_RyanGajewski) July 21, 2019
This prompted excited cheers from the audience as it hints at Valkyrie's bisexuality, which is actually canon in the comics via her relationship with archaeologist Dr. Annabelle Riggs. This was further confirmed by MCU producer Kevin Feige. "How that impacts the story remains to be seen with that level of representation you'll see across our films, not in just Thor 4," he said.
If you ask me, I feel like the MCU is going to explore Valkyrie's relationship with Jane Foster (Natalie Portman), who will become Lady Thor in Love and Thunder. That's just a theory and I won't crucify Marvel if it won't happen. (But please.)
READ MORE: It's a superheroine era for the MCU
This is a great move for the MCU especially after they celebrated their "first openly gay moment" in Endgame featuring director Joe Russo. The announcement drew flak on social media because the scene was so subtle that it was easy to miss Joe referring to his dusted partner as "him." Even I missed that the first time I saw the movie—I would still miss it if nobody told me he said "him." This just means Marvel did the bare minimum and tried to PR the crap out of it.
That said, I also can't help but wonder what took the MCU so long to add an LGBTQ+ character into their films. It's true majority of the films' main characters aren't canonically queer to begin with, but Marvel also didn't explore the possibility either. Some examples include Loki (pansexual and gender fluid), Captain Marvel (not exactly Carol Danvers, but several versions of her comic character were queer), and Valkyrie.
READ MORE: Captain Marvel may not be for "traditional" MCU fans
If you look at other Marvel series like Jessica Jones and The Runaways, they have canonically LGBTQ+ characters like Karolina Dean, Nico Minoru, and Jeri Hogarth. But the thing is they're not part of the cinematic universe. Worse: They're not given as much recognition as their film counterparts, and all the Marvel Netflix shows, which were highly popular, are cancelled now.
So, what's the deal?
Marvel is under Disney, a company known for decades upon decades of "family-friendly" content. There's nothing wrong with that, but it's also been criticized for not openly displaying LGBTQ+ stories or downplaying them, making it seem like these themes aren't for children. As far as we know, their first gay character in a major film was LeFou in the live-action Beauty and the Beast—no complaints here, but where was this in the 1991 animation?
The Guardian noted this technically isn't the first Disney film to have hints of LGBTQ+ narratives. The Atlantic also said Disney has always been "pro-gay," citing examples like Elsa singing "Let It Go" on Frozen, which invokes the theory she's coming out of the closet, and the fact they hold Pride events. But in terms of what Disney has put out and their plans so far, they're all pretty recent. Disney aired its first same-sex kiss in a children's show in 2017, and just last February, Andi Mack became the first Disney Channel series to have a character explicitly say "I'm gay." The directors of Moana also expressed that an LGBTQ+ princess "could be coming soon."
Likewise, the 2019 GLAAD Studio Responsibility Index, which "maps the quantity, quality, and diversity of lesbian, gay, bisexual, transgender, and queer (LGBTQ) characters in films released by the seven major motion picture studios during the 2018 calendar year," gave Disney a failing grade for 2018. The studio currently has the weakest history when it comes to LGBTQ+ inclusion and has had negative SRI grades since 2012. GLAAD based this grade on the 10 films Disney released in 2018, noting that "zero included appearances by LGBTQ people" and "no films passed the Vito Russo Test."
For 2019, GLAAD sees several opportunities for Disney to turn their reputation around with its upcoming Marvel films—not counting the small Russo cameo. The Eternals, for example, is reportedly going to have an openly gay man play Hercules, who is gay in the comics. There's still no news on who will play the hero though.
READ MORE: Your guide to the upcoming Marvel movies and series
Plus, with the Disney-Fox merger, the MCU can add more LGBTQ+ characters into the mix. There's Deadpool, who is pansexual, and if rumors that X-Men are joining the MCU are true, then it's even more perfect because the group has a lot of queer main characters.
Still, the Walt Disney Company has been around since 1923. There's really no excuse for them to not go with the times. In fact, INTO noted that Disney had been criticized before for creating villains who portray effeminate characteristics. "I wonder what Disney was saying about gender expression and behavior when it dressed these flamboyant characters as something grim and dreadful, to be stopped, defeated, conquered," the article read. "Was Disney—perhaps without ever intending to—normalizing homophobia? Was Disney priming us to feel shame about our atypical—queer—expression?"
Better late than never, I guess. Let's just see if Disney and Marvel pull through with their promises of diversity and inclusivity.
Art by Ida Siasoco
For the latest in culture, fashion, beauty, and celebrities, subscribe to our weekly newsletter here  
Follow Preen on Facebook, Instagram, Twitter, YouTube, and Viber
Related stories:
It's a superheroine era for the MCU
Your guide to the upcoming Marvel movies and series
You can now read about a plus-size superhero and a Muslim Ms. Marvel
Queer heroes have always existed, and it's time we recognize them