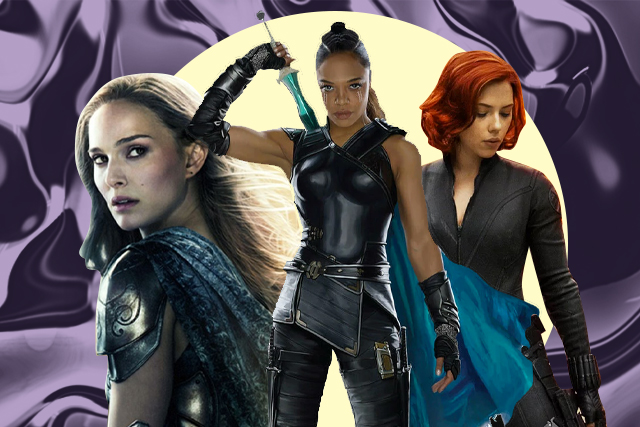 I'm sorry, what did you say? We're having MORE women in the MCU? HELL YES.
The San Diego Comicon held last weekend was indeed eventful—especially when Marvel's Kevin Feige released the new line up of the Marvel Cinematic Universe's phase 4.
Consisting of both movies and TV series (that will be aired in Disney+), Marvel dropped the bomb on 11 new releases that will last till 2021, and confirms that phase 4 will only take two years.
But that's not all. These 11 releases are brimming with female representation, and Marvel blew us away with the star-studded cast of the new era.
The Eternals 
The saga of The Eternals, a race of immortal beings who lived on Earth and shaped its history and civilizations, was Comicon's biggest frenzy. As Lauren Ridloff, Lia Mchugh, Salma Hayek, and Angelina Jolie walked up the panel, fans went crazy. This film is not only women-packed, but also ANGELINA JOLIE IN THE MCU? This is what dreams are made of. Angelina will be playing Thena, Hayek as Hajak, Ridloff as Makkari, and Mchugh as Sprite.
Shang Chi and the Legend of the Ten Rings
Shang Chi is Marvel's very own 'Master of Kung-Fu' that first arrived on the scene in 1973, following Enter The Dragon. With this, Awkwafina debuts into the MCU with her role still unknown, but we are all very excited for our sassy Asian queen to save (or destroy?) the world.
WandaVision
https://www.instagram.com/p/B0KXrc8FPfP/?utm_source=ig_web_copy_link
This is definitely a fan favourite as MCU fans are not ready to let go of the red duo just yet. Paul Bettany as Vision and Elizabeth Olsen as Scarlett Witch/Wanda Maximoff return with a TV-series spinoff with the plot still unknown. But Elizabeth Olsen hints at Comicon, "It's gonna get weird, we're gonna go deep, we're gonna have lots of surprises. And we're gonna finally understand Wanda Maximoff as the Scarlett Witch."
Hawkeye
This series based on the Marvel Comics superhero Hawkeye, centers on the adventures of Young Avenger, Kate Bishop, who took on the role after the original Avenger, Clint Barton. Jeremy Renner will be returning as Hawkeye/Clint Barton in the series, but it is still unknown as to who will be playing super heroine Kate Bishop—and we are excited for a woman to take the bow.
Thor: Love & Thunder
https://www.instagram.com/p/B0NLPqJlgXk/?utm_source=ig_web_copy_link
This one caused another frenzy over at San Diego Comicon. Praised for Thor: Ragnarok, director Taika Waititi returns with Chris Hemsworth as Thor, new king of Asgard Tessa Thompson as Valkyrie, and finally, the biggest surprise: Natalie Portman returns, and not just as Jane Foster—but also to wield Mjölnir as the Female Thor. Waikiki passed on the hammer to Portman on stage everyone went wild.
Black Widow
https://www.instagram.com/p/B0LmZiNFRJh/?utm_source=ig_web_copy_link
We've all been waiting for ScarJo to get a hold of her own movie as Black Widow/Natasha Romanoff since starring in almost seven MCU films in the past nine years—and it's happening. We are finally going to enter the mind of the mysterious and deadly Russian spy Natasha Romanoff, and with her will be her sister figure Yelena played by Florence Pugh, and Melina—who is a highly trained spy and assassin played by THE Rachel Weisz.
Phase 3 has been gearing us up for this moment—with Captain Marvel, The Wasp, Gamora, Shuri, Mantis, and all the other awesome women of the MCU, and the whole world is jammed with excitement for the next two years of Marvel in the big screen.
The world needs more super heroines and Marvel is delivering.
Art by Tricia Guevara
For the latest in culture, fashion, beauty, and celebrities, subscribe to our weekly newsletter here  
Follow Preen on Facebook, Instagram, Twitter, YouTube, and Viber
Related stories:
Your guide to the upcoming Marvel movies and series
'Captain Marvel' makes history in the PH box office
Black Widow could be way darker than you think
Brie Larson's ability as a director was questioned, and here's why it reeks of sexism
A rundown of emotions: Avengers: Endgame edition