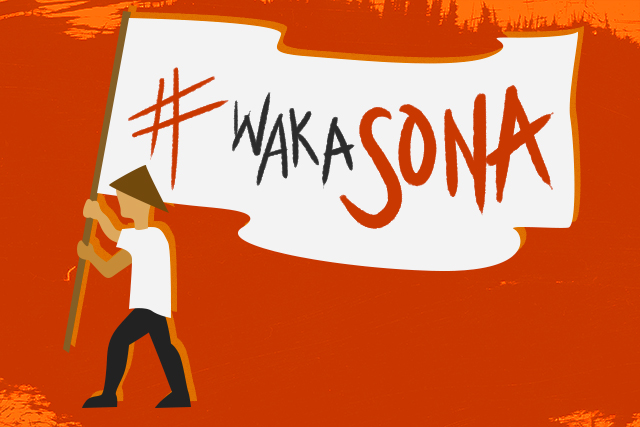 This is President Rodrigo Duterte's 3rd State of the Nation Address since assuming presidential post in June 2016.
And people want it to be his last.
In his first six months in office, more than 6,000 people were killed in Duterte's "war on drugs," a fraction of those deaths occurred during police operations. The overwhelming majority were extrajudicial killings by death squads. Funeral parlours flooded with unclaimed and unidentified bodies—and there was a massive outcry from the Human Rights Watch and the Catholic Church, to stop his unjust system that is murdering thousands of Filipinos.
His foreign policy (if there even is one) is also being questioned, as he saddles up to China, giving them fishing rights to our claimed West Philippine Sea, and is being criticized for his China-centered decisions, and for verbally insulting and threatening international authorities such as the United Nations, the International Criminal Court, and even the United Nations Human Rights Council.
Duterte has been busy adding to his list of infamous achievements—from shaming women, to picking a fight with other foreign leaders and dignitaries, imposing press crackdowns, and allowing a corrupt dictator to be buried in the Libingan ng mga Bayani—that we've lost count of how many bad decisions he's made.
The hashtag #WakaSONA covers all of those bad decisions, targeting this year's annual State of the Nation Address. The social media rally is digging up dirt, lobbying for the end or wakas of these societal complications that have gotten out of hand, and is driving our country down.
Here are just a few of the protests #WakaSONA is fighting for:
LOOK: Progressive youth groups trooped to UST Gate 2, España to start off today's United People's SONA. #WAKASONA #SasamaKami pic.twitter.com/TVMxE4uDA0

— TomasinoWeb (@TomasinoWeb) July 22, 2019
FOLLOW this thread for #WakaSONA updates.

We will parade a wrecked fishing banca bearing resemblance to the Gem-Ver 1, and to symbolize the worsening condition of the Filipino fisherfolk under the Duterte administration. pic.twitter.com/vRMA8HHh4F

— Pamalakaya Pilipinas (@pama_pil) July 22, 2019
rt if you:

• are against Martial Law in Mindanao
• stand with the Lumad in their calls to #SaveLumadSchools and #StopLumadKillings
• are against lowering of macr
• want to #DefendPressFreedom

no one will ever know which one

Artist: @caravagghoe #SasamaKami#WakaSONA pic.twitter.com/1Xybyo5kp7

— _ (@maykamaykaba) July 17, 2019
"Placards up!" PUP's Iskolar ng Bayan and progressive organizations gearing up at Charlie del Rosario student Bldg. a day before "SONA ng Bayan" to uphold democratic rights!#SASAMAKAMI #wakaSONA pic.twitter.com/qLrJTFlPhZ

— The Catalyst (@PUPTheCatalyst) July 21, 2019
From imperialism, China relations, fair wage, extrajudicial, Lumad, and farmer killings, mandatory ROTC, ending martial law, defending press freedom, and the very ousting of the President, #WakaSONA wishes to put an end to tyranny. Liberty, independence, and a just judicial system was promised, yet we are a society that is the exact opposite.
Whether on the streets or on the internet, Filipinos are speaking up. What will this year's SONA do to the angry cries of the people?
Art by Tricia Guevara
For the latest in culture, fashion, beauty, and celebrities, subscribe to our weekly newsletter here  
Follow Preen on Facebook, Instagram, Twitter, YouTube, and Viber
Related stories:
SONA 2019 fashion: From modern barongs to statement accessories
Why Are Women Still Going Through the Worst Human Rights Violations?
The bigger problem with Duterte's PMA rape joke
Consider these male senatoriables stand on women's rights before you vote
Duterte's rape jokes speaks volumes of who we are as a nation