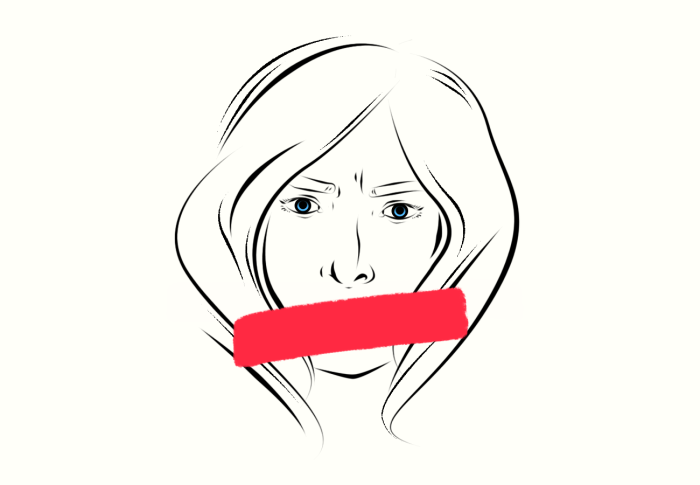 This column may contain strong language, sexual content, adult humor, and other themes that may not be suitable for minors. Parental guidance is strongly advised.
Former President Jimmy Carter declared in 2014 that violence against women, be it sexual, emotional, physical, structural or institutional, was "the worst and most pervasive and unaddressed human rights violation on earth."
If you think he's exaggerating, consider these statistics as reported by thinkprogress.org:
"The World Health Organization (WHO) estimates that one in three women around the world is subjected to sexual violence at some point in her life.  In many parts of the world, women still aren't receiving adequate health care and education.  Every year, about 14 million girls under the age of 18 are given away as child brides, and an additional four million women and girls are bought and sold into slavery. And according to the United Nations, at least 125 million girls in Africa and the Middle East have undergone female genital mutilation."
Still not convinced?  Then recall how very recently Qandeel Baloch, a 26-year-old social media star in her native Pakistan, was killed by her very own brother Waseem Azeem.  He is a pathetic loser who thought he was doing the world a favor by drugging his sister and then strangling her while she slept.  So proud was he of his honorable deed that at a press conference following his arrest, he said, like the unevolved caveman that he was, "Girls are born only to stay at home and to bring honor to the family by following family traditions, but Qandeel had never done that."
The idea that a woman—whether living in a strictly ordained society or a more permissive one—should be relegated to the home is an outdated and irrelevant one.  The belief that any form of self-actualization is less important than honoring family traditions, thereby bringing honor to the family, is preposterous.
Granted, in certain societies, these are beliefs deeply clung to, however primitive and uncivilized they may be.  But just because they have endured as tradition for centuries doesn't mean they're correct or indeed infallible. Being outspoken, falling in love, pushing the boundaries of tradition—what is so dishonorable about any of those activities?  Wouldn't murder be a more dishonorable deed in the scheme of things?  It's a warped mentality that accepts the murder of one's own sibling as a justifiable method of restoring a family's honor.  I'd rather be branded as the woman who ran away with a man my family didn't approve of than the brother who willfully killed his sister.
Honor killings are lamentably commonplace in Qandeel's country.  The Human Rights Commission of Pakistan said there were some 1,100 women and girls last year who were victims of honor killings, usually at the hands of family members.  Saira Khan, writing in The New Yorker notes, "The provocations for these heinous crimes ranged from talking on a cell phone to dancing at a wedding to refusing a marriage proposal."  She quoted filmmaker Sharmeen Obaid-Chinoy, who produced an award-winning documentary about a failed attempt at an honor killing as saying that honor killings "are an epidemic in Pakistan; they are no longer restricted to small towns and villages.  It is taking place right across the country, and hundreds of women are being affected."
And yet these same men—fathers, brothers, uncles, and cousins—who concern themselves so deeply with preserving the family's honor have no qualms about offering their prepubescent daughters as child brides to men decades older than them.  They do so knowing that their daughters have next to no understanding of marriage, much less sexuality, but that their husbands will insist nevertheless on exercising his marital rights, which can result in serious internal injuries, if not death. That men think there is honor and not harm in this is both sad and shocking.
The prevalence of these attitudes and these actions demands the same thing from women: their complete obedience and surrender, and their silence.  Your elders have chosen your fate, and it is a wrinkly 60-year-old man whose penis will probably rip your 12-year-old insides and make you bleed to death but who gives a f*ck when he'll forgive our debts? As always, it is the standing of men in society that matters more than the ruptured vagina and psyche of a mere girl.
Silence is also what men like Brock Turner and Bill Cosby expect from their victims, knowing that if these women dared to speak out and accuse them of rape or abuse or assault, their characters would be ripped to shreds, their sexual histories scrutinized, and their word and their pain and indeed, their very personhood would be considered inconsequential when examined next to the Ivy League swimmer with Olympic potential who is nevertheless a rapist; the Hollywood comic legend who is nevertheless a rapist; the other Hollywood legend, the eccentric and gifted director and screenwriter who is nevertheless a child molester; the hotshot investment banker who is nevertheless a sexual predator.
A friend of mine who recently endured a harrowing experience at the hands of expat (read: white, entitled, privileged) financial types, refuses to remain silent.  Hardly the shrinking violet type, H was in fact so shaken and shocked by the events of that particular weekend that she didn't report the men to the authorities right away, from the management of the building where the attacks to place, to the neighborhood police, something for which she is still—unfairly, I must add—reproaching herself.
H has nevertheless resolved to press charges against the men—Australian and French—despite threats of countersuits from the men.  She was advised by another man—her date that night—not to proceed, and to refrain from reporting the men to their bosses. (H is one of the best amateur sleuths in town, by the way, and she has dug up their Facebook and LinkedIn profiles to boot).
She would be ruining their futures, she was told, and why would she want to do that?
But why not?  Should they not be held accountable for what they did? If it's a matter of their word against hers, believe me, I'd take H's anytime.  She has more honor than all of those men combined.
B. Wiser is the author of Making Love in Spanish, a novel published earlier this year by Anvil Publishing and available in National Book Store and Powerbooks, as well as online. When not assuming her Sasha Fierce alter-ego, she takes on the role of serious journalist and media consultant. 
For comments and questions, e-mail [email protected].
Disclaimer: The views expressed here are solely those of the author in her private capacity and do not in any way represent the views of Preen.ph, or any other entity of the Inquirer Group of Companies.
Art by Dorothy Guya
Follow Preen on Facebook, Instagram, Twitter, Snapchat, and Viber