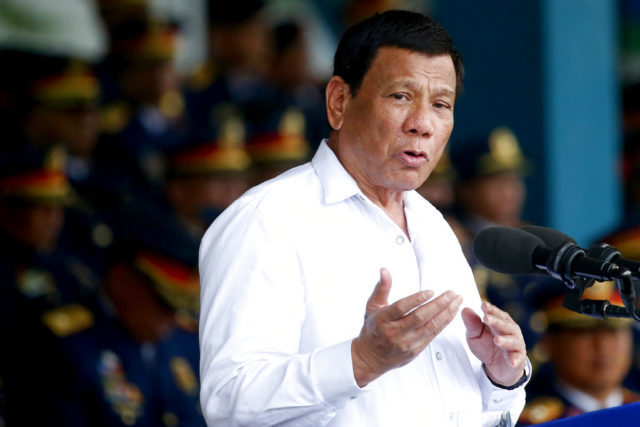 What is worse than our president telling yet another rape joke? It's joking that he'll pardon cadets who allegedly raped women.
During the Philippine Military Academy's (PMA) graduation rites yesterday, Pres. Rodrigo Duterte gave a speech and pretended to read a list of crimes committed by the graduating cadets. "The [number] 1 is for rape, the [number] 2 is drugs with rape—with robbery. Para sa Muntinlupa ito (They are bound for the penitentiary in Muntinlupa). Third, rape of women in Baguio—the beautiful ones," he said, asking cadets with demerits to identify themselves.
READ MORE: Dionne Umalla is the 5th woman to become PMA valedictorian
Duterte added he needs "good and capable soldiers," and that he forgives those who committed any infractions while in the academy. And yes, that includes rape.
Unfortunately, this was reportedly met with laughter from the crowd. Presidential spokesperson Salvador Panelo also came to the president's defense and said his rape jokes are meant to "make people laugh."
"He made some mischievous remarks to make people laugh. People have been so used to his jokes hence his audience always receive them with hearty laughter," Panelo said in a text message to reporters.
Philippine National Police chief Police General Oscar Albayalde also had a similar remark regarding Duterte's rape joke. "That's a very obvious joke. 'Yung sinasabi ni Presidente, 'yung pardon kasi 'yun. That's basically the practice sa PMA na 'pag dumalo 'yung Pangulo ay pwede siya magpardon," (That's a very obvious joke. The President was referring to pardon. That's basically the practice in the PMA whenever the President visits the graduation.) he said. Albayalde also noted that Duterte "probably wants to make everybody happy."
Duterte's consistent normalization of rape culture is already problematic—many have said that multiple times already, but he still continues his streak. What's even more concerning is him telling soldiers and policemen that he would pardon them or take the blame if they harm anyone, especially women.
READ MORE: Duterte makes a rape joke in light of Martial Law declaration
This was not the first time he's said something like this to the military. During a press conference in light of the Martial Law declaration in Marawi, Duterte told troops he is willing to go to jail for them if they rape three women while fighting terrorism there.
Also, Duterte ordered soldiers to shoot female NPA rebels in the vagina, and even that was met with laughter. He later defended himself, saying it was mere sarcasm—nothing more.
That's the thing: Jokes should mean nothing and not create a violent environment where women feel unsafe. If you think the rape jokes and misogynistic words told to soldiers and policemen are harmless, then how do you explain the incident wherein a policeman raped a 15-year-old girl in exchange for her parents' freedom? Or former PNP chief and now-senator Bato Dela Rosa saying he will kiss Kapampangan women on the lips to "learn their language"?
READ MORE: Apparently, raping someone is common practice for policemen
Here's another effect of such remarks: The death and alleged torture of Cindy Tirado, an alleged NPA leader from Tagum City, Davao Del Norte. Cindy's mother claimed she was "still alive and somebody tortured her before shooting her in different parts of her body."
"I saw her genitals shattered with a bullet, and her arms were fractured. How could they do that when she is a woman? They should have arrested her and filed charges for her offenses. If she was hit and still alive, they could have let her live and give her a fair trial," she told reporters last month.
Now you see just how grave Duterte's "jokes" can be?
You can defend these are all just meant for laughs, and people like Harry Roque can call feminists "OA" all they want. But the more you laugh at something, the more it becomes normal. Tell us: What is funny about the fact one woman is raped every hour in this country? That women are mostly feeling the effects of our president's words and actions because some men are getting the guts to act like disgusting creeps?
If you are going to laugh at something, make sure it's not in the expense of someone else. This kind of humor should never be welcome in this day and age.
Photo courtesy of AP via Inquirer.net
For the latest in culture, fashion, beauty, and celebrities, subscribe to our weekly newsletter here  
Follow Preen on Facebook, Instagram, Twitter, YouTube, and Viber
Related stories:
Unpacking Pres. Duterte's rape joke: Why it reeks of more than just misogyny
Apparently, raping someone is common practice for policemen
Don't give Pres. Duterte a free pass for his "shoot in the vagina" joke
Duterte's legal counsel claims rape joke was "freedom of expression"