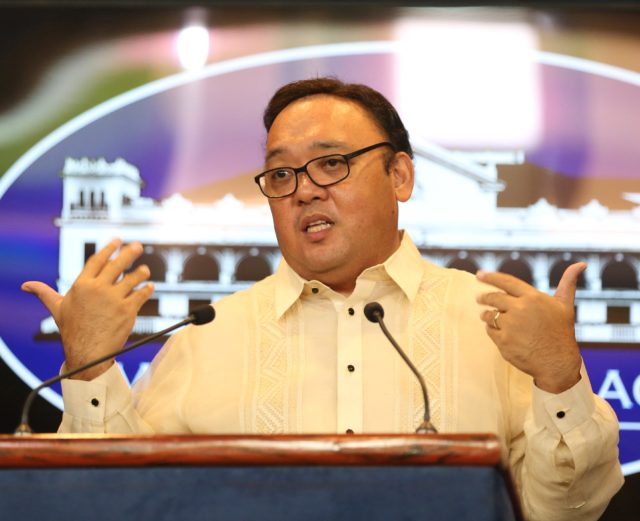 We all know that Pres. Rodrigo Duterte doesn't have the best track record when it comes to making jokes. They usually include rape and misogynistic themes regardless of where he is. So how should people, especially feminists, approach this problem according to Presidential Spokesperson Harry Roque? You just laugh at it and not overreact too much.
Roque said this in an interview posted on his Facebook page as he recounted one of Duterte's funny stories. It was apparently a joke about being indicted in international court. "He's saying, 'Well, I don't mind for as long as you allow conjugal visits by more than one woman,'" Roque said. "You know, sometimes, these feminists are really a bit OA. I mean, that's funny. Come on. Just laugh."
He added that his humor is also the reason why Filipinos love him. Oh, yeah. Totally!
Just a refresher: We're talking about the same man who was unapologetic about wanting to go first in the gang rape of Jacqueline Hamill. Not to mention telling soldiers that he will take the fall if they will rape three women in Marawi.
There's also that time Duterte said that men "have balls" if they rape a Miss Universe candidate. He also admitted to looking at VP Leni Robredo's legs during meetings and spanking policewomen "when he likes to joke around."
And you want us to just laugh at all of that, Mr. Roque? Is this the kind of humor that you want Filipinos to identify with and be known for? Because they are not funny at all. If you think people are being too "OA" about all of this, you're either turning a blind eye or your morals needs to be in check.
[
ABS-CBN News
]
Photo courtesy of Inquirer.net
Follow Preen on Facebook, Instagram, Twitter, and Viber
Related stories:
Duterte Makes a Rape Joke in Light of Martial Law Declaration
Pres. Duterte Thinks Men Have Balls If They Rape Miss Universe Candidates
Duterte's Chief Legal Counsel Includes Sexual 'Joke' In International Interview
Pres. Duterte Admits to Staring at VP Robredo's Legs During a Meeting
Pres. Duterte's Cuss Words and Threats Doesn't Mean He's a Tough Guy