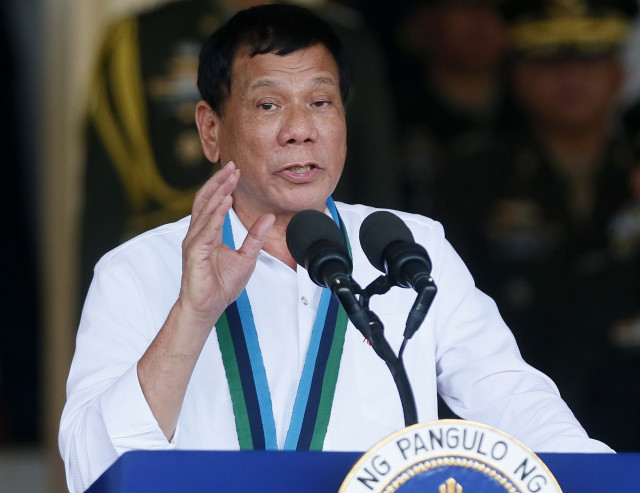 When Pres. Rodrigo Duterte declared Martial Law in Mindanao (also citing the possibility of expanding it nationwide), many expressed their anger and fear. An understandable feeling considering the Philippines' jarring history with Ferdinand Marcos' 20-year dictatorship.
In reality, our current constitution won't allow Martial Law that's longer than 60 days. Many would defend that this is the best solution to stop the war that's happening in Marawi and other parts of Mindanao once it's approved in Congress. However, Duterte's recent comment is adding to people's fear.
During a press conference, Duterte assured troops that he will support them in the fight against terrorism. He then said, "Ako na ang magpakulong sa inyo. Pag naka-rape ka ng tatlo, aminin ko na akin 'yun." (I will go to jail for you. If you happen to have raped three women, I will own up to it.)
It seems our president still hasn't learned from his previous rape joke. He also doesn't realize the gravity of his influence in these trying times.
Any act of terrorism, including the one in Marawi, is meant to incite fear among people. This is why we trust our government and military forces to protect us. But when the head of state is practically encouraging rape and violence, how would you feel safe?
It also doesn't help that Duterte encouraged the drug war, which took the lives of over 9,000 people. Plus the fact that he plans to pattern the Martial Law in Mindanao to how Marcos did it back then. Several government figures have expressed the need to preserve human rights, but is this what we'll get if Congress greenlights the declaration? (That is, if they do decide to formally convene and review it.)
As usual, many will say, "It's just a joke. It's how the president talks." But this is also why vigilance is important in this Martial Law decision. All of us need to take into account what's best for our countrymen and look at how our leaders will handle this.
At this point, it's not how Duterte delivers his words, but the content of it. He is saying that he's willing to overlook these crimes as long as he takes responsibility for it. This is why rape culture continues to exist. This is why violence is prospering.
We must reiterate the importance of uniting for peace. Don't let political beliefs and interests blind you into thinking that everything that government officials do, most especially Pres. Duterte, is okay. We're all vying and praying to end terrorism in our country, and the last thing we need is to also fear the people who swore to protect every Filipino.
Photo courtesy of Inquirer.net
Follow Preen on Facebook, Instagram, Twitter, Snapchat, and Viber