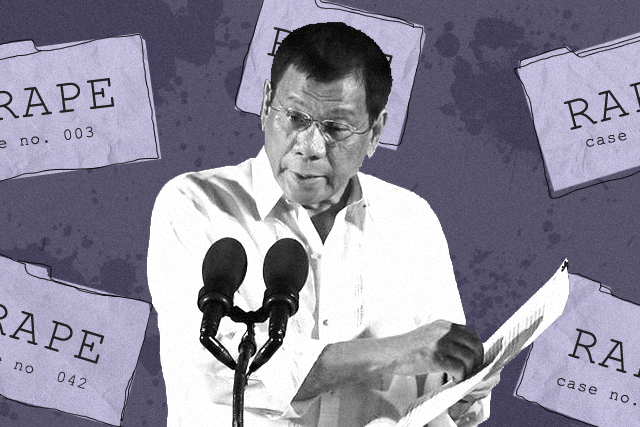 So the president made a rape joke. Again. Now, it's wrong for a number of reasons. The first, and most obvious, being this is a blatant display of misogyny. By pinning down rape on women's beauty, he might think he's making a compliment, when it fact, it was just another form of victim-blaming. Also, rape jokes are NEVER okay. They are never funny, and he, of all people, should not be making one. As someone whom a lot of men look up to, his actions have a grand effect on perpetuating rape culture in our country. We've already established these, given that this is not the first time he pulled this trick. But I believe there's more to this particular joke.
I think the statement is also an indication of how biased our president is. Fact: Pres. Duterte loves his hometown. It's been a constant source of pride for him. Heck, it was one of the things which won him the presidency: banking on the rationale that if he can make Davao this peaceful place, he can do it for the whole country, too. But what does it say if his beloved home has the highest number of rape cases? That's not exactly a source of pride, right? Wrong. According to the president, it could be. Because it means they have the highest number of beautiful people. Now, I've had previous experience in the Marketing industry, and one of the key things I learned was the importance of words. If you have negative news, how do you downplay it so you wouldn't get an earful from your client or your bosses? One is, you find a way to turn it around and make it seem positive. Language is highly crucial. Through his remarks, Pres. Duterte was assuring the people of Davao that the statistics wasn't a reflection of leadership, or anything like that, but rather, a reflection of how beautiful their women are. Rape is an ugly word, but beautiful? He turned it around and made rape into something positive. Moreover, he is biased in terms of leadership. I mean, imagine if he were to find out that there were high rape cases in say, Naga City. We all know he would have pinned down the problem to the type of leadership; not credit the beautiful women in the city. But no matter how he twists it, the truth is, the data revealed simply that Davao has the highest number of rapists-—not beautiful women. Do what you want with that fact, that is the only real inference given the data.
Also, I believe the remark goes to show that Pres. Duterte thinks rape is literally a joke. Instead of saying 'okay, this is disappointing, we've got to address this concern,' he goes off and jokes about it. I mean, only we have that type of leadership where something as serious as rape is treated as a mere laughing matter. We all know that if instead of rape cases, it was a report on drug cases, he would have made some grand declaration about firing somebody. Maybe fired somebody on the spot, even. Why? Because he thinks the main root of our problem as a country is drug-related; rape on the other hand, is akin to some petty theft. Hell, he probably doesn't believe in rape; thinks it's something women make a big deal out of—and that, I think, is the real root of our problem as a nation. Aside from we, ourselves, have some wrong values, we are also largely misunderstood by our leaders. While some country have already accepted the importance of women's voice towards achieving progress, we have a President who openly declares he would gladly step down just as long as the woman next in line to him wouldn't be his successor.  
Art by Marian Hukom
For the latest in culture, fashion, beauty, and celebrities, subscribe to our weekly newsletter here  
Follow Preen on Facebook, Instagram, Twitter, YouTube, and Viber
Related stories:
Pres. Duterte says Davao has most number of rape cases due to their beautiful women
Dear, Harry Roque: We are not OA for calling out Duterte's rape jokes
Pres. Duterte thinks men have balls if they rape Miss Universe candidates
Duterte makes a rape joke in light of Martial Law declaration
Duterte's legal counsel claims rape joke was freedom of expression