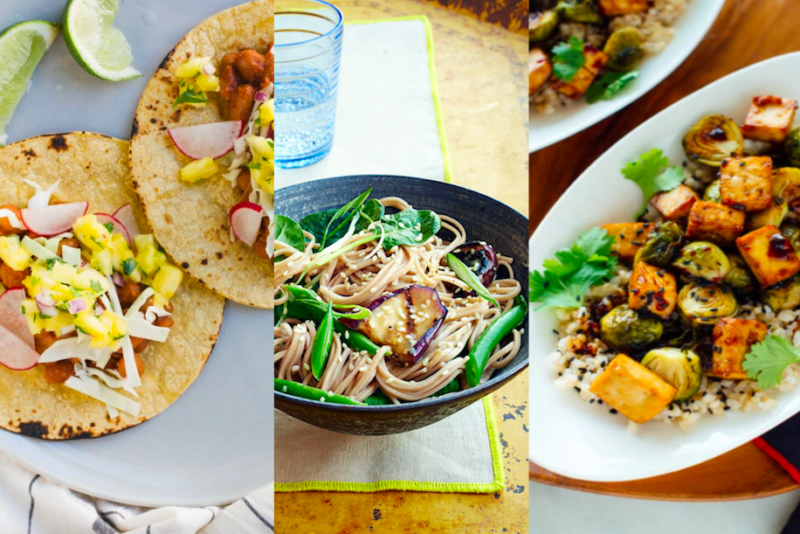 Because we are a largely Catholic country, the Holy Week is a pretty big deal to us. There are age-old traditions we usually follow during this time. One is that practicing Catholics who are 14 years old and older, and in good health, are expected to abstain from eating meat on Ash Wednesday and Good Friday.
If you and your family observe this, but are not vegetarian or vegan, then you might have a dilemma in your hands (which I guess is the whole point of the practice—penance). Especially to moms (and dads of course) who are at a loss on what type of dishes they can serve their family this Holy Week—don't fret. Here are meatless recipes you might want to try at home.
Roasted Brussels Sprouts and Crispy Baked Tofu with Honey-Sesame Glaze
This recipe from Cookie and Kate is a really versatile one. You can follow the steps below and then play around with it the next time you want to do it again. Katie suggests using different vegetables (broccoli and bell pepper), or try peanut sauce instead of the honey-sesame glaze one. Though this meal requires time because of the prep work, it's totally worth it.
Ingredients
1 ¼ cup brown rice, preferably short grain
1 ½ pounds Brussels sprouts
1 ½ tbsps extra-virgin olive oil
Fine grain sea salt
1 block (15 ounces) organic extra-firm tofu
1 tbsp. extra-virgin olive oil
1 cup reduced-sodium tamari or soy sauce
1 tbsp arrowroot starch or cornstarch
3 tbsps honey or maple syrup
2 tbsps rice vinegar
2 tsps toasted sesame oil
1 to 3 tsps chili garlic sauce or sriracha (depending on how spicy you like it)
2 tbsps sesame seeds
Big handful fresh cilantro leaves, torn by hand
Procedure
1. Prep work: Position your oven racks in the lower third and upper third of the oven. Preheat oven to 400 degrees Fahrenheit. Line two large, rimmed baking sheets with parchment paper for easy cleanup (and to prevent the tofu from sticking). Bring a large pot of water to boil for the rice. Rinse the rice in a fine mesh colander under running water and set aside.
2. Drain the tofu and use your palms to gently squeeze out some of the water. Slice the tofu into thirds lengthwise so you have three even slabs. Stack the slabs on top of each other and slice through them lengthwise to make three even columns, then slice across to make five even rows.
3. Line a cutting board with an absorbent lint-free tea towel or paper towels, then arrange the tofu in an even layer on the towels. Fold the towels over the cubed tofu, then place something heavy on top to help the tofu drain. Let the tofu rest for at least ten minutes while you prep the Brussels sprouts.
4. Trim the nubby ends and any discolored leaves off the Brussels sprouts, then cut the sprouts in halves lengthwise. Toss the sprouts with a light, even layer of olive oil. On a large baking sheet, arrange the sprouts in an even layer, flat sides down, and sprinkle with sea salt.
5. Transfer the pressed tofu to one of your prepared baking sheets and drizzle with the olive oil and tamari. Toss to combine. Sprinkle the arrowroot starch over the tofu, and toss the tofu until the starch is evenly coated, so there are no powdery spots remaining. Arrange the tofu in an even layer across the pan.
6. To cook the rice: Once the water is boiling, add the rice. Let the rice boil for 30 minutes, then remove from heat and drain the rice. Transfer the drained rice back to the cooking pot and cover for five minutes. Remove lid, add a dash of sea salt and use a fork to fluff the rice. Set aside, partially covered, until you're ready to serve.
7. To bake the sprouts and tofu: Transfer the pan of Brussels sprouts to the lower oven rack, and the pan of tofu to the top rack. Bake for 25 to 30 minutes, tossing the contents of each pan halfway through cooking, until the sprouts and tofu are deeply golden on the edges.
8. To make the glaze: In a small saucepan, whisk together the glaze ingredients (start with one tsp of chili garlic sauce or sriracha and add more to taste). Bring the glaze to a gentle boil over medium heat, stirring often and reducing heat as necessary. Simmer until the glaze is reduced by about half (about five to 10 minutes; it's about done when it starts bubbling up substantially). Remove the glaze from the heat and set aside.
9. To assemble: Divide the rice onto four plates. Top each plate with sprouts and tofu and drizzle with glaze. Finish each plate with a very generous sprinkling of sesame seeds and a small handful of chopped cilantro.
BBQ Bean Tacos with Pineapple Salsa
I know, the "BBQ" might be confusing you. But don't worry, it's completely vegetarian. Couple Sonja & Alex Overhiser are known for their delicious vegetarian and vegan recipes, as well as their sustainable approach to cooking and eating well, so you could trust in this recipe. In fact, we won't be surprised if you crave for it even after the Holy Week.
Ingredients
2 15-ounce cans pinto beans
2 tbsps mustard
1 tbsp maple syrup
3/4 cup tomato ketchup
1/2 teaspoon garlic powder
1/2 teaspoon chili powder
3/4 teaspoon salt, divided
20-ounce can (11/2 cups) pineapple chunks packed in juice
1/4 cup minced red onion
1/4 cup finely chopped cilantro, plus additional for garnish
1 small green cabbage
3 radishes
1 lime (wedges for squeezing)
Tortillas, for serving
Procedure
1. Drain both cans of beans (no need to rinse). In a large skillet, place the beans, mustard, maple syrup, ketchup, garlic powder, chili powder, and 1/2 tsp kosher salt. Heat on low until thickened and warm, while making the remainder of the recipe.
2. Drain the pineapple and finely chop it. Mince the red onion, and chop the cilantro. Mix the pineapple, red onion and cilantro together with 1/4 teaspoon kosher salt.
3. Thinly slice the green cabbage and radishes. Slice the lime into wedges.
4. If desired, char the tortillas by placing them on an open gas flame on medium for a few seconds per side, flipping with tongs, until they are slightly blackened and warm.
5. To serve, place the beans in a tortilla, then add cabbage, radishes and a squeeze of lime (important, do not omit!). Top with pineapple salsa and additional cilantro if desired.
Soba with Miso-Glazed Eggplant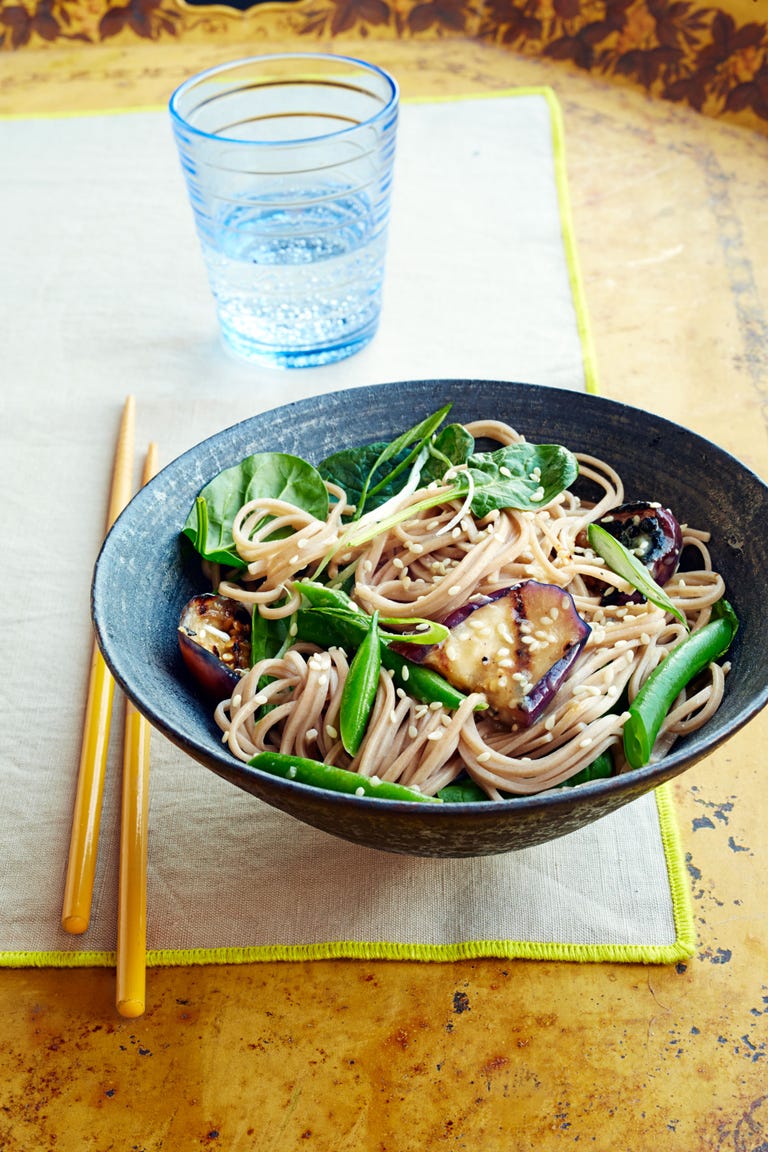 If you love Japanese food, then you're in for a treat. Woman's Day's recipe would most probably appeal to you. If you're a fan of the country's cuisine, then we're sure you've tried soba before. Yep, it's the thin noodles made from buckwheat flour, usually served in a hot soup, or cooled and served on a strainer along with dipping sauce. I'm sure you already have a favorite soba dish, but this one just might compete with that.
Ingredients
2 medium eggplants (Preferably Japanese eggplant)
8 oz. green beans
2 tsp toasted sesame oil
3 tbsp. toasted sesame oil
8 oz. soba noodles
3 tbsp miso paste
2 tbsp. brown sugar
2 tbsp red wine vinegar
1 tbsp lower-sodium soy sauce
2 clove garlic
2 tsp grated peeled fresh ginger
1 bag baby spinach
Sliced green onions
Sesame seeds
Procedure
1. Prepare an outdoor grill for direct grilling on medium. Sprinkle eggplant slices with 1/2 teaspoon salt. Arrange between layers of paper towel; let stand 15 minutes.
2. Meanwhile, stack two 24-inch-long sheets aluminum foil. Place beans on half of foil; toss with two tsps oil. Fold other half of foil over; crimp edges to seal. Grill for 16 minutes, turning over once. Set aside.
3. Cook soba as label directs. Drain and rinse with cold water. Drain again; set aside.
4. In large bowl, whisk miso, sugar, vinegar, soy sauce, garlic, ginger, remaining three tbsps sesame oil, and two tablespoons water. Firmly press liquid from eggplants with dry paper towels. Brush eggplants with some miso mixture (reserve remaining). Grill eggplants, covered, eight to ten minutes or until just tender, turning over once. Cut into bite-size pieces.
5. Toss soba, green beans, and eggplants with miso in bowl. Serve on spinach; top with onions and sesame seeds.
Photos courtesy of Cookie + Katie, A Couple Cooks, and Woman's Day
For the latest in culture, fashion, beauty, and celebrities, subscribe to our weekly newsletter here  
Follow Preen on Facebook, Instagram, Twitter, YouTube, and Viber
Related stories:
Impress your SO with these easy-to-cook recipes
Model Maureen Wroblewitz has a quick pasta recipe for late nights
Iza Calzado has a snack recipe you won't stop munching on
Cold beverage recipes to melt your summer stress away