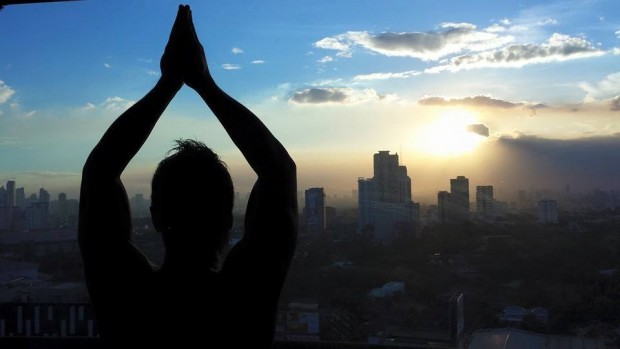 I breathe in while slowly shifting to warrior two. Sweat beads glide down my chest and arms. I stretch, feeling my arms and legs accommodate the pose without locking into place. I shift into a new pose, following my instructor and the other dozen or so completely naked men in the room.
How did I get here?
After my yoga retreat earlier this summer, my instructor Paulo Leonido suggested I tag along to one of his Naked Yoga MANila sessions. I had been thinking about it for a few months, though I hadn't been able to muster up the courage to take it all off. After our skinny-dipping session on Danjugan Island this May, I figured I had nothing left to expose. My pale skin had reflected the island sun. Surely, indoor yoga with soft lighting would be kinder to my form than the glare. So, I said yes.
There was a clandestine element to the entire affair that added a layer of excitement. Rather than having a dedicated studio, locations for naked yoga shift weekly, with attendants getting a confirmation text earlier in the day as to the exact location. Makeshift studios range from actual ones to quite a few surprises. I won't dish on the whereabouts of this particular session, only that it was in somewhere in the heart of Ortigas.
Soon, I found myself with a dozen other guys, ready for the session to begin.
I'm cool with my body on a personal level. I have nothing that I'm too unhappy with, though I'd love to tone my midsection a bit. Who wouldn't, right? It's the age of Magic Mike. I do think I have killer legs, though.
My American mentality insists that tan is best, but my complexion is closer to that of coconut milk. My manscaping has always been dire, to the point I have non-ironically solicited assistance from a few trusted friends. I'd consider myself to be presentable naked. That hasn't always been the case.
I was the type of kid who locked the door when changing, even if nobody was home. So how did I build up the confidence to practice yoga in the buff?
Modesty isn't about self. It's about being viewed by others. Yoga is all about self—self-reflection, self-control. If you're fully committed to the practice, then the world around just sort of slips away. So, if anything, the lack of clothes helps in that it allows you to become more in tune with yourself. I became aware of my breath and the change in my musculature as I switched positions.
During the session, Paulo played on this attention to amplify the intensity of his normal routines. Were people around me naked? I hardly noticed as I sweat just to keep up. The rhythm was brisk, and I was thoroughly lost in my swift pose changes.
But these yoga sessions are unlike any other. Looking around me, the room was full of men intently perfecting the poses. Yes, the sessions are specially catered to male homosexuals—one of the yogi's attempts to emphasize on the gay community aspect.
Here is where I go into "gay best friend" mode here for a minute.
The gay community in Manila is vibrant, but fractured. Preen has covered the difference between sex and gender in the past, and I think it's important to note that Filipino media has combined queer sexuality with gender, alienating a lot of the actual gay community in the process.
Vice Ganda is awesome, but there's a whole lot of other shades to the rainbow. One of the best things about Naked Yoga MANila is that it unifies a lot of different types of gay men, across age, stereotype, and socioeconomic boundaries. For now, this particular series of yoga sessions still is still exclusive. It's a safe environment, and one that is sorely lacking in the nightclubs and bars that cater to the G and B in LGBT.
That being said, anyone can benefit from naked yoga, especially those who struggle with their own personal body image. In being vulnerable and in communion with others, it's easy to realize we all have quirks and imperfections—not necessarily one and the same. So, if you practice yoga at home, maybe try it without the Lululemon next time. Ask your yoga instructor about starting up a class. You might just be the start of a revolution.
For more information, visit Naked Yoga MANila's Facebook page or contact [email protected]
Photo courtesy of Naked Yoga MANila