A few weeks ago, my friends and I had a conversation about simbang gabi. The topics ranged from asking if anyone was going to why some of us feel irked by seeing people wearing their pambahay to church.
A friend then said, "Do you think God would care if you showed skin in church?"
The Philippines is a predominantly Catholic country, and if you're reading this, chances are you've been told how to present yourself during mass. No shorts, no sleeveless tops, and your skirt must be a certain length. Basically, you have to look "decent" while worshipping God. Else, you'll be tagged as immodest.
As a Catholic myself, I was taught several rules when going to church. Even though I don't go to mass every Sunday anymore, I still believe in certain Catholic values. I also still feel a pang of guilt when I enter a church in shorts—even if I'm just there to say a quick three-minute prayer.
At the same time, I also have to agree with my friend's sentiment on church dress codes.
Are dress codes needed?
Just like schools and workplaces, we can assume that churches have dress codes in place for uniformity, which isn't a bad thing in hindsight. However, dress codes become problematic when it starts shaming people for their choices.
Generally, what is considered "proper church attire" are either semi-formal or business casual clothing. Women are encouraged to wear long dresses, while men should wear suits—think the churchgoers in "The Simpsons."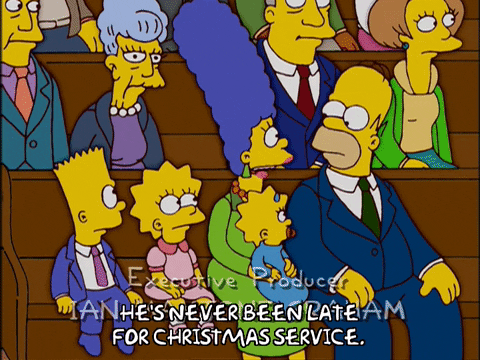 Today, the dress code has become more casual. It's now okay to see people in T-shirts and jeans because they're more comfortable. You can still see people wearing dresses and suits, but that can be chalked up to choice rather than a requirement.
However, there is still the idea that one is disrespecting the church if they show up in "inappropriate" clothing. Women usually receive the brunt of this—with people shaming them for showing too much skin or leg during mass. They are also told that expressing themselves sexually—even through clothes—is only reserved for their husbands. (Ugh.)
A Christianity.com article cites that church leaders can rightfully call people to repent when they are being immodest. It basically says that modern culture "drives an immodest agenda" because people are now realizing that self-expression via clothing is okay as long as no one gets hurt. "Godly modesty is born from a humble sense of justice to not stir up desires in others that can't be fulfilled righteously," the article suggests. The author also added links to Bible verses after that quote for good measure.
First of all, bodies shouldn't be seen as sexual vessels and people don't dress up just to be objectified by others. This mindset is the reason why rape culture still exists.
Secondly, religious people really need to stop quoting the Bible as a way to objectify others. Do they seriously think God would care if someone didn't wear the right outfit in church?
Look, we're not saying you should wear the skimpiest ensembles you have to church. We can still respect the dress code and everyone's choice to wear either semi-formal or casual outfits. But it shouldn't come to a point where we shame or ridicule others for it—more so question their religiosity based on how they present themselves.
***
As simbang gabi officially started last night and will end on Christmas eve, we know there will be people who will make fun of those who go to mass in their basketball shorts and slippers. If they're not bothering anyone on purpose, why should you stress over their choices?
No one really knows that God or a higher being cares about what someone wears. As far as we see it, it's only us humans being judgmental of each other.
Art by Tricia Guevara
For the latest in culture, fashion, beauty, and celebrities, subscribe to our weekly newsletter here  
Follow Preen on Facebook, Instagram, Twitter, YouTube, and Viber
Related stories:
The "dress code" excuse: A transwoman was denied entry at a BGC bar
TSU is proof dress codes shouldn't hinder trans students from graduating
Inequality in Catholic school and what it taught me about feminism
Pres. Duterte might have a point about the Church