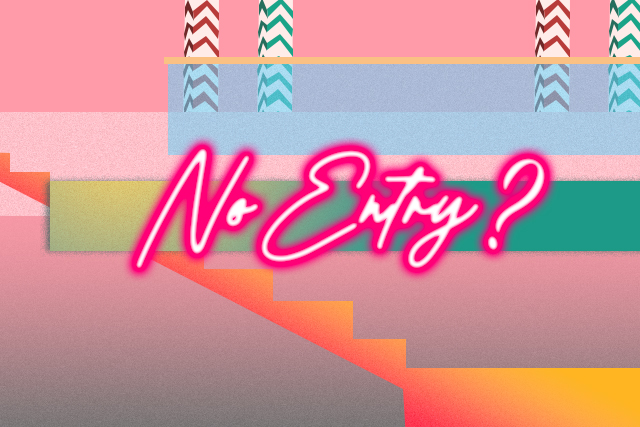 Over the weekend, a well-known bar in BGC was blasted on social media for barring a transwoman for entering because of a "dress code."
The accuser, who asked to keep her identity anonymous, told us she and her friends went to Early Night? on Saturday night. When she showed her ID before following her friends inside, the bouncer looked at her outfit and said, "Bawal yan sa dress code." (That's against the dress code.)
"I was surprised because prior to this I've never heard of Early Night? having a dress code aside from [no] shorts and slippers, which is a general rule naman for most bars," she said. "So I asked what exactly am I violating in the said dress code and the kuya couldn't even give me a straight answer." She added that a second bouncer also told her she was, indeed, violating a dress code.
READ MORE: TSU is proof dress codes shouldn't hinder trans students from graduating
The accuser was wearing a crop top and jeans, and she said she could wear her oversized denim jacket so she could go in. But the first bouncer still told her she wouldn't be allowed inside.
We've also reached out to one of her friends who was there during the incident. She told us, "I've never heard of a dress code at Early Night?. My friend wasn't allowed to go in, but I wore a see-through top before and there weren't any problems at the door." This was clearly a sign that a dress code violation wasn't the problem here, but discriminating against a transwoman.
The incident gained traction on social media, with netizens accusing the bar of being transphobic. This is also not an isolated case: Kyle Gopez shared he and his friend were denied entry to Early Night? when they wore drag.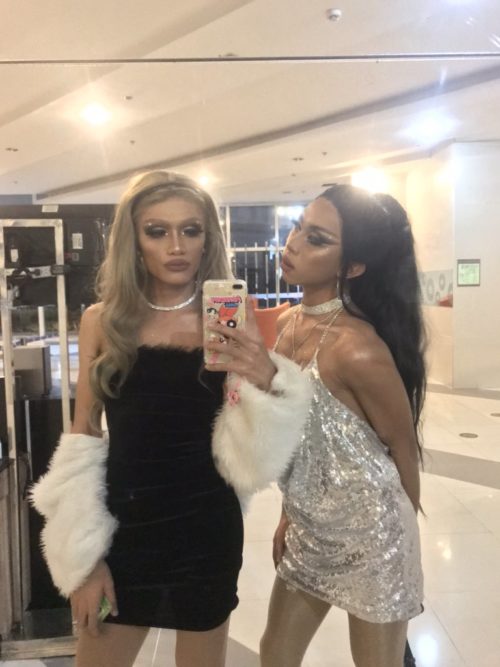 "I was first to enter, so I was [going up to the bar] then the bouncer literally put his hand up to stop me and yelled, 'Bawal.' I went down the stairs and kept asking, "Kuya, bakit po? Full na po ba sa loob?' (Why? Is it full inside?) He didn't answer back and looked away. So I asked the other bouncers, a lady bouncer and another male bouncer, they both also ignored me," Kyle told us.
He realized the bar wasn't full when they'd let other people in without any problems, "even girls who were almost half naked so it wasn't because of a dress code." He added that he would frequent Early Night? in and out of drag, so it was weird they weren't allowed in that night.
Early Night?'s response
It's not new for bars and clubs to enforce regulations regarding clientele, which includes dress codes. In a previous article, the former "door b*tch" of Embassy and 71 Gramercy told Preen.ph that crossdressing policies exist to "ward off crossdressers of a certain 'persuasion.'"
READ MORE: Clubs don't give a damn about your gender
In the case of Early Night? though, many are saying it doesn't have a "no crossdressing" policy. We reached out to the establishment and one of their managing partners in hopes of clarifying this, but they haven't replied.
But in this day and age, such rules have created sexist and homophobic, sometimes elitist, cases of discrimination. When designer Veejay Floresca (who is a transwoman) was denied entry to Valkyrie in 2015 on the basis of crossdressing, it brought up the "old boys' club" philosophy, which allows high-profile people to build relationships that "can prevent women and minorities from being truly successful in the business world."
Or, in this case, not allowing women and minorities to assert their rights to enter any establishment freely.
After much backlash on social media, Early Night? issued a public apology on Facebook. "Early Night, BGC would like to address the unfortunate incident that happened over the weekend. We would like to firmly state that there is no such rule that our front security allegedly invoked," the statement read. They also said they reached out to the initial accuser, who confirmed she's speaking with management "on the best way to fix and address the issue."
"We are also taking this incident as a chance to re-train our staff so they may reflect the true values and culture of this company," the statement concluded.
https://www.facebook.com/earlynightph/photos/a.250735888664764/569639326774417/?type=3&theater
However, there are some who don't find the apology sincere as it didn't indicate their bouncers denied a transwoman entry to the bar. "It honestly doesn't sound sincere, like they want to apologize and get it over with so everyone can move and continue supporting their bar," Kyle told us.
It's also unclear what kind of "re-training" management will do, but the best course to take is to teach them gender sensitivity. Even change their staff and/or bouncers if they have to.
Stop this from happening
It's clear that the incidents mentioned have to do with dress codes, but more on discriminating against one's sexual orientation and how they choose to present themselves. There are also cases similar to comedian KaladKaren's experience where bouncers ban people just because they are gay.
READ MORE: KaladKaren's experience is proof of how much we truly need the SOGIE Bill
Yes, there are safe spaces in the country, but the LGBTQ+ community deserve to live in an environment where they don't have to deal with discrimination and hate in public places. We already have the Safe Spaces and Streets Act in place, which criminalizes any form of public sexual harassment. But more than anything, we need the SOGIE Equality Bill to protect the LGBTQ+ community from gender-based discrimination under law.
In the meantime, offices and public places like bars should be enforcing non-discrimination policies. We don't need establishments that continue to be stuck in the Middle Ages.
Art by Tricia Guevara
For the latest in culture, fashion, beauty, and celebrities, subscribe to our weekly newsletter here  
Follow Preen on Facebook, Instagram, Twitter, YouTube, and Viber
Related stories:
Clubs don't give a damn about your gender
Transgender people #WontBeErased and they've changed the world
The double standard and discrimination against men in makeup
KaladKaren's experience is proof of how much we truly need the SOGIE Bill