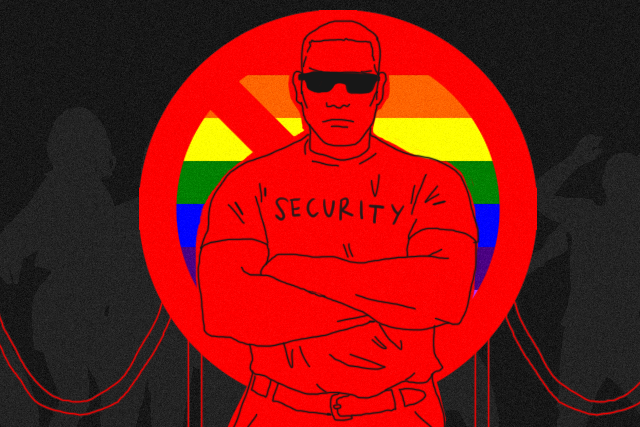 Imagine going to your hang-out spot and being denied entry simply because of your gender identity. It may sound absurd, but it's what several members of the LGBT community experience on a regular basis.
For instance, Jervi Li, better known as KaladKaren Davila, recently posted a video exposing H&J Sports Bar and Restaurant for its discriminatory policies against gays and transgenders. In the video, we can see the bouncer of  the bar blatantly refuse the media personality entry into the establishment based solely on his gender identity. "Inutos lang sa amin. Wag kayong ma-offend." (We were just ordered to do it. Don't be offended).
Jervi captioned the video with: "BAWAL ANG BAKLA: Last night, my friends and I were denied entry to H&J Sports Bar and Restaurant in Poblacion, Makati dahil bawal raw po pumasok ang mga 'BAKLA.' HINDI dahil sa DRESS CODE or whatever, pero dahil BAKLA po kami. Totoo ba, dear??? 2018 na!" (Gays are not allowed: Last night, my friends and I were denied entry to H&J Sports Bar and Restaurant in Poblacion, Makati because they said 'gays' are not allowed. [We were denied entry] not because of a dress code or whatever but merely because we were gays. Really, dear?? It's 2018 already!)
The bar's manager Jerry Echter later explained that it was a mere misunderstanding, stating that a particular group of transgenders who allegedly had a record of stealing were the only ones supposedly banned from the bar. He added that all kinds of people, regardless of race or gender, are welcome in the establishment.
Jervi confessed her disappointment and dismay over the encounter. According to her, it felt like "natapakan yung pagkatao namin dahil di kami pinapasok (we were degraded because we were denied entry) because of our gender identity which I think is a form of discrimination." She further said, "Ang aking argumento dito ay bakit natin kailangang i-generalize ang lahat ng miyembro ng LGBT? You know anybody is capable of doing a crime, babae, lalaki, bakla o tomboy," (My argument is why do you need to generalize all LGBT people? You know anybody is capable of doing a crime: girl, boy, gay or [lesbian]).
This incident was unfortunate, but the reality is, it isn't new (Remember that other bar called out for banning crossdressers?). It caught our attention now because of the prominence of the person involved, but this kind of discrimination is an everyday occurrence for some of our LGBT brothers and sisters—and the reason why we are pushing for new laws such as the SOGIE Bill. Being refused any service due solely to a person's gender identity is the very definition of discrimination. While it's true that establishments are entitled to their own policies, there is a line to how far they can actually dictate refusal of service. As evidenced in this situation, contrary to what most believe, the SOGIE Bill wouldn't give added privilege to members of  the LGBT community—rather, it's an equalizer that would provide them with the basic human right they deserve, same as everyone else.
As Jervi noted in her post, it's already 2018. It's time we get past this nonsense and come up with laws that are truly for the sake of all people—yes, that includes all members of the LGBT community. Their lives matter, too.