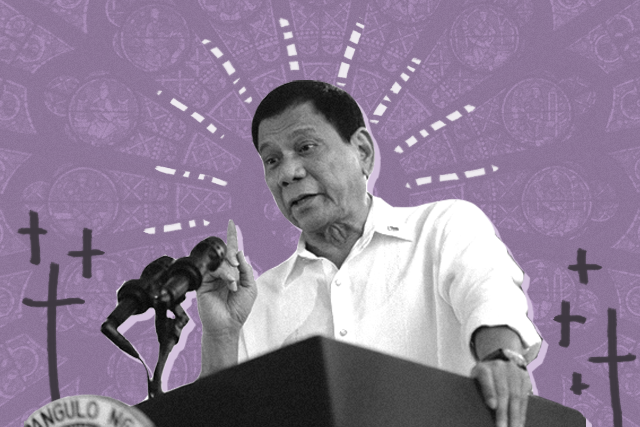 Pres. Rodrigo Duterte was recently slammed for calling God "stupid" for creating the concept of original sin. While we don't support the aforementioned insult, he did make a point on how the Church would create hurdles in implementing certain laws.
During a recent speech, Duterte pointed out that the government cannot fully implement family planning because the Church and some religious groups are against it. "That is why one of my reasons why I do not like itong [this] creeping influence of faith that sometimes run counter to what government believes to be good for the people, at least in this temporal life," he said.
Duterte has a long-standing feud with the Church. He called it a "hypocritical institution" for being corrupt and claimed that he was molested by a Jesuit priest when he was younger. He's also claimed that some priests and bishops have wives. Despite that, he said in his 2016 SONA that there should be no separation of church and state.
However, it is true that the Church has opposed family planning laws like the Reproductive Health (RH) Law and the free distribution of birth control pills. The former was passed in 2012 but the Supreme Court suspended it when religious groups claimed that it violated rights to religion and free speech. (Even though this is about human rights more than anything.) Duterte has continuously went against the Church to strengthen such laws, which is only right because the law gives women the access to proper reproductive healthcare.
That's not the only matter that the Church has opposed on. They've spoken against same-sex marriage, especially after Duterte expressed support for it before saying he's mostly supporting civil partnerships, and called on Filipinos not to legalize it. This is understandable since the Catholic Church believes in the sacrament of matrimony, but we're also hoping that they don't meddle with the decision of same-sex couples to at least get married in court for now.
On a related note, the Church also claimed that the SOGIE Equality Bill will affect religious beliefs. Which is obviously untrue and the bill aims to protect the LGBTQ+ community from discrimination and hate crimes.
Lastly, the Church is against the divorce law, claiming that it destroys the sanctity of marriage. When in reality, it allows people to get out of failing marriages, especially when it becomes abusive. (Personal take: We were taught in Catholic school that marriage is a union borne out of love. If love is non-existent, why should a marriage be allowed to continue?)
Don't get us wrong, the Catholic Church is allowed to make a stance on matters like these. But it doesn't seem right when they control the government on what should and shouldn't be done. BBC reported that most of our laws "are often framed around Catholic values." Even the Catholic Bishops Conference of the Philippines (CBCP) featured a study that the Church "gives undeniable influence to PH politics."
Also, not every law is an attack on religion. Yes, the Philippines is a dominantly Catholic country. But we have to understand that the laws mentioned above will help the citizens, especially the marginalized. We're sure God (or any higher being that people believe in) wouldn't approve of making people's lives difficult and oppressing them because of selfish decisions.
Art by Marian Hukom
Follow Preen on Facebook, Instagram, Twitter, YouTube, and Viber
Related stories:
Duterte kissing an OFW is that dude who won't take a hint
The Church isn't happy with Pres. Duterte's move to strengthen RH Bill
Divorce is an important option for all couples
When will the religious atrocities committed against women stop?
Debunking some misconceptions about the SOGIE Equality Bill