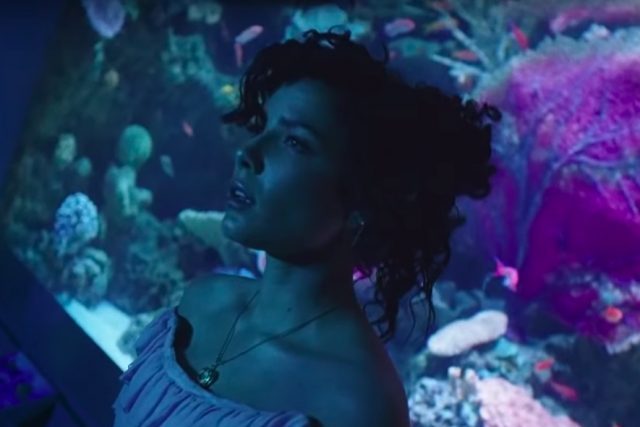 Is it too early to call the album of the year for 2020? Because Halsey's third album "Manic" is already up there for me.
Before "Manic" came out on Jan. 17, Halsey released four singles from the album: "Graveyard," "Clementine," "Finally // Beautiful Stranger," and "You Should Be Sad." None of these songs sounded similar, nor did they sound like Halsey's older stuff. The singer also hinted multiple times that the album is her opening up her heart to everyone.
"My personal life is a disaster," Halsey tells Apple Music's Zane Lowe. "A lot of it is a reconnaissance of things I never got to work through because I was 19 and I was Halsey. I didn't have time for self-care because I had to be composed. And I got too composed—that was part of the problem."
The result is a brutally honest album tackling relationships, heartbreaks, and embracing womanhood. As Halsey said in her Apple Music interview, many of her fans could relate to "Manic" because it tackled actual human emotions. It wasn't like her previous albums "Badlands" or "Hopeless Fountain Kingdom" where she created a persona. This was Halsey singing as herself—as Ashley Frangipane.
If you haven't listened to the album yet, we're here to tell you that there's a song or two that you can relate to no matter what you're going through.
Embracing your individuality: "Clementine"
Halsey's "Clementine" was inspired by Kate Winslet's character in "Eternal Sunshine of the Spotless Mind." The singer told Rolling Stone, "I basically built my whole personality off of Clementine. It was really exciting for me to see a woman on film who was proud and liberated in her own weirdness and in her own non-polite, non-political, non-conform[ist], inconvenient self."
Getting through a breakup: "Graveyard"
In an interview with Capital FM, Halsey said "Graveyard" was inspired by a breakup and that the bridge was lifted from her mom's relationship advice. "'If you start seeing someone and you're so hung up on getting their approval and getting their attention that it becomes a game where when they make you happy or make you feel loved or make you feel validated and you get that rush…' She was like, 'That's your body's way of telling you that something's wrong. If you're heart catches in your chest like that, it means you're scared and you're being manipulated.'"
"She said, 'You should be with the person that makes you feel safe, makes you feel comfortable that you don't have to fight for their attention,'" Halsey recounted.
Now you'll think about this advice when you hear "It's funny how / The warning signs can feel like they're butterflies."
Realizing a relationship isn't for you: "Forever… (Is a Long Time)"
Halsey explained in her Apple Music interview that "Forever… (Is a Long Time)" is a journey of falling in love with someone and then realizing that you're about to sabotage the relationship because you're getting in your own head. "The piano comes in and it's this stream-of-consciousness train of thought that modulates from major to minor to show my mood shifting from optimistic to anxious. And now I'm sabotaging this relationship and feeling paranoid, this is going to be bad," she said.
The song then transitions to "Dominic's Interlude" featuring Dominic Fike. Halsey said it depicts the type of advice her younger brother, Sevian Frangipane, would give her in situations like this. Fike sings, "Talk to your man, tell him he's got bad news coming / Walk on the edge with someone new," which alludes to a breakup.
Being insecure: "I Hate Everybody"
Although Halsey made it clear that "Manic" isn't exclusively about her past relationship with rapper G-Eazy, she still tackled how people think her music is defined by the people she's dated. "At some point I kind of put my foot down and was like, 'Here's what we're not going to do is make all my music about whoever I'm dating. This album is about me. I should matter enough on my own. I shouldn't be desirable because some rock star you think is cool thinks I'm desirable. That's not what this is anymore, and it never should have been,'" she tells Apple Music.
"I Hate Everybody" is Halsey's reflection on her insecurities as a young adult and thinking that she didn't matter because her musician boyfriend was more influential. "It's thinking, 'Well, they respect his opinion, so if he likes me, they will too.' Whoa! Wrong. This should be about me."
Simply being in love: "Finally // Beautiful Stranger"
Halsey wrote this song for her ex-boyfriend Yungblud. It tells the story of the day they met and the first night they hung out. (You can hear their story here.) This is also the first love song that Halsey wrote. There's nothing too deep about it—it's a pretty wholesome song about falling in love with someone and we all need that positive energy in the airwaves from time to time.
Wanting children: "More"
"More" is one of those songs that you won't realize what it's about until you either listen to it multiple times or read the lyrics. It's about Halsey's reproductive struggles and yearning for motherhood.
In multiple occasions, Halsey has talked about having endometriosis, getting an operation, and suffering two miscarriages (one of them happened while she was performing on stage). Fortunately, Halsey says that she got news from her OB-GYNE that she can now bear a child if she wanted. She's not rushing into it though (which is totally fine), but she said she's relieved to have options now.
Screengrab from YouTube
Follow Preen on Facebook, Instagram, Twitter, YouTube, and Viber
Related stories:
Celebrities laud Halsey's unedited armpit stubble
Halsey's call out to VSFS' lack of inclusivity gets mixed reactions
I can relate to Halsey's "Inconvenient Woman" poem on many levels
We can't wait for new music releases from these artists