The 92nd Academy Awards had us at the edge of our seats. There's no denying that it was a great year for movies with blockbuster hits like "Joker" (despite being a bit problematic) and "Marriage Story," and critically acclaimed masterpieces like "Parasite" and "1917."
Although the Oscars snubbed female directors again this year, it still had several firsts and other moments that are worth remembering. Here's a quick rundown if you missed this year's ceremony:
Black queer artists open the show
#Oscars Moment: @JanelleMonae kicks off the #Oscars with an opening number that leaves everyone feeling alive! pic.twitter.com/J76UFuqxby

— The Academy (@TheAcademy) February 10, 2020
Janelle Monáe opened the show by singing and highlighting diversity and snubbed films in her performance. She also gave a shoutout to all the female directors who deserved recognition and wished everyone a happy Black History Month. Billy Porter joined in the middle of the performance while looking #extra in his gold cape.
Big wins for "Parasite"
Director Bong Joon-ho and the "Parasite" team have a lot to celebrate. The film won Best Picture this year, beating out frontrunner "1917" and becoming the first non-English language film to get this award. Bong also accepted three other awards for original screenplay, foreign film feature and becoming the first South Korean to win for directing.
"Parasite" also had the most Oscars this year with four awards out of six nominations. Even Bong couldn't believe that he has multiple Oscars now as he's seen staring at his award and holding back tears on stage.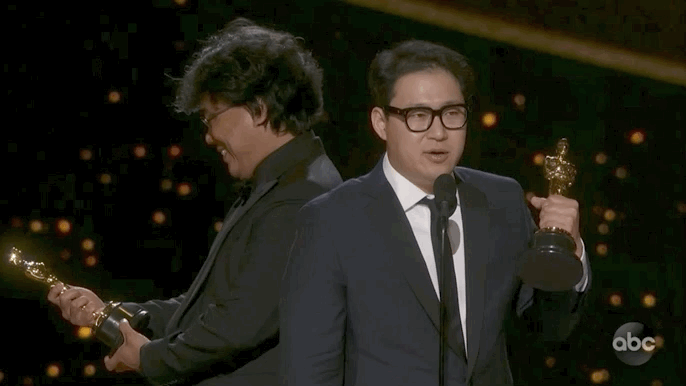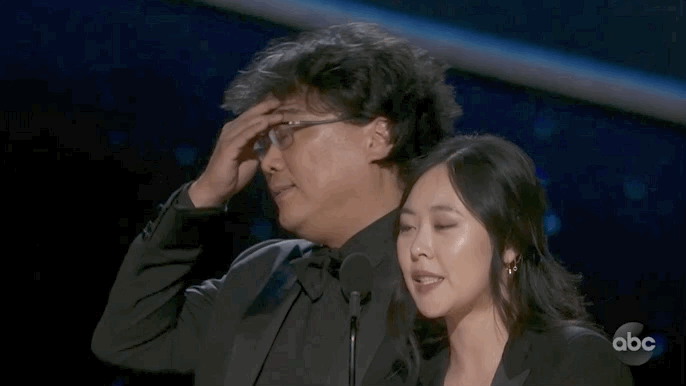 And here's the director announcing that he will drink to celebrate his wins.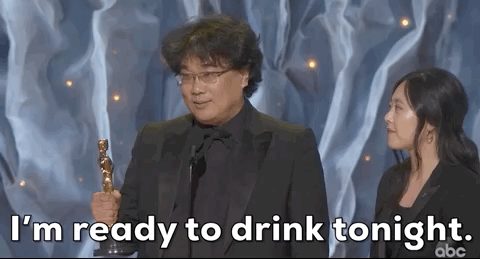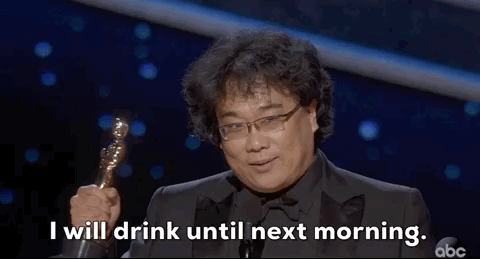 Taika Waititi winning Best Adapted Screenplay
In 2004, Taika Waititi was the first filmmaker of Māori heritage to be nominated at the Academy Awards for his short film "Two Cars, One Night." This year, he made history as the first indigenous director to win an Oscar.
#Oscars Moment: See the winner for Best Adapted Screenplay: @TaikaWaititi for @jojorabbitmovie pic.twitter.com/iLp6E384Bn

— The Academy (@TheAcademy) February 10, 2020
Waititi accepted the award for Best Adapted Screenplay for "Jojo Rabbit," which he also starred in. He said in his speech, "I dedicate this to all the indigenous kids all over the world who want to do art and dance and write stories. We are the original storytellers and we can make it here as well."
Brad Pitt wins his first acting Oscar
#Oscars Moment: Brad Pitt wins Best Supporting Actor for @OnceInHollywood pic.twitter.com/TSGjMB3v8P

— The Academy (@TheAcademy) February 10, 2020
The Best Supporting Actor award went to Brad Pitt for his role as Cliff Booth in "Once Upon a Time… in Hollywood," making this his first Oscar in acting. (His first Oscar was for producing 2014 Best Picture "12 Years a Slave.") Pitt used his acceptance speech to shout out director Quentin Tarantino, co-star Leonard DiCaprio, the stuntmen, and his six kids with ex-wife Angelina Jolie. He also took the opportunity to throw shade at US Pres. Donald Trump's impeachment acquittal: "They told me I only have 45 seconds up here, which is 45 seconds more than the Senate gave John Bolton this week."
Joaquin Phoenix's passionate speech
#Oscars Moment: Joaquin Phoenix wins Best Actor for his work in @jokermovie. pic.twitter.com/M8ryZGKGHV

— The Academy (@TheAcademy) February 10, 2020
After winning Best Actor for "Joker," Joaquin Phoenix covered several issues in his speech—from gender equality and racism to climate change. He also admitted to being "hard to work with," directly addressing the controversy surrounding his work behavior on the "Joker" set. At least Phoenix is self-aware, right?
Kristen Wiig and Maya Rudolph's presenter duties
#Oscars Moment: @MayaRudolph and Kristen Wiig can do it all. pic.twitter.com/44yWPGJYNv

— The Academy (@TheAcademy) February 10, 2020
The two comediennes were only presenters for the night, but they stole the show in the best way. The Oscars may be hostless again this year because the Academy realized that ratings were higher in 2019, but we want Kristen Wiig and Maya Rudolph to be the hosts next year. (Do it, you cowards.)
Utkarsh Ambudkar's freestyle rap
#Oscars2020 Since the #producers of the show were so rude as to not have anyone tell us who this guy is who rapped-out a show #recap, I will! His name is #UtkarshAmbudkar, and he's @UTKtheINC. pic.twitter.com/8EujVwJAeE

— Karen Salkin (@MajorCelebrity) February 10, 2020
Indian-American actor and rapper Utkarsh Ambudkar (you might remember him from "Pitch Perfect") made rounds on social media after performing a freestyle rap recap of the 2020 Oscars. What stood out for us was the last line, which was a call for more representation: "Keep an open mind, I'm sure you'll find / there's plenty of light for us all to shine."
***
What were your favorite moments from the 2020 Oscars?
Photo courtesy of The Academy Awards' Instagram account
Follow Preen on Facebook, Instagram, Twitter, YouTube, and Viber
Related Stories:
Natalie Portman's outfit is a clap back at Oscars female directors snub
"I went to the Oscars and walked the red carpet"
'Parasite' isn't the only Bong Joon-ho film tackling social issues
The real joke in 'Joker' is the oppressed White man