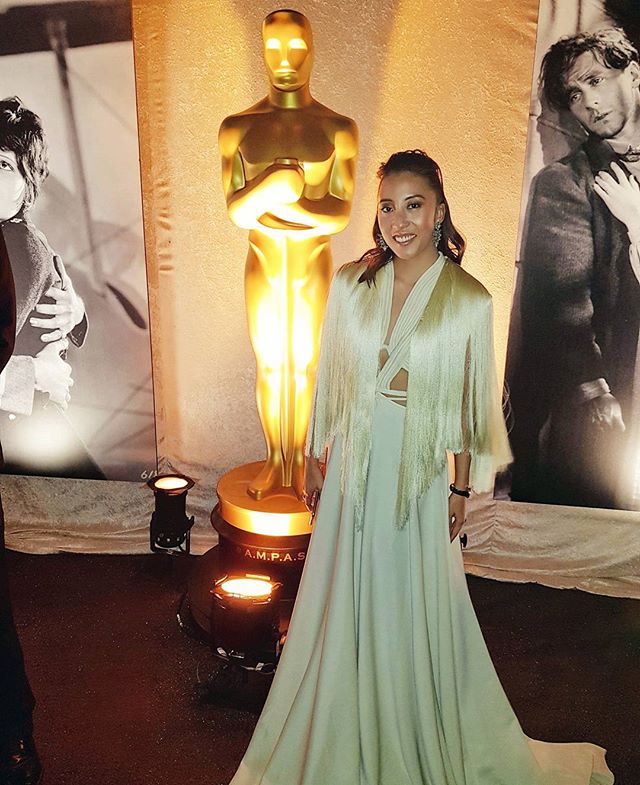 We were literally glued to our TV screens, smartphones, and laptops last Monday as it was the 90th Academy Awards. We ooh'd and ahh'd from a distance and waited in suspense as the winners were announced. But what does it feel like when you're actually there—dressed to the nines and in the presence of these celebrities?
Cristina Cu, founder of HeyThreads.com, actually had that privilege to attend The Academy Awards in the flesh. Right after we found out, we chatted her up (while on the plane back to Manila, no less) and asked her about the exciting experience. Let's just say we're living vicariously through her even to this day. (Oscars hangover is real!)
How did you find out that you and your family will be attending this year's Oscars?
My dad, Ernest Cu, is with Globe who gets to work with some of the best content partners in the world—including, but not limited to Disney, Netflix, NBA, and a lot more. We were lucky enough to be extended an invitation by one of the partners to this once in a lifetime event!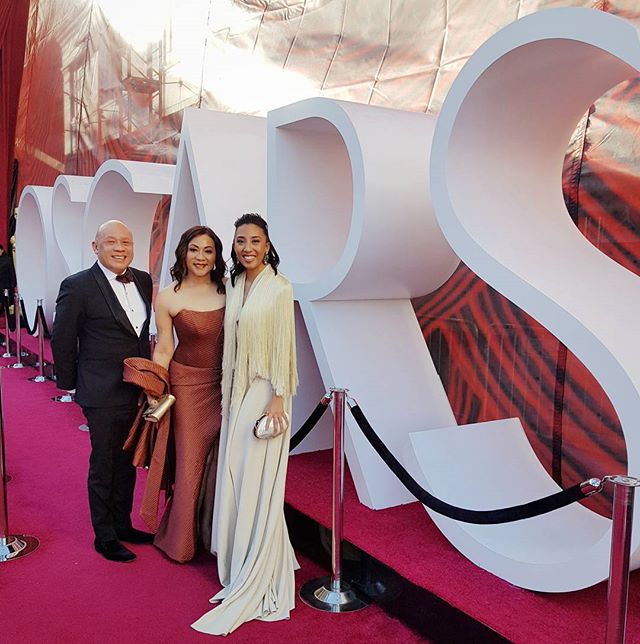 How did you prepare for the event?
Not a lot, surprisingly! But I wished I had watched more of the Oscar-nominated movies. I mostly made sure to arrange an awesome outfit I knew I would feel proud to wear and represent. I also really wanted to wear a local designer, so I chose Rajo Laurel.
How did you decide on your look?
I am lucky that my good friend Rajo made sure the process of finding the perfect couture outfit was easy. He immediately gets it and made sure the outfit fit perfectly. I couldn't be happier with what he made for me.
Who did your hair and makeup?
I went for a sleek and finished look to compliment my outfit. My makeup was by Ivan Vargas and my hair was by Swan Salon Hollywood.
What was the most exciting (and even nerve-wracking) part?
Getting ready and making it on the red carpet on time! We had to be ready and in the limousine by 3 p.m. so making sure I was ready in time for that was probably the most stressful. Then I got nervous right before stepping onto the red carpet because you don't know who you might run into! But it was a ton of fun!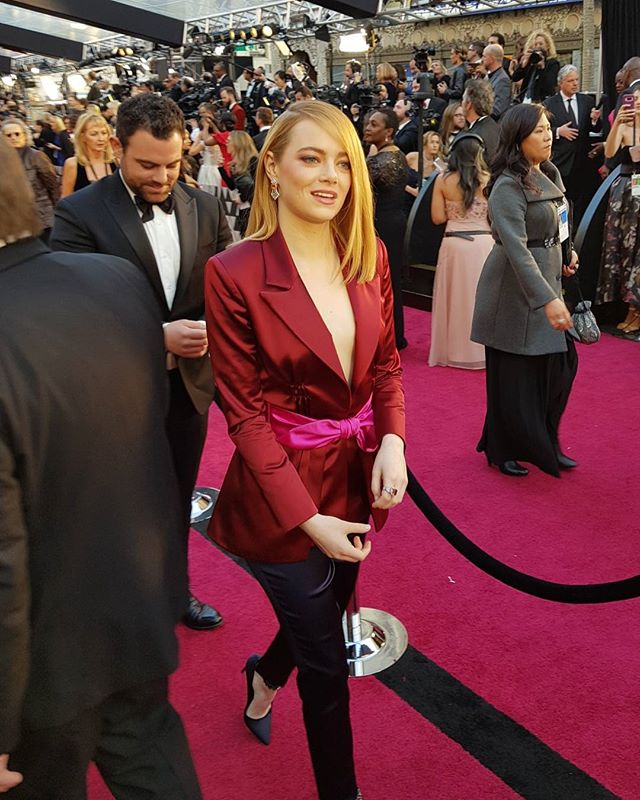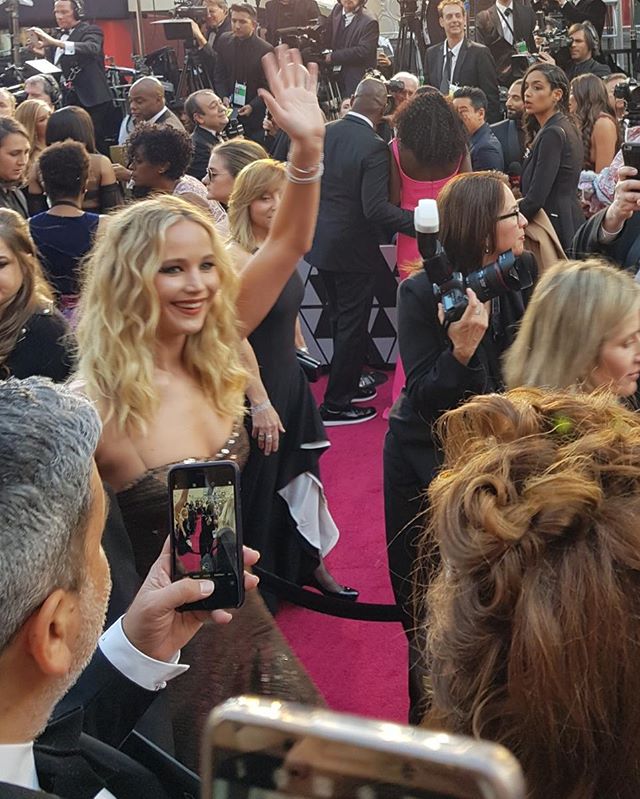 Did you get starstruck? With who?
Definitely. No particular person, but more like seeing all of them in one place was the most unreal feeling. In one photo you will see me laughing to myself because I almost stepped on Mira Sorvino's dress. It was moments like that when I feel myself most stunned. [Laughs]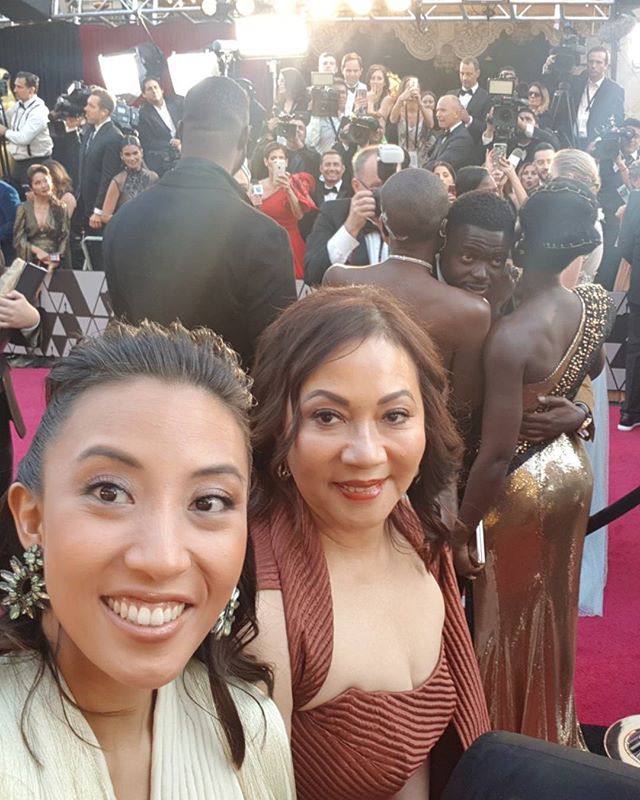 What was it like to walk the red carpet?
It's a surreal feeling. You just keep saying, "I can't believe this is happening." And it also looks much smaller in real life. So much is going on around you, from the screaming crowds, the paparazzi and the press, and all the celebrities just inches away from you. I just tried to take as much as it in.
Favorite celebrity you spotted and why?
I loved Meryl Streep because she's just timeless. Gal Gadot looked natural and comfortable, and totally in her element. Zendaya, Margot Robbie, and Saoirse Ronan had my favorite gowns of the evening: Elegant without trying too hard.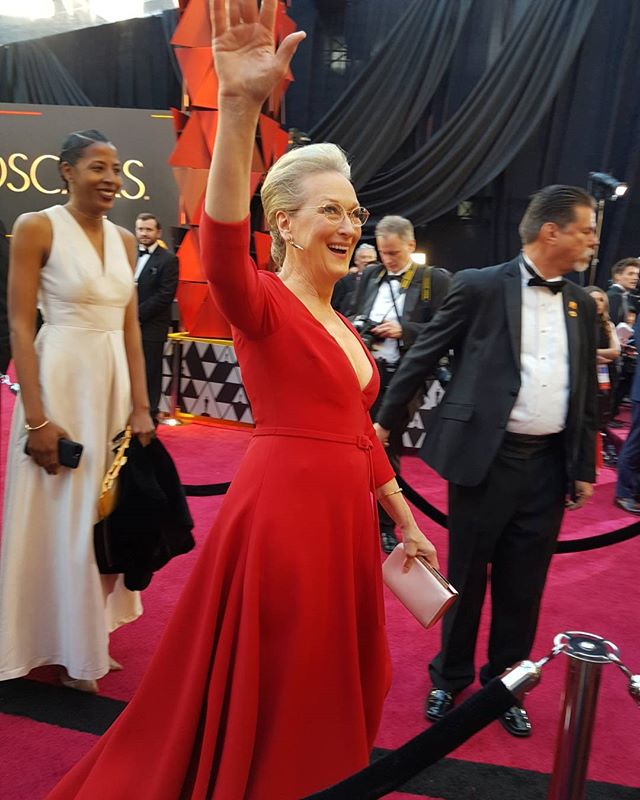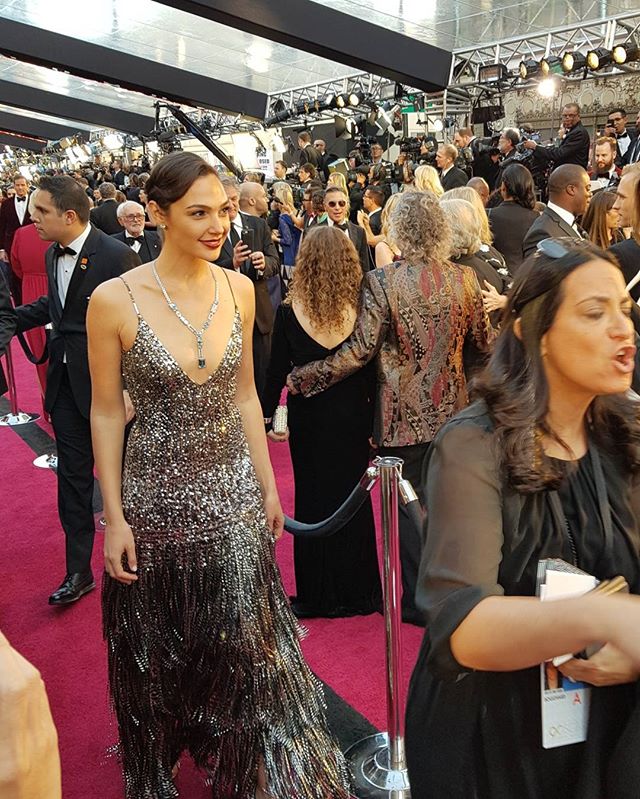 Any other memorable anecdotes from the Oscars?
The most memorable moment for me was at the Governor's Ball which is one of the biggest after-parties. My mom and I had spotted Frances McDormand, who had just won Best Actress, so we were going to try to ask for a photo. But when we were about to ask, she grabbed a friend and started talking to her quite intently. Then we overheard one of the staff calling into his headpiece, "Frances has misplaced her Oscar. Someone please find it." Then we saw Frances start to tear up.
My mom and I obviously did no ask for a photo when we realized the situation. True enough on the news the next day I saw that a man had been arrested for trying to steal her Oscar. Pretty crazy!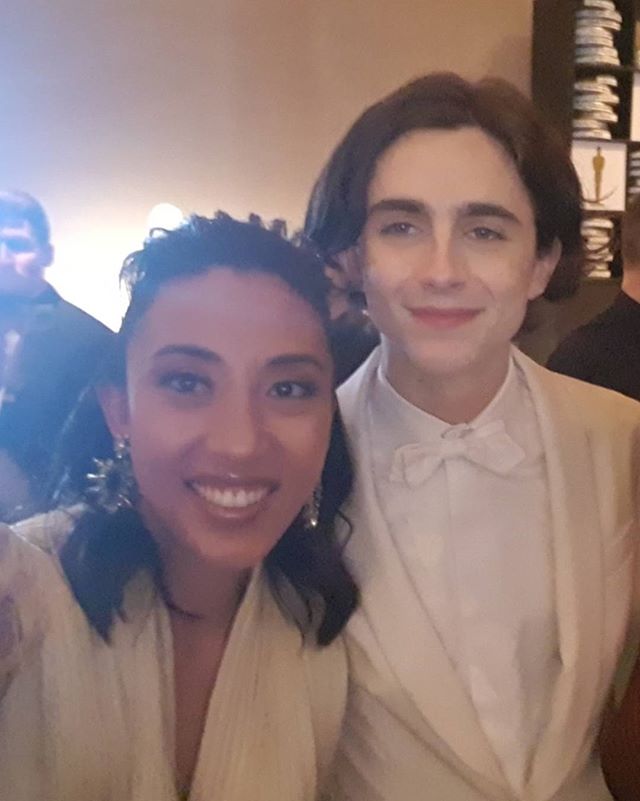 I did manage to get a photo with Timothée Chalamet who was very courteous and patient.
Photos courtesy of Cris Cu's Instagram account
Follow Preen on Facebook, Instagram, Twitter, and Viber
Related stories:
Our Fashion Awards for This Year's Oscars
Who Had the Shortest Oscars Speech This Year?
The Dress Rita Moreno Re-Wore at the Oscars 2018 Was Designed by a Filipino
What's Inside the Oscars 2018 Swag Bag?