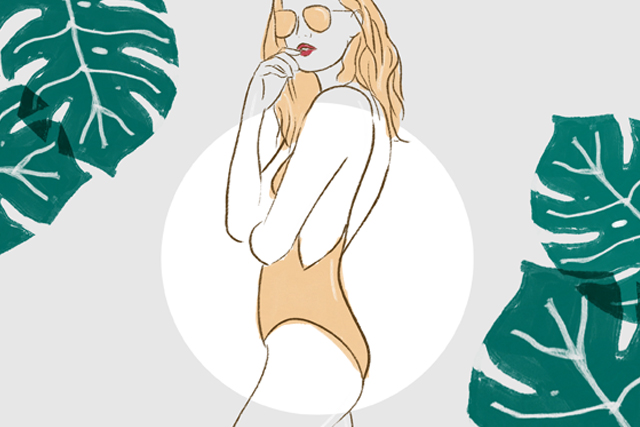 When my editor told me last week if I wanted to go to the beach for work, I was both excited and freaked out. The last time I went to the beach was in college—around four years ago—so a change in scenery is great. However, that also meant I had to buy a new swimsuit.
I'm not someone who's comfortable with the idea of showing too much skin, even at the beach. And believe me, I went through stages of emotions before going to the mall days after. Here are some of them in hopes of reaching people who can relate to them too.
Stage 1: State of panic
"How much does a good swimsuit cost? How many should I buy? What style suits me?"
This is a normal reaction for me because I'm buying a swimsuit on my own for the first time. I won't have anyone physically with me to help me decide. But in all seriousness, a quick Google search and Instagram scrolling can help a lot in this stage.
Stage 2: Pre-fitting woes
"How will I know if it fits?!"
Once I've figured out the style, the only thing to do is to shop. But there's a catch: Many stores will forbid swimsuit fitting. I was panicking (again) to my boyfriend about it because it already isn't easy to buy pants that fit me, what more a swimsuit that I can't even try on? (Full disclosure: I have wide hips so clothes sizes differ depend on the brand.)
Stage 3: Almost giving up
"This won't do! [Repeats 10 times]"
Do you know the feeling of dejectedly walking away from a piece or two that you adore? That was me a couple of times when I started shopping. This stage was mostly caused by Stage 2, and being insecure about not knowing what my body will look like in a certain swimsuit. However, I was still determined to find the right one.
Stage 4: Excited choosing
"Hmmm… What colors to get?"
Lucky for me, one department store allowed swimsuit fitting and had a wide selection for women of different body sizes. The only struggle here was digging through racks and deciding if I wanted black, red, or blue swimsuits. (I chose black and red in case you're wondering.)
Stage 5: Last-minute panic
"What if I don't look good in it?"
While lining up for the fitting room, I was awashed with self-doubt again. Possible stretch marks, not having a fit and athletic figure—every body issue imaginable. But the only way to know is to wear them once and for all.
Stage 6: Acceptance
"Oooh, this actually looks good!"
All my body image fears started to fade when I tried on both swimsuits. One is a black one-piece and the other is a red two-piece with boy shorts. I realized that the fears and insecurities I had were just the results of my constant panicking for the last few days. I hope that this confidence lasts until the actual beach trip. (Which is this weekend, BTW. Aaaaah!)
Art by Yayie Motos
Follow Preen on Facebook, Instagram, Twitter, and Viber
Related stories:
Show Off That Mom Bod With These Swimsuits
Why You Should Cop Velvet Swimsuits This Season
The Swimsuit Brands that Fashion Gals Are Loving For the Summer
Boho Chic Bikinis For Every Body Type