Since giving birth to her baby girl, Solenn Heussaff has been sharing their parenthood journey on Instagram. What they haven't posted though is their daughter, Thylane Bolzico's face—not that it's a big deal since it is their choice to reveal it or not. But apparently, there are some people asking disrespectful questions about Heussaff and husband Nico Bolzico's decision to do so.
On Instagram Stories, Heussaff addressed the questions about not revealing Thylane's face on social media. "People keep asking why I haven't posted Thylane yet. Though I eventually will, sometimes I am not in a hurry and enjoying her every change. She is so precious," wrote Heussaff. "I've read comments like: 'Is your baby ugly?' 'Aren't you proud of her?' 'Is she abnormal?' amongst other things. People need to remember LIFE does NOT happen on IG."
Heussaff continued that people (especially celebrities) shouldn't be obligated to share every aspect of their lives on Instagram. "It's not because it didn't happen on IG that it didn't happen in real life. This is exactly why I don't want her to be exposed to this type of make [believe] world."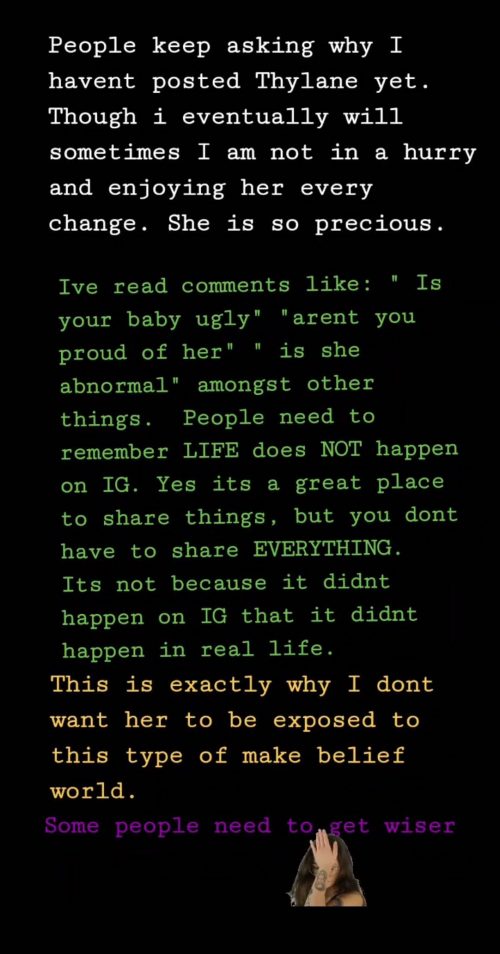 The Heussaff-Bolzicos aren't the first people to not show their baby's face on social media. Several parents do it because they want privacy or to protect their children. Even Heussaff's friends Georgina Wilson and Isabelle Daza didn't immediately reveal their babies' faces after giving birth.
Also, this is a perfect reminder that celebrities don't owe their followers every detail of their private lives. If neither Heussaff nor Bolzico wants to share Thylane's face then let them be. For now, enjoy this shot of Thylane's eye.
Photo courtesy of @solennatics' Instagram account
Follow Preen on Facebook, Instagram, Twitter, YouTube, and Viber
Related Stories:
Solenn Heussaff welcomes new year baby, Thylane Katana
Solenn Heussaff and Nico Bolzico are expecting #BabyBolz
Solenn Heussaff opens up about anxiety in new blog post
Solenn Heussaff almost divorced Nico Bolzico because of Chris Hemsworth