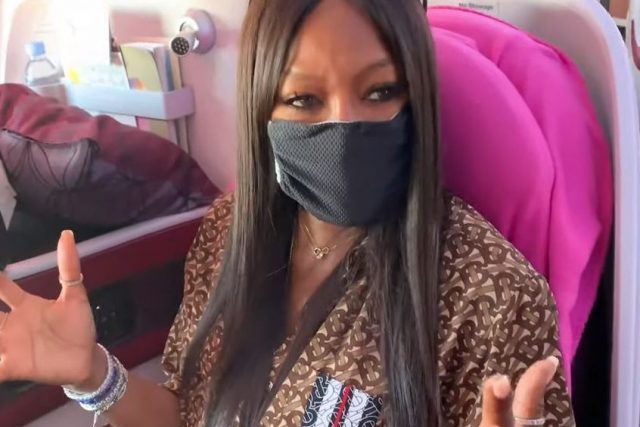 Celebrities are just like us: They're taking extra precautions against COVID-19 too. From wearing face masks to disinfecting their plane seats, here's how they're keeping themselves safe and healthy.
Naomi Campbell
Supermodel Naomi Campbell is not taking any chances, especially since she travels a lot for work. Amid news of the COVID-19 outbreak, she shared a snippet from her airport routine video from 2019. Here, Campbell showed how she disinfects the whole area of her plane seat before take-off.
Watch the whole thing here.
Heart Evangelista
Known for always being present at Paris Fashion Week, Heart Evangelista decided not to attend last January due to the COVID-19 outbreak. She assured her followers that she is healthy after reports came out that Vietnamese heiress Nga Nguyen tested positive for COVID-19 after walking shows in Milan and Paris.
For those of you asking or concerned, I've decided last January to cancel all of my fashion week trips for safety reasons . That's why I was absent during fashion week . I pray for everyone's safety 🙏🏻 God bless us all

— LoveMarie O. Escudero (@heart021485) March 9, 2020
Gwyneth Paltrow
While en route to Paris last Feb. 26, Gwyneth Paltrow posted a travel selfie where she's wearing a face mask. She also joked about starring in "Contagion," a film revolving around a respiratory disease. "Paltrow's just going to go ahead and sleep with this thing on the plane. I've already been in this movie. Stay safe. Don't shake hands. Wash hands frequently," wrote the actress on Instagram.
Maja Salvador
In an "Umagang Kay Ganda" interview last Feb. 6, Maja Salvador said she always makes sure to wash her hands and use alcohol. She reminded her fans to do the same.
Marian Rivera
In a "24 Oras" interview, Marian Rivera said she constantly makes sure her family has proper hygiene. She also keeps a close eye on her daughter Zia Dantes and makes sure her playmates aren't sick.
Jillian Ward, Althea Ablan and Sofia Pablo
The young actresses of GMA's "Prima Donnas" showed their anti-COVID-19 essentials in a "24 Oras" interview. They've also minimized hugs and cheek kisses while they're on set.
***
What about other celebrities? Well, many of them have cancelled their movie premieres and concerts in various countries to keep everyone safe from COVID-19. Others, particularly in South Korea, have sent donations to affected areas to help fight the disease.
That said, always remember to keep your health in check, offer assistance to those who don't have access to ample care and don't hoard items from the supermarket.
Screengrab from YouTube
Follow Preen on Facebook, Instagram, Twitter, YouTube, and Viber
Related Stories:
Don't downplay the COVID-19 situation with #maskmakeup
Pres. Duterte made a misogynistic joke in his COVID-19 address
Katutubo Pop Up Market is postponed for public safety
Closet Cleaning Sale 2020 is postponed: Here's what we know