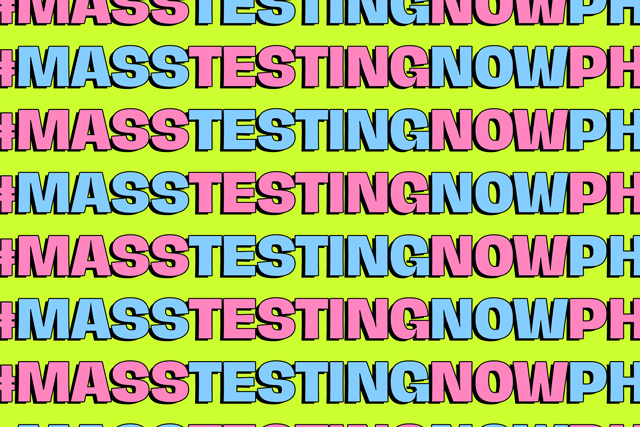 As of Mar. 22, the Department of Health stated that the Philippines has 380 confirmed cases of COVID-19. This is the biggest recorded rise in the number and health experts fear that the actual number of confirmed cases is higher due to the lack of mass testing for the virus. The hashtag #MassTestingNowPH is currently trending on social media.
Despite the spike in the number of cases and advice from the World Health Organization (WHO) to intensify efforts in Southeast Asia, the Department of Health (DOH) maintains that there is no need to conduct mass testing for now. "Sa ngayon po, hindi pa naman nakikitang kailangan nating gawin itong mass testing na ito pero nasa taalaan, nasa mapa, nasa radar, na kung sakaling dumating 'yung panahon, and if we have enough resources and the government can do it, and it is already imperative for the government to do it, gagawin po natin 'yan kung saka-sakali," said Health Undersecretary Rosario Vergeire in a briefing last Friday, Mar. 20. 
The shortage of test kits prompted the DOH to prioritize testing for critical COVID-19 cases. However, the country is expecting 120,500 new test kit donations to increase testing capacity. No word yet on plans to make the test available to the general public.
Widespread appeal for mass testing
Close to 140, 000 Filipinos have signed action group Mass Testing Now PH's Change.org petition pleading for urgent crisis response. Among the petition's demands, which are addressed to Pres. Rodrigo Duterte, are the implementing of mass testing and massive disinfection, allocating all available discretionary funds to aid the health sector and providing immediate comprehensive medical training to security forces.
Last week, Vice Pres. Leni Robredo asked the Duterte administration to consider it. "I-prioritize na ang testing sa mga komunidad para mahiwalay na ang may mga sakit […] Karamihan sa ating mga kababayan ay nakatira sa High Density Areas kung saan nagsisiksikan sa isang kwarto ang buong pamilya," she said.
Proof of effectivity
Countries that have been successful in containing COVID-19 have taken an approach combining mass-testing, use of technology and social distancing. In South Korea, the government focused on testing large numbers of people to identify hotspots. Instead of imposing community quarantines, social distancing was encouraged and additional reinforcements were sent to special care zones.  
The country has been conducting about 15,000 free, seven-minute COVID-19 tests a day and has screened more than 270,000 individuals as of Mar. 16. They have built 50 drive through testing centers in order to provide ease of access and avoid community contact in waiting rooms. The movements of people who tested positive are sent through phone alerts. They are now seeing a downward trend in the number of positive cases.
Meanwhile, Singapore has enforced a strict home quarantine but coupled it with extensive contact-tracing methods. Tests are available for anyone free of charge. Their police force conducted interviews and reviewed CCTV footage to draw up a list of contacts. Officials check in with suspected or confirmed cases multiple times a day and are required to send their live location. While they issue large fines for people caught outside their home, the government also doled out financial support amounting to $100 a day and offered sanctuary in government facilities.
In an article for The Guardian, professor of microbiology Andrea Crisanti and former director of the department of infectious diseases at Italian National Institute of Health Antonio Cassone wrote about a pilot study for controlling COVID-19 conducted with Red Cross. On Mar. 6, researchers started carrying out tests for all 3,000 residents in an Italian city named Vò. This allowed them to effectively quarantine even asymptomatic patients. They were able to eradicate the virus in under 14 days.
There were two rounds of testing with 89 people found to be positive in the first one. Around 70 percent of the cases were asymptomatic (exhibiting no symptoms of the virus) or quasi-symptomatic (exhibiting some, but not all the symptoms of the virus). By the second round, the number dropped to six. They achieved a 100 percent recovery rate for those previously infected and there were no cases of transmission. Crisanti and Cassone note that establishing a structured response is key and widespread testing is crucial. In the absence of a vaccine, those are genuine solutions.
The Duterte administration must understand that we cannot fight the spread of the virus blindly. Aside from clear information campaigns and carefully crafted protocols, we must pool our resources to back medical solutions instead of relying on the instigation of fear. We need mass testing now.
Art by Tricia Guevara
Follow Preen on Facebook, Instagram, Twitter, YouTube, and Viber
Related Stories:
How did Harvey Weinstein get tested for COVID-19 in prison?
PSA: Hold the government accountable for COVID-19 response
Here's how not to conduct a COVID-19 briefing
The good news you need during the COVID-19 pandemic