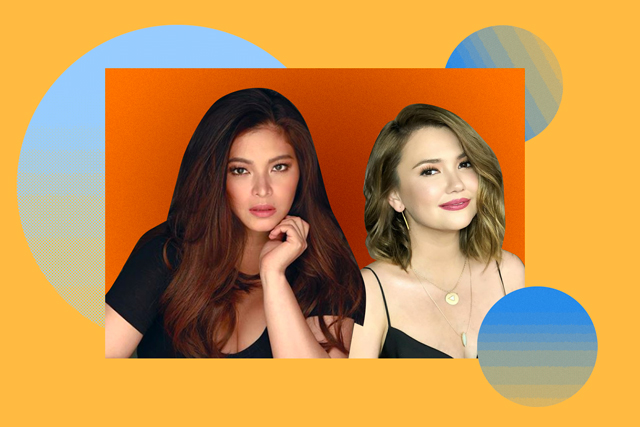 During election season, celebrities play a big role in boosting candidates' popularity among voters. Apart from endorsing them through their social media platforms, they take part in advertisements aired on radio or television. But ever since the pandemic hit the world, many personalities have been reassessing the support they've shown to some of our leaders, airing out their concerns about how they've been handling the global health crisis. 
Among these personalities are Angelica Panganiban and Angel Locsin, both of whom have been using their influence to help address national issues. Here's what both of them had to say with regard to the recent NBI investigation of Pasig Mayor Vico Sotto: 
Hindi ako nag mamarunong sa batas, pero sa opinyon ko, si Koko ang dapat ipatawag at hindi si Vico

— Angel Locsin (@143redangel) April 1, 2020
Wala silang mapag initan. Si mayor vico talaga? Kung sino pa may natutulong at maayos na sistema, siya pa kakasuhan? HANEP! Eh nasan na yung nagkalat ng virus sa makati med? So far kasi yun palang nagagawa niya. Ikalat ang virus. Mapapamura ka na lang pala talaga.

— Angelica Panganiban (@angelica_114) April 1, 2020
Ironically, however, both these ladies have also previously endorsed some of the politicians who are now being criticized for how they've been handling the pandemic: President Rodrigo Duterte (Panganiban) and Senator Koko Pimentel (Locsin).
https://www.instagram.com/p/BEYAAK2h48c/
Apologies have been made
The president's late-night speeches are unproductive and unprofessional, with all his talk about killing and obeying. It's too much to bear and many of us have taken to Twitter to express our indignation and concern. For Angelica Panganiban, she's been really frustrated with how this is all going down. After tweeting a couple of statements including a call for unity, however, some of her followers have pointed out the fact that she endorsed Duterte  in 2016.
Nagising ka na ba sa pagkahypnotize? pic.twitter.com/HrdfaPEuJd

— ANTI-DDS (@mjpascual08) April 1, 2020
Yes. Nakakalungkot. Pero oo. Patawarin niyo ko.

— Angelica Panganiban (@angelica_114) April 1, 2020
A fan wrote, "Nagising ka na ba sa pagkahypnotize? (Have you realized now that you've been blinded by his promises?)" To which she replied, "Oo. Nakakalungkot. Pero oo. Patawarin niyo ako. (Yes. It's sad. But yes. Please forgive me.)
There was even another tweet that celebrated her "awakening," which she apologized for taking long.
Sorry natagalan https://t.co/tzR0Kgc8Ie

— Angelica Panganiban (@angelica_114) April 1, 2020
Angel Locsin was also apologetic about her support for Pimentel, who disobeyed pandemic protocols despite being fully aware that he was a PUI after senators were exposed to a known COVID-19 carrier. 
Do you regret that you campaigned for him then in a tv ad? Voted for him because of you.

— hausen✨ (@HausenDaydream) March 25, 2020
In her reply, she apologized for campaigning for the senator and explained that she only did it because her cousin was his ex-wife. Locsin also replied to another tweet saying that she promises it won't happen again.
Most of us are "wide awake" now, too
Since we're all cooped up in our houses waiting for updates about the fight against this pandemic, our government's incompetence has been on full display.
With all that's happening around us, it's hard to continue supporting these politicians who keep missing the mark (mostly on purpose). Their failures remind us of their promises from their previous campaigns. Here are some examples of Duterte's promises being dug up by netizens:
https://twitter.com/niankris/status/1245940150770651141
It just proves that Duterte is like all the others: making fake promises during campaign and forgetting them once in power. Many thought he'd be different. https://t.co/nUXDXWiNwO

— patrick (@Real_DanielO) April 2, 2020
Duterte, along with other problematic politicians, are being tagged as "trapo" (which is a contraction of the phrase "traditional politician"): politicians who promise the world to their soon-to-be constituents, only to break these promises once they're in power. 
I've seen that this has always been the case during elections, where politicians buy our votes by telling us what we want to hear. Amid this pandemic, many of us are now realizing that. Hopefully we become more critical of the politicians we choose to support. The sooner we do this, the less chance that we let these same politicians commit the same injustices by re-electing them for another term. 
Art by Tricia Guevara
Follow Preen on Facebook, Instagram, Twitter, YouTube, and Viber
Related Stories:
Power to the people at home: 5 online COVID-19 protests
#NoToVIPTesting: On politicians abusing their power to get COVID-19 tests
It costs nothing to check your privilege during the COVID-19 crisis
Here's what I do when friendships and politics are in conflict