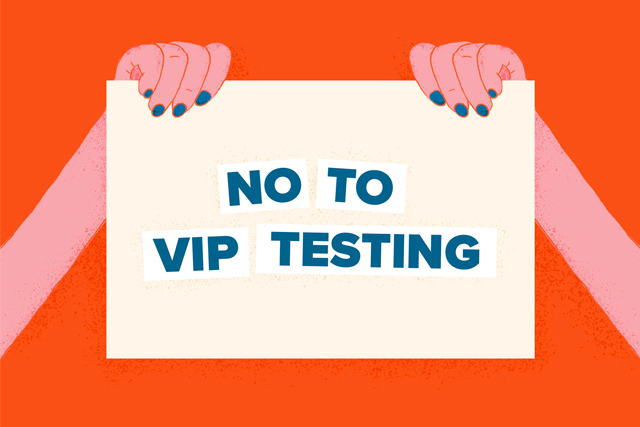 As of Mar. 16, the Department of Health's (DOH) COVID-19 triage guidelines show that asymptomatic persons with exposure (patient under monitoring or PUM) and those with mild symptoms but no underlying health conditions (patient under investigation or PUI) don't need to be tested. What is recommended is that patients self-quarantine or undergo home isolation for 14 days to see if their symptoms develop.
Otherwise, PUIs who have mild to severe symptoms, especially the elderly and those with pre-existing health problems, should be admitted to a COVID isolation area and get tested.
Updated COVID-19 DOH algorithm by PGH. Mas magandang may alam para talunin ang COVID! pic.twitter.com/wiyXj7onvR

— Jai Cabajar (@jaicabajar) March 17, 2020
Because of the Philippines' lack of testing kits and facilities, it's understandable that the DOH would prioritize who are most at risk. So, tell us: Why are some people allegedly getting the VIP treatment?
It started when Pres. Rodrigo Duterte and Sen. Bong Go got COVID-19 tests after a House employee tested positive, prompting other Cabinet officials to self-quarantine. This was despite the fact that both Duterte and Go were asymptomatic. They later tested negative for the coronavirus.
Although Duterte has had health issues in the past, he shouldn't have gotten tested following DOH's guidelines. Even more so, he shouldn't have asked for his partner and three kids to get tested if they were also asymptomatic.
Another government official who drew flak was Sen. Miguel Zubiri, who tested positive for COVID-19 and was asymptomatic. He is currently in home quarantine. Following Zubiri's announcement, other senators like Imee Marcos, Grace Poe and senate president Tito Sotto also got tested despite being asymptomatic.
Senators Risa Hontiveros and Francis Pangilinan refused to get tested despite Sotto's call to get tested after Zubiri's diagnosis. Even Sen. Leila De Lima, who is in the Philippine National Police (PNP) Custodial Center, refused to join her colleagues in getting tested.
The testing kit to be used on me is better given to a symptomatic PUI.

— Leila de Lima (@SenLeiladeLima) March 19, 2020
The VIP testing news doesn't stop there. DOH Sec. Francisco Duque III didn't follow his own department's triage and got tested while on self-quarantine. Duque's test turned out negative, but if he was positive, Duterte would've gotten another test.
Just last night, Mar. 22, allegations surfaced on social media about government officials asking to be prioritized in COVID-19 tests. According to an Inquirer.net report, at least 34 officials and their families, mostly without symptoms or pre-existing health conditions, have demanded to have their COVID-19 diagnostic tests prioritized by the Research Institute for Tropical Medicine (RITM). A list from RITM staffers allegedly included the names of Sen. Richard Gordon and family, Supreme Court chief justice Diosdado Peralta and his wife, PNP chief Archie Gamboa and his wife, Imelda Marcos and Sen. Francis Tolentino.
Sen. Tolentino also received backlash when he announced on his Facebook page that he tested negative for COVID-19. He later took down the post and apologized, explaining that he got tested because he had cough and colds while on self-quarantine.
Some of you may be thinking it's totally fine for asymptomatic people to get tested, especially if they've come into contact with COVID-19 positive patients. But government officials shouldn't abuse their power to demand prioritization during this pandemic.
According to an RITM staffer, they had to delay some PUI and PUMs' tests because they were "ordered" to process officials' tests first. This is reportedly what happened to Dr. Israel Bactol from the Philippine Heart Center, who passed away before finding out that he had COVID-19. As of writing, DOH's nCoV tracker listed 593 PUIs and 6,321 PUMs—just imagine how many other patients would suffer the same fate as Dr. Bactol.
There were also reports that RITM head Dr. Celia Carlos was replaced because she refused to prioritize politicians' COVID-19 diagnostics. Duque later clarified that it was a mistake and Carlos wasn't removed from her position. DOH also denied the alleged VIP testing.
READ: The DOH said that there is no policy for VIP treatment in COVID-19 testing. | Source: DOH pic.twitter.com/d8ZoQaEQqk

— Inquirer (@inquirerdotnet) March 23, 2020
It's true that asymptomatic COVID-19 patients should be detected. Following South Korea's example, early detection means early treatment. But if the DOH says we still don't need to do mass testing (even though we need it already), then we should at least expect everyone to follow the triage until we get enough testing kits, facilities and manpower to address the COVID-19 situation in the country. Take note that some citizens can't even get tested.
If proven, the alleged VIP testing of politicians simply shows how selfish and inconsiderate they are of those who need to need testing kits the most. It further proves that the government's COVID-19 response ise anti-poor because it prioritized its own officials.
Once the enhanced community quarantine and the COVID-19 pandemic (hopefully) end, Filipino citizens should remember the names of the leaders who wanted us to follow orders while abusing their power behind the scenes, as well as those who failed patients and medical frontliners. Hold them accountable for their incompetence and mistreatment of our countrymen.
Art by Dana Calvo
Follow Preen on Facebook, Instagram, Twitter, YouTube, and Viber
Related stories:
The country needs to conduct mass testing now
PSA: Hold the government accountable for COVID-19 response
It costs nothing to check your privilege during the COVID-19 crisis
How did Harvey Weinstein get tested for COVID-19 in prison?